Academic Municipal Hospital Karlsruhe
Department of Cardiology, Angiology and Internal Intensive Care (

590818

)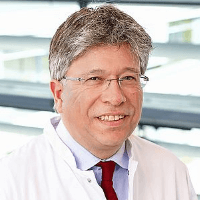 Prof. Dr. med.
Claus Schmitt
Specialized in: cardiology, angiology, internal intensive care
About the department
The Department of Cardiology, Angiology and Internal Intensive Care at the Academic Municipal Hospital Karlsruhe offers the full range of diagnostic and therapeutic services for patients with diseases of the cardiovascular system. The department annually performs more than 4,000 cardiac catheterization procedures. The excellent qualifications are also available in the field of ablation, implantation of pacemakers and defibrillators. The Chest Pain Unit works around the clock and provides emergency care for patients with acute coronary syndrome. The department is headed by Prof. Dr. med. Claus Schmitt.
The department has 120 planned beds for patient hospitalization. The department consists structurally of four Cardiac Catheterization Laboratories, the Chest Pain Unit (certified by the German Cardiac Society), the Cardiac Intensive Care Unit, an operating room for pacemaker and defibrillator implantation, the hybrid operating room for heart valve implantation (in collaboration with the Department of Cardiac Surgery at the HELIOS Heart Surgery Clinic Karlsruhe) and the outpatient cardiology clinic.
The department treats more than 6,500 patients with diseases of the cardiovascular system every year. Also, according to the department's statistics, it annually performs about 150 stent implantation procedures, 750 interventions to implant pacemakers, 150 interventions to implant defibrillators and more than 600 electrophysiological examinations.
The department specializes in the diagnostics and treatment of the following diseases:
Myocardial infarction
Сoronary artery disease
Heart rhythm disorders
Heart valve diseases
Heart failure
Myocarditis
Acute thoracic pain (acute coronary syndrome) as part of the Emergency Cardiac Unit
Angiological diseases

Diseases of arterial, venous and lymphatic vessels
Peripheral arterial disease of the lower extremities
Pulmonary embolism
Deep vein thrombosis
Raynaud's syndrome
Aortic diseases, in particular, diseases of the ascending aorta
Genetic syndromes (for example, Marfan syndrome)
Vasculitides
Diabetic foot
Rare coagulation disorders

Arterial hypertension
Other diseases
The diagnostic and therapeutic options of the department include:
Electrophysiological examinations for the diagnostics of arrhythmias, including 3D mapping systems and navigation systems (Carto 3TM, CartoMergeTM, Ensite NavXTM Fusion, Bard ElektroViewTM)
Catheter ablation for the treatment of arrhythmias

Radiofrequency ablation
Cryoablation

Echocardiography

Transesophageal echocardiography
Transthoracic echocardiography
Stress echocardiography
Imaging techniques with optimized image quality (harmonic imaging)
Pulsed wave Doppler ultrasound
Continuous wave Doppler ultrasound
Modern 3D imaging techniques

Implantation of pacemakers and defibrillators
Treatment of arrhythmias by means of electric cardioversion
Complex catheter interventions in circulatory heart disorders
Heart valve replacement using catheter techniques (for example, transcatheter aortic valve implantation)
Mitra-Clip technique for the treatment of mitral valve diseases
Cartography and the use of event recorders
Psychological care for patients with cardiovascular diseases
Capillary microscopy
General intensive care in case of

Acute myocardial infarction
Severe heart failure
Dangerous arrhythmias
Severe mitral regurgitation with the risk of pulmonary edema
Life-threatening injuries of the internal organs
Severe infections in patients with impaired immune status, for example, in leukemia or after chemotherapy

Other medical services
Photo of the doctor: (с) Städtisches Klinikum Karlsruhe
Department of Cardiology, Angiology and Internal Intensive Care.
Academic Municipal Hospital Karlsruhe:

Request more information now.
We will be happy to answer all your questions.
---