Academic Municipal Hospital Karlsruhe
Department of Dermatology (

591234

)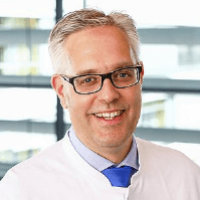 Prof. Dr. med.
Claus-Detlev Klemke
Specialized in: dermatology
About the department
The Department of Dermatology at the Academic Municipal Hospital Karlsruhe offers the full range of highly accurate diagnostics and effective treatment of skin diseases. The department is headed by Prof. Dr. med. Claus-Detlev Klemke.
The clinical practice focuses on four key areas.These include the treatment of skin tumors, dermatosurgery, conservative dermatology and allergology. The department integrates the experience of qualified dermatologists, modern technologies and the very latest scientific achievements in order to provide optimal medical care.
Special attention is given to the Skin Tumor Center, which is part of the department. The center is certified in accordance with the standards of the German Cancer Society. The doctors of the center have long experience in the diagnostics, treatment and follow-up care of patients with various skin tumors. To determine the exact type of tumor and its characteristics, the doctors usually perform an interventional procedure, which aims to sample biological material for histological examination (in collaboration with the Institute of Pathology). In the case of progressive tumors, imaging examinations will be prescribed (as part of the Department of Diagnostic and Interventional Therapy, the Department of Nuclear Medicine).
The department's specialists have exceptional qualifications in the treatment of malignant melanomas, basal cell carcinomas, spinalomas, rare malignant tumors (for example, angiosarcomas, atypical fibroxanthomas, dermatofibrosarcomas, sarcomas, erythrocyte carcinomas, etc.) and skin lymphomas. The treatment is provided in accordance with standardized protocols of the professional societies. In addition, the patients have the opportunity to undergo treatment as part of national and international clinical trials. Medical services are complemented by social care groups, self-help groups and psycho-oncological care.
The service range of the department includes:
Diagnostics and treatment of skin tumors

Diagnostics

Dermatoscopy
Dermal histological and immunohistological examinations
Molecular diagnostics (BRAF, NRAS, c-Kit mutations, etc.)
Ultrasound examinations of the skin and lymph nodes
Sentinel lymph node biopsy
Tumor marker monitoring
Imaging examinations (ultrasound, X-ray, PET-CT, MRI, CT, scintigraphy)

Therapy

Surgical treatment

Tumor resection
Plastic reconstructive surgery
Intraoperative tissue diagnostics after express biopsy sampling

Local therapy
Nonoperative treatment

Photodynamic therapy
Laser therapy
Extracorporeal photopheresis (Department of Transfusion Medicine)
Phototherapy (for example, in skin lymphoma)
Radiation therapy

Drug therapy in malignant melanoma

Immunotherapy/antibody therapy (for example, interferon alfa, PD-1, CTLA4-AK inhibitors)
Targeted therapy (for example, BRAF inhibitors, MEK inhibitors)
Chemotherapy

Drug treatment of other tumors (basal-cell carcinoma, squamous cell carcinoma, merkel-cell carcinoma, skin lymphomas, sarcomas, etc.)
Treatment within clinical trials

Conservative dermatology

Topical therapy of skin diseases
Treatment of psoriasis
Treatment of eczema
Treatment of bullous dermatoses
Treatment of collagenoses
Treatment of vasculitides
Treatment of infectious skin lesions (erysipelas, shingles)
Treatment of lower limb ulcers

Dermatosurgery

Surgical removal of all types of skin tumors (including the removal of sentinel lymph node in progressive melanoma)
All classic venous interventions (stripping, ligation)
Surgical treatment of acne
Surgical correction of rhinophyma
Closure of leg ulcers using skin transplantation

Photodermatology

Type A ultraviolet rays (PUVA therapy, including in bathtubs)
Type B ultraviolet rays
А1 ultraviolet rays (cold light)
UVA device for the treatment of skin lesions in the hands and feet
Phototherapy (sunbathing)
Green light photodynamic therapy
Photodynamic daylight therapy
Direct current therapy

Laboratory diagnostics

Histological examinations
Direct and indirect immunofluorescence
Mycology

Allergology

Provocative tests (on an inpatient basis)
Inpatient hyposensitization for the treatment of insect venom allergy
Special consultations for outpatient hyposensitization
Outpatient allergy tests (prick tests, epicutaneous and intracutaneous skin tests)
Diagnostics of intolerance to local anesthetics, analgesics, antibiotics, heparin, etc.

Other medical services
Curriculum vitae
In May 2015, Prof. Dr. med. Claus-Detlev Klemke headed the Department of Dermatology at the Academic Municipal Hospital Karlsruhe. In addition, the doctor also heads the Department of Dermatology, Venereology and Allergology at the University Hospital Mannheim, where he specializes in the treatment of skin lymphomas.
The doctor received his medical education in Berlin, Minnesota, London and Würzburg. He passed his first state examination at the University of Würzburg. The doctor underwent his professional training in dermatology at the Campus Benjamin Franklin in Berlin, at the German Cancer Research Center in Heidelberg, as well as at the University Hospital Mannheim. He was habilitated in 2010. The doctor received the title of Extraordinary Professor in 2013.
Photo of the doctor: (с) Städtisches Klinikum Karlsruhe
Department of Dermatology.
Academic Municipal Hospital Karlsruhe:

Request more information now.
We will be happy to answer all your questions.
---