Academic Municipal Hospital Karlsruhe
Department of Adult and Pediatric Urology (

591236

)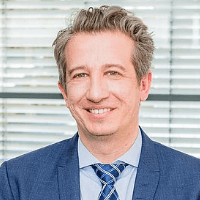 Prof. Dr. med.
Dogu Teber
Specialized in: adult and pediatric urology
About the department
The Department of Adult and Pediatric Urology at the Academic Municipal Hospital Karlsruhe offers the full range of diagnostic and therapeutic services for patients with urological problems. The department is one of the largest and most advanced medical facilities of this kind in Germany. The department's specialists treat more than 4,000 inpatients and about 10,000 outpatients annually. Despite the excellent technical base, at the center of all efforts of the department's medical team is a person with his individual needs. The department is headed by Prof. Dr. med. Dogu Teber.
One of the department's innovations is minimally invasive surgery using daVinci® Surgical System. Most often, this technique is used to resect the prostate gland, kidneys, pyeloplasty and sacrocolpopexy. The operation using daVinci® Surgical System is performed under the strict guidance of the surgeon, who is at the robot control console and monitors each manipulation based on 3D images of the surgical field. The daVinci® Surgical System allows the doctor to perform operations virtually without blood loss, whereas the high-resolution images guarantee the best possible accuracy of each manipulation.
Another innovation used in clinical practice is the treatment using high-intensity focused ultrasound (HIFU). The department uses the Focal OneÒ device by EDAP TMS. The technique is used for the treatment of aggressive types of prostate cancer. The essence of the technique is that the high-frequency ultrasonic waves heat the tissues of the prostate gland up to 85°C and higher, which leads to the death of cancer cells. After the treatment, the doctor carefully monitors the treatment results using PSA blood test, palpation, ultrasound examination, MRI and biopsy with histological examination.
The service range of the department includes:
Diagnostics and treatment of oncological diseases of the urological spectrum

Prostate cancer

Active monitoring
Radical prostatectomy
Radiation therapy
Analgesic therapy in metastatic prostate cancer

Bladder cancer

Transurethral resection of bladder tumors
Radical cystectomy (bladder removal)
Urine diversion via catheter
Chemotherapy

Testicular cancer

Testicular resection
Sperm cryopreservation
Radiation therapy and chemotherapy in metastases

Kidney cancer

Surgical resection (most often minimally invasive interventions using robotic surgical system)
Radiation therapy
Treatment of metastases (surgery, tyrosine kinase inhibitor therapy)

Penile cancer

Surgical treatment, including radical resection with urine diversion
Resection of metastases
Chemotherapy, radiation therapy (at the advanced stages)
Palliative care

Diagnostics and treatment of benign diseases of the urological spectrum

Kidney stone disease

Extracorporeal shock wave lithotripsy
Percutaneous nephrolitholapaxia, including mini technique
Ureterorenoscopy

Benign prostatic hyperplasia

Drug therapy
Surgical treatment (monopolar and bipolar transurethral resection of the prostate, enucleation of prostate adenoma)

Urinary incontinence

Conservative therapy (for example, physical exercises to strengthen pelvic floor muscles, Biofeedback, etc.)
Surgical treatment (for example, TVT, TOT sling procedures, artificial sphincter implantation, etc.)

Reconstructive urology
Minimally invasive therapy

Kidney tumors
Benign prostatic hyperplasia
Kidney stone disease

Outpatient surgery

Punch biopsy, including MRI-guided fusion biopsy
Ureteral stent removal or replacement
Hydrocele repair
Circumcision
Vasectomy
Varicocelectomy
Treatment of kidney stone disease (lithotripsy)

Diagnostics and treatment of andrological problems
Laparoscopic interventions

Nephrectomy (kidney resection)
Adrenalectomy (adrenal resection)
Kidney cyst removal
Plastic reconstruction of the renal pelvis in stenosis
Varicocelectomy
Testis detection in case of undescended testicle

Robotic surgery (daVinci®)
Laser therapy (holmium laser)

Kidney stones
Genital and urethral condylomas
Tumors of the ureters and renal pelvis

Urological functional diagnostics
Diagnostics and treatment of urological diseases in children (malformations and diseases of the kidneys, ureters, bladder and genitals)

Phimosis
Cryptorchidism
Hidrocele
Varicocele
Penile curvature
Vesicoureteral reflux
Renal pelvis stenosis
Kidney stones
Enuresis

Other medical services
Curriculum vitae
On April 1, 2018, Prof. Dr. med. Dogu Teber headed the Department of Adult and Pediatric Urology at the Academic Municipal Hospital Karlsruhe. Prior to that, he worked as Leading Senior Physician and Deputy Head of the Department of Urology at the University Hospital Heidelberg. Since 1989 till 1996, the doctor studied Human Medicine in Bochum. In 1998, he was admitted to medical practice. In 2002, he defended his doctoral thesis. In 2004, he had his board certification in Urology. Then the doctor had his habilitation in Urology and held the position of Extraordinary Professor at the University of Heidelberg.
Photo of the doctor: (с) Städtisches Klinikum Karlsruhe
Department of Adult and Pediatric Urology.
Academic Municipal Hospital Karlsruhe:

Request more information now.
We will be happy to answer all your questions.
---