Municipal Hospital Karlsruhe
Department of Adult and Pediatric Urology, Andrology (

591236

)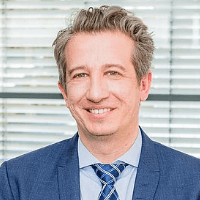 Prof. Dr. med.
Dogu Teber
Specialized in: adult and pediatric urology, andrology
About the Department of Adult and Pediatric Urology, Andrology at Municipal Hospital Karlsruhe
The Department of Adult and Pediatric Urology, Andrology at the Municipal Hospital Karlsruhe provides the full range of diagnostic and therapeutic services to the patients with diseases of the kidneys and bladder, as well as pathologies of the prostate gland, testicles and penis in men. The medical facility also admits men with infertility, erectile dysfunction and other andrological problems. The department's urologists have successful experience in treating congenital malformations and diseases of the kidneys, ureters, bladder and organs of reproduction in boys. The department ranks among the largest and most advanced Urology Centers in Germany. The department's specialists admit more than 4,000 inpatients and about 10,000 outpatients annually. There are 77 beds available for inpatient treatment. The department's medical team focuses on a person with his individual needs. The department is headed by Prof. Dr. med. Dogu Teber.
The specialists in adult urology are responsible for treating benign and malignant diseases of the urinary system in women and men, as well as pathologies of the reproductive system in men. The most common conditions in the work of the department's doctors include kidney, bladder, prostate, testicular and penile cancers, as well as kidney stone disease, urinary incontinence and benign prostatic hyperplasia. To fight against oncological diseases, the department's doctors use surgical treatments, chemotherapy and/or radiation therapy. As for benign pathologies, the specialists use drug therapy, laser techniques, and surgical interventions – in complex and advanced cases.
It is important for the department's doctors to provide their patients with effective and most sparing treatment, so the medical facility has advanced equipment, including the da Vinci surgical system. This technique is most often used for resecting the prostate gland and kidneys, renal pelvis plastic repair and sacrocolpopexy. When operating with the da Vinci surgical system, the surgeon sits at the control console and controls each robot's manipulation, focusing on 3D images of the surgical field. The da Vinci surgical system allows the specialists to perform operations with virtually no blood loss, and high-resolution images guarantee the maximum accuracy of each manipulation. In addition, robot-assisted surgery for prostate cancer minimizes the risk of sexual dysfunction and the development of urinary disorders, which is an undeniable advantage for patients.
Another innovation in the department's clinical practice is high-intensity focused ultrasound (HIFU) therapy. The department uses a Focal OneÒ device by EDAP TMS. The technique is used to treat aggressive forms of prostate cancer. The essence of the method lies in the fact that high-frequency ultrasonic waves heat the tissues of the prostate gland up 85°C and above, which leads to the death of cancer cells. After the therapy, the doctor monitors the treatment results using a PSA blood test, palpation, ultrasound, MRI and biopsy with histological examination.
Pediatric urology occupies an essential place in the department's clinical practice. This deals with the treatment of phimosis, cryptorchidism, hydrocele, varicocele, penile curvature, vesicoureteral reflux, renal pelvis outflow stenosis, enuresis and other pathologies. In most cases, the treatment takes place on an outpatient basis; if hospitalization is required, it is possible to accommodate the child in the room with one of his parents. A diagnosis is made with ultrasound, voiding cystourethrography, renal scintigraphy, cystoscopy, and laboratory tests. Pediatric urologists conduct conservative treatment whenever possible, but if surgery is required, it is performed using the most sparing and safe surgical techniques.
The department's service range is complemented by medical care for men with andrological diseases. Of crucial importance is the treatment of infertility, erectile dysfunction and hypogonadism. Male infertility can develop due to infectious lesions of the genitourinary system, disorders of sperm production, or disorders of the excretion of sperm from the testicles (ejaculatory duct obstruction). When such conditions are detected in patients, they usually receive conservative treatment. Erectile dysfunction is often caused by high blood pressure, penile vascular stenosis, or diabetes mellitus. Pathology can also be the result of radical surgery for prostate cancer. To treat erectile dysfunction, the department's doctors use 5-phosphodiesterase inhibitors in the form of injections or pills.
The department's main clinical activities include:
Urology

Diagnostics and treatment of urologic cancers

Prostate cancer

Watchful waiting
Radical prostatectomy
Radiation therapy
Chemotherapy
Pain management for metastatic prostate cancer

Testicular cancer

Testicular resection
Sperm cryopreservation
Radiation therapy and chemotherapy for metastases

Penile cancer

Surgical treatment, including radical resection with urinary diversion
Resection of metastases
Chemotherapy and radiation therapy (for advanced stages)
Palliative care

Bladder cancer

Transurethral resection of bladder tumors
Radical cystectomy (bladder removal)
Diversion of urine through a catheter
Chemotherapy

Kidney cancer

Surgical resection (most often minimally invasive interventions using a robot-assisted surgical system)
Radiation therapy
Chemotherapy
Treatment of metastases (surgery and therapy with tyrosine kinase inhibitors)

Diagnostics and treatment of benign urologic diseases

Kidney stone disease

Extracorporeal shock wave lithotripsy
Percutaneous nephrolitholapaxy, including mini technique
Ureterorenoscopy

Benign prostatic hyperplasia

Drug therapy
Surgical treatment: monopolar and bipolar transurethral resection of the prostate gland, and enucleation of prostate adenoma

Urinary incontinence

Conservative therapy (for example, exercise to strengthen the pelvic floor muscles, biofeedback, etc.)
Surgical treatment (for example, TVT, TOT sling procedures, artificial sphincter implantation, etc.)

Diagnostics and treatment of urologic diseases in children: malformations and diseases of the kidneys, ureters, bladder and reproductive organs

Phimosis
Cryptorchidism
Hydrocele
Varicocele
Penile curvature
Vesicoureteral reflux
Renal pelvis stenosis
Kidney stones
Enuresis

Andrology

Diagnostics and treatment of andrological problems

Male infertility
Erectile dysfunction
Hypogonadism

Other medical services
The department's surgical options include:
Reconstructive surgery on the bladder, kidneys and male reproductive system
Laparoscopic interventions

Nephrectomy (kidney resection)
Adrenalectomy (adrenal gland resection)
Kidney cyst removal
Renal pelvis plastic reconstruction in the case of its stenosis
Varicocelectomy
Search for testicles in the case of cryptorchidism

Outpatient surgery

Punch biopsy, including MRI-guided fusion biopsy
Removal or replacement of a ureteral stent
Hydrocele repair
Circumcision
Vasectomy
Varicocele surgery
Treatment of kidney stone disease (lithotripsy)

da Vinci robot-assisted surgery
High-intensity focused ultrasound (HIFU)
Laser therapy (holmium laser)

Kidney stones
Genital and urethral warts
Ureteral and renal pelvis tumors

Other surgical services
Curriculum vitae of Prof. Dr. med. Dogu Teber
On April 1, 2018, Prof. Dr. med. Dogu Teber headed the Department of Adult and Pediatric Urology, Andrology at the Municipal Hospital Karlsruhe. Prior to that, he worked as a Managing Senior Physician and a Deputy Head of the Department of Urology at the University Hospital Heidelberg. From 1989 to 1996, the doctor studied Human Medicine in Bochum. In 1998, he was admitted to medical practice. In 2002, he defended his doctoral thesis. In 2004, he had his board certification in Urology. The doctor then had his habilitation in Urology and held the position of an Extraordinary Professor at the University of Heidelberg.
Photo of the doctor: (c) Städtische Klinikum Karlsruhe
Department of Adult and Pediatric Urology, Andrology.
Municipal Hospital Karlsruhe:

Request more information now.
We will be happy to answer all your questions.
---
Certificates