Municipal Hospital Karlsruhe
Department of Gynecology, Mammology and Obstetrics (

591238

)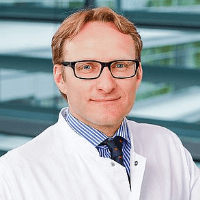 Prof. Dr. med.
Andreas Müller
Specialized in: gynecology, mammology, obstetrics
About the Department of Gynecology, Mammology and Obstetrics at Municipal Hospital Karlsruhe
The Department of Gynecology, Mammology and Obstetrics at the Municipal Hospital Karlsruhe offers the full range of services in the areas of its competence. The medical facility provides diagnostics and treatment of diseases of the female reproductive system and breast pathologies. The therapeutic options are complemented by top-class obstetric services, including pregnancy management, childbirth and postnatal care for both mother and child. The department's doctors admit more than 5,000 inpatients and more than 5,000 outpatients annually. The department's specialists perform more than 3,500 surgical interventions annually, including highly complex ones. The department has been awarded prestigious quality certificates, including certificates from the German Cancer Society (DKG) in treating breast, cervical, ovarian, endometrial, vaginal and vulvar cancers. The department has a friendly atmosphere, and all conditions for maximum women's comfort are available here. Doctors are always open to dialogue with their patients and helping them. The Head Physician of the department is Prof. Dr. med. Andreas Müller.
Of particular interest to the department's doctors is gynecologic oncology. The specialization covers the treatment of malignant tumors of the vagina, vulva, cervix, endometrium and ovaries. During treatment, both standard regimens and innovative methods are used. The first-line therapy is usually surgical resection of the malignant tumor, which, depending on the clinical indications, can be supplemented with chemotherapy and/or radiation therapy. It should be noted that in many cases, doctors manage to perform laparoscopic tumor removal, contributing to a minimal risk of postoperative complications and rapid recovery after surgery. In addition, women who have cancer also receive competent psycho-oncological care.
The specialists in general gynecology treat hormonal disorders due to gynecological conditions, endometriosis, cervical dysplasia and uterine fibroids. These gynecological diseases are benign but can cause infertility and other severe problems and require appropriate treatment. First, the department's gynecologists consider drug therapy options; if diagnostic results indicate the need for interventional treatments, then a decision is made to perform a laparoscopic operation.
The department has successful experience in the treatment of vaginal and uterine prolapse and urinary incontinence. Doctors treat urinary incontinence using all modern drug treatments, conservative and surgical methods, depending on the specific clinical indications. Preference is always given to the most sparing treatment whenever possible. The surgical techniques used in the department include not only classical interventions through the vagina, but also minimally invasive reconstruction techniques using special meshes.
A key area of ​​clinical practice is the treatment of benign and malignant breast pathologies, which is carried out in a specialized center certified by the German Cancer Society. With breast cancer suspected, a diagnostic examination is prescribed to the patient: mammography, breast sonography, biopsy, and others. Then, the clinical case will be considered at the tumor board, and the most effective treatment regimen will be developed. The range of breast cancer treatment options includes systemic therapy (chemotherapy and hormone therapy), radiation therapy, surgery, axillary lymph node dissection, and reconstructive interventions after mastectomy. After completing the course of treatment, the patient is recommended to undergo regular follow-up examinations for the prevention or early detection of breast cancer recurrence.
Obstetricians and specialists in perinatal medicine provide patients with comprehensive pregnancy management, safe childbirth and postpartum care. The department has excellent qualifications in the management of multiple pregnancies and high-risk pregnancies (Level I Perinatal Center). The course of pregnancy is controlled with modern methods of prenatal diagnostics, particularly ultrasound examinations using the latest equipment (under the requirements of the German Society for Ultrasound in Medicine DEGUM). Thus, many disorders can be detected even at the intrauterine development stage, allowing the doctors to quickly and effectively eliminate them.
About 2,300 babies are born in the department every year. A team of experienced obstetricians is available in the department around the clock. Childbirth takes place in modern delivery rooms equipped with all the necessary aids. It is also possible to give birth in water. Acupuncture, aromatherapy, homeopathy, and epidural anesthesia relieve pain. C-section is carried out using the modern sparing Misgav-Ladach technique.
The department's range of medical services includes:
Gynecology

Diagnostics and treatment of gynecologic cancers

Cervical cancer
Endometrial cancer
Ovarian cancer
Vulvar cancer
Vaginal cancer

Diagnostics and treatment of benign gynecologic diseases

Cervical dysplasia
Endometriosis
Uterine fibroids
Urinary incontinence
Pelvic organ prolapse
Female infertility caused by gynecological pathologies

Mammalogy

Diagnostics and treatment of benign breast changes and breast cancer

Obstetrics

Prenatal diagnostics

First trimester screening
Second trimester screening
Third trimester screening
3D/4D imaging
Invasive diagnostics

Chorionic villus biopsy
Amniocentesis
Cordocentesis

Special consultations (for example, for expectant mothers with diabetes mellitus and for multiple pregnancies)

Childbirth, including water births
C-section using the modern sparing Misgav-Ladach technique
Pain management during childbirth: acupuncture, aromatherapy, homeopathy, and epidural anesthesia
Bonding

Other diagnostic and therapeutic options
Curriculum vitae of Prof. Dr. med. Andreas Müller
Clinical Focuses
Gynecologic oncology.
Special obstetrics and perinatal medicine.
Endocrinology and reproductive medicine.
Memberships in Professional Societies
Medical Association of Baden-Wuerttemberg.
Professional Association of Gynecologists.
German Society of Ultrasound in Medicine (DEGUM).
German Society of Endocrinology (DGE).
German Society of Gynecology and Obstetrics (DGGG).
German Cancer Society (DKG).
Photo of the doctor: (с) Städtisches Klinikum Karlsruhe
Department of Gynecology, Mammology and Obstetrics.
Municipal Hospital Karlsruhe:

Request more information now.
We will be happy to answer all your questions.
---
Certificates