Academic Municipal Hospital Karlsruhe
Department of Neurology (

591246

)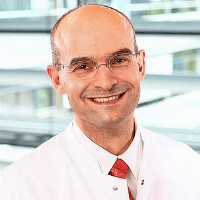 Prof. Dr. med.
Georg Gahn
Specialized in: neurology
About the department
The Department of Neurology at the Academic Municipal Hospital Karlsruhe offers all the options of modern medicine for patients with diseases of the central and peripheral nervous system. The department includes modern Neurological Intensive Care Unit and progressive Stroke Unit for the effective treatment of stroke patients (certified by the German Stroke Society). The department treats more than 3,000 inpatients every year. The Chief Physician of the department is Prof. Dr. med. Georg Gahn.
The priority focuses of the department include the treatment of stroke, motor disorders (for example, Parkinson's disease), inflammatory and immunological diseases of the nervous system (for example, multiple sclerosis, myasthenia gravis, Guillain-Barré syndrome), neuromuscular and neurodegenerative diseases and epilepsy. An important attention is paid to cooperation with specialists from the related disciplines, in particular, neurosurgeons, vascular and thoracic surgeons, otorhinolaryngologists, as well as neuroradiologists (CT, CT angiography, MRI, magnetic resonance angiography, angiography, neurovascular interventions, coiling, stent implantation).
Certainly, the key to successful treatment is accurate diagnostics, which is provided in the department using modern high-precision techniques, such as neurosonography, neurophysiological examinations, DAT-Scan, IBZM-SPECT and FDG-PET.
The department's clinical focuses include:
Diagnostics and treatment of stroke
Diagnostics and treatment of neuromuscular diseases

Myopathies
Myasthenia gravis
Diseases of the peripheral nervous system (polyneuropathies, plexus nerve injuries)
Motor neuron diseases (spinal muscular atrophy, amyotrophic lateral sclerosis)

Diagnostics

Electrophysiological examinations (electromyography, electroneurography, functional diagnostics of the autonomic nervous system)
Biopsy of muscles and nerve endings, including histological examination
Swallowing testing
Gastroenterological diagnostics
Genetic testing
Imaging examinations (MRI of the muscles and heart)
Diagnostics within Sleep Laboratory

Therapy

Drug therapy
Plasma separation
Neurological intensive care

Diagnostics and treatment of inflammatory diseases of the nervous system and multiple sclerosis

Diagnostics

MRI
MRI spectroscopy
Cerebrospinal fluid examination
Evoked potentials

Therapy

Plasma separation
Monoclonal antibody therapy
Intrathecal administration of corticosteroids
Therapy using сhemotherapeutic drugs

Diagnostics and treatment of neurodegenerative diseases (special focus on the treatment of Parkinson's disease)

Dementia
Ataxia
Tremor
Motor disorders

Diagnostics and treatment of epilepsy
Diagnostics and treatment of emergency neurological conditions
Neurological intensive care (special focus on intensive care and artificial lung ventilation in patients with severe neuromuscular diseases, cerebral hemorrhage and circulatory disorders, as well as with epileptic seizures and inflammatory diseases of the nervous system)

Systemic and intra-arterial lysis
Mechanical recanalization ("thrombectomy")
Therapy in intracranial hypertension (for example, craniotomy with continuous intracranial pressure measurement, intraventricular lysis)
Non-invasive monitoring methods
Invasive monitoring of blood pressure and blood circulation, including modern hemodynamic monitoring procedures (PICCO)
All types of hemodialysis, including citrate dialysis, hemofiltration or plasmapheresis (in collaboration with the Department of Nephrology)

Other medical services
Photo of the doctor: (с) Städtisches Klinikum Karlsruhe
Department of Neurology.
Academic Municipal Hospital Karlsruhe:

Request more information now.
We will be happy to answer all your questions.
---