Alfried Krupp Hospital in Essen-Ruettenscheid
Department of Radiation Oncology and Radiation Therapy (

170

)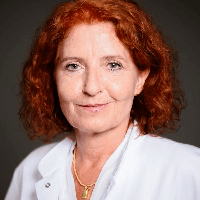 Dr. med.
Birgit Jäger
Specialized in: radiation oncology, radiation therapy
About the Department of Radiation Oncology and Radiation Therapy at Alfried Krupp Hospital in Essen-Ruettenscheid
The Department of Radiation Oncology and Radiation Therapy at the Alfried Krupp Hospital in Essen-Ruettenscheid specializes in various types of modern radiation therapy. The team of the department's doctors admits patients with malignant and benign tumors, as well as with certain degenerative diseases. During consultations, specialists tell patients in detail about the types of radiation therapy, the benefits and risks of a particular type of irradiation. The medical facility has an excellent technical base, so it offers innovative radiation techniques such as intensity-modulated radiation therapy (IMRT) and stereotactic radiation therapy. In most cases, radiation therapy is performed on an outpatient basis, but patients receiving chemoradiotherapy and patients with particularly complex clinical cases still require hospitalization. Each treatment regimen is carefully planned according to the patient's clinical data, and therefore doctors achieve an optimal therapeutic effect. After completing the course of treatment, patients are advised to undergo regular follow-up examinations. The Chief Physician of the department is Dr. med. Birgit Jäger.
The pride of the department is high-tech equipment of the latest generation. The medical facility has Elekta Synergy and Artiste Linaс linear accelerators with a multileaf collimator and built-in ConeBeamCT, Somatom Emotion DUO computed tomography system, Theraplan Plus Verson 3.75 and Oncentra V1.4 irradiation planning devices, M3 micro-multileaf collimator BrainScan V 5.3, Exac Trac1 High-Dose patient positioning system and many other advanced devices that provide effective irradiation with minimal harm to healthy tissues.
Primary attention in the department's clinical practice is paid to the treatment of malignant solid tumors of various localizations, including breast cancer, lung cancer, ENT cancer, cancer of the female and male reproductive system, gastrointestinal cancer, nervous system cancer, skin cancer, etc. The department's radiation therapists also perform irradiation of patients with leukemia (as part of multimodal therapy). Brain cancer and brain metastases are treated with stereotactic radiation therapy, which is a modern method allowing for a targeted delivery of a high dose of radiation to the pathological focus without damaging healthy tissues.
The ​​competence of doctors working in the medical facility also includes the treatment of benign diseases. The therapeutic offer includes irradiation of patients with particular inflammatory, degenerative, hyperproliferative and functional diseases. Irradiation for benign conditions is often used to relieve pain. Radiation therapy can also slow down the growth of active benign neoplasms. Irradiation planning for benign diseases is just as important as for oncology, so specialists always pay due attention to the planning of upcoming therapy.
The department specializes in the treatment of the following diseases:
Malignant diseases

Breast cancer
Uterine, cervical, ovarian, vulvar cancer
Prostate and testicular cancer
Kidney cancer
Bladder cancer
Gastrointestinal cancer (stomach, bowel, esophageal cancer, etc.)
Cancer of the lungs and other respiratory organs
Skin cancer
ENT cancer
Brain and spinal cord cancer
Lymphomas
Sarcomas
Leukemias

Benign diseases

Inflammatory diseases

Acute and chronic inflammation, as well as recurrent abscesses of the sweat glands
Boils and carbuncles
Subungual felon (nail bed inflammation)

Degenerative diseases

Tendinopathy
Periarthropathia humeroscapularis
Epicondylitis humeri radialis
Calcanodyne and heel spur
Degenerative joint diseases accompanied by severe pain
Coxarthrosis, gonarthrosis, omarthrosis, polyarthrosis and rhizarthrosis

Hyperproliferative diseases

Dupuytren's contracture (early stages)
Peyronie's disease (early stages)
Keloid and pterygium (prevention of relapse after surgery)

Functional diseases

Gynecomastia
Endocrine ophthalmopathy
Age-related macular degeneration
Lymphatic fistulas
Heterotopic ossification of the large joints (radiation therapy is carried out for prophylactic purposes)
Benign lesions and neoplasms of the brain: meningioma, acoustic neuroma, pituitary adenoma, angioma, vascular malformations

Other benign diseases

Pigmented villonodular synovitis
Bone hemangioma
Skin diseases (for example, eczema, keratoses, hard-to-reach pathological foci of basalioma, psoriasis)

Other malignant and benign pathologies
The department's range of therapeutic services includes:
External beam radiation therapy for therapeutic and palliative purposes (as part of multimodal therapy and as monotherapy)
Respiratory-gated radiation therapy (for breast cancer to protect the myocardium)
Intensity-modulated radiation therapy (IMRT)
Image-guided radiation therapy (IGRT)
Stereotactic radiation therapy for the treatment of brain tumors and brain metastases
Other types of radiation therapy
Photo of the doctor: (c) Alfried Krupp Krankenhaus
Department of Radiation Oncology and Radiation Therapy.
Alfried Krupp Hospital in Essen-Ruettenscheid:

Request more information now.
We will be happy to answer all your questions.
---
Certificates