Alfried Krupp Hospital in Essen-Steele
Department of Adult and Pediatric Orthopedics, Trauma Surgery, Foot Surgery and Spinal Surgery (

157

)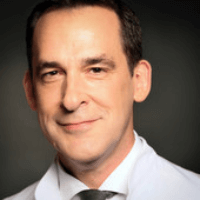 Prof. Dr. med.
Sven Lendemans
Specialized in: adult and pediatric orthopedics, trauma surgery, foot surgery, spinal surgery
About the Department of Adult and Pediatric Orthopedics, Trauma Surgery, Foot Surgery and Spinal Surgery at Alfried Krupp Hospital in Essen-Steele
According to the prestigious Focus magazine, the Department of Adult and Pediatric Orthopedics, Trauma Surgery, Foot Surgery and Spinal Surgery at the Alfried Krupp Hospital in Essen-Steele ranks among the top German medical facilities in the areas of their specialization!
The department carries out comprehensive diagnostics and treatment of the full range of diseases and injuries of the musculoskeletal system. The department's doctors provide medical care to patients of all age groups, including young children and adolescents. The medical facility annually treats more than 5,500 patients with diseases of varying severity. The department's doctors have vast clinical experience and constantly improve their professional skills in order to be able to offer their patients the best medical service of the European level. The priority areas of the department's clinical activity include the treatment of injuries and bone fractures, joint replacement surgery, arthroscopic and septic surgery, treatment of spinal injuries and diseases. The department's doctors give preference to conservative treatment, but if a surgical procedure is still required, then endoscopic and minimally invasive techniques are mostly used. The department's operating rooms strictly observe hygiene and safety standards, while the treatment is provided in accordance with new clinical protocols.
The Head Physician of the department is Prof. Dr. med. Sven Lendemans. The specialist enjoys an excellent reputation throughout Germany, has repeatedly been included in the rating of the best specialists in the country by the Focus magazine, and also regularly demonstrates high treatment success rates.
For many years, the department's doctors have been admitting patients with various joint diseases – from arthrosis and infectious lesions to traumatic injuries and joint destruction caused by cancer. In such cases, total or partial joint replacement surgery (arthroplasty) is often the optimal treatment option. The department specializes in hip, knee, shoulder and ankle replacement surgery. The department's surgeons also successfully perform revision interventions to replace previously implanted prostheses in case of infectious lesions, displacement of endoprosthesis components, periprosthetic fracture, etc. The department's orthopedists pay due attention to counselling patients on the specifics of the upcoming surgical intervention, the best types of endoprostheses, postoperative recovery and the expected outcomes of the surgical treatment. When planning surgical treatment, the specialists carefully select the optimal type of prosthesis. Whenever required, it is also possible to implant a custom-made endoprosthesis. The surgeons of the medical facility perform joint replacement surgery using sparing minimally traumatic surgical techniques, due to which a severe pain syndrome is excluded, the period of postoperative recovery is significantly reduced and the risks to the patient's health are minimized. When performing surgical interventions, surgeons use advanced computer-assisted navigation systems, which ensure the highest accuracy of each surgical procedure and reliable placement of each element of the endoprosthesis. The success rates for joint replacement surgery in the department are quite high, for which the medical facility was awarded the EndoCert quality certificate of the German Society for Orthopedics and Orthopedic Surgery (DGOOC). This quality certificate is the most prestigious distinction in the field of endoprosthetics in Germany.
The team of orthopedists is highly qualified in arthroscopic procedures on the knee, shoulder, hip and elbow joints. Such surgical interventions are minimally invasive and, unlike arthroplasty (joint replacement surgery), allow eliminating the pathological focus, while preserving the patient's own joint. Most arthroscopic procedures are performed on the knee and shoulder joints. The spectrum of arthroscopic interventions for knee diseases includes cruciate ligament plastic repair in case of its tear, interventions for suturing and replacing menisci, cartilage cell transplantation, patella stabilization in case of its dislocation, as well as arthroscopic interventions on the knee joint for tibial fractures, patellar fracture, etc. Shoulder arthroscopic interventions are most often performed for shoulder dislocation and rotator cuff tear.
The department has the status of the certified Trauma Center (certificate of the German Society for Trauma Surgery, DGU). The medical facility has at its disposal all the technical resources required for the treatment of injuries of any severity, including the Emergency Care Unit, Intensive Care Unit, and Blood Bank. The medical institution has a helipad for urgent transportation of seriously wounded patients. Depending on the severity of the injury, conservative or surgical techniques are used. The optimal treatment regimen is determined by a highly qualified team of trauma surgeons who work in the department around the clock. The team of the department's trauma surgeons admits patients of all age categories, ranging from young children to the elderly.
An important place in the department's clinical practice is occupied by the medical care of patients with foot diseases and injuries. The most common pathologies include hallux valgus, traumatic ankle injuries, metatarsal injuries, hammer and claw toes, ingrown toenails, etc. The first-line therapy is conservative treatment, but with absolute clinical indications, doctors resort to surgery. The primary goal of therapy is to eliminate pain and quickly restore the patient's mobility.
The department's specialists also carry out conservative and surgical treatment of spinal diseases. Patients with chronic back pain often seek medical help at the medical facility. Therapeutic options for treating pain syndromes include periradicular therapy (PRT), as well as facet joint and sacroiliac joint blocks. The therapeutic procedures are performed under CT guidance, which excludes damage to the spinal anatomical structures. The above mentioned techniques are highly effective and allow the patient to avoid open surgery. The department's spinal surgeons successfully perform microsurgical interventions for spinal disc herniation, intervertebral disc replacement surgery, interventions for degenerative changes in the spine, inflammatory spinal diseases, traumatic and non-traumatic spinal deformities, interventions for spinal tumor resection, as well as stabilizing spinal operations. The department's surgeons almost always use minimally invasive techniques that exclude extensive incisions in the skin and soft tissues. Spinal surgical procedures are planned using a state-of-the-art CT scanner, while during the interventions surgeons use navigation systems.
The department specializes in the treatment of musculoskeletal diseases and injuries in children and adolescents. Of particular interest is the treatment of hip dysplasia in newborns, Perthes disease, slipped capital femoral epiphysis and spinal curvature (kyphosis, scoliosis, and Scheuermann's disease). Pediatric orthopedists achieve good results in the correction of congenital and acquired deformities: lower limb length discrepancy, O-shaped and X-shaped limb deformities, post-traumatic deformities. There is also vast experience in the treatment of musculoskeletal tumors in children: osteosarcoma, Ewing's sarcoma, bone cysts, fibrous dysplasia, etc.
The department's main clinical focuses include:
Adult orthopedics and trauma surgery

Partial and total knee, hip, shoulder and ankle replacement surgery
Arthroscopic surgery

Knee surgery

Cruciate ligament interventions
Joint preservation surgery: meniscal suturing, meniscal replacement, cartilage cell transplantation
Patella stabilization
Knee fracture treatment

Hip surgery

Surgery for femoroacetabular impingement
Surgery for acetabular labral lesions
Articular cartilage repair: microfracturing, AMIC, ACT

Shoulder surgery

Shoulder dislocation reduction
Rotator cuff tear repair

Elbow surgery

Dislocation reduction
Ligament plastic repair for chronic elbow instability
Cartilage surgery: regenerative therapy, nano-fracturing, AMIC
Removal of free articular bodies and arthrolysis
Open and minimally invasive interventions for elbow fractures

Septic surgery

Interventions for acute and chronic infections of bones, soft tissues and joints
Interventions for implant-associated infections
Interventions for pseudoarthrosis
Interventions for post-infectious defects

Spinal surgery

Microsurgical interventions on the intervertebral discs
Intervertebral disc replacement surgery
Surgery for spinal tumor resection
Surgery for inflammatory spinal diseases
Surgery for traumatic and non-traumatic spinal deformities
Stabilization of the cervical, thoracic and lumbar spine
Infiltration therapy
Periradicular therapy
Facet and sacroiliac joint blocks
Radiofrequency denervation of the intervertebral joints

Pediatric orthopedics and trauma surgery

Ultrasound diagnostics for early detection of hip dysplasia with follow-up treatment
Treatment of Perthes disease
Treatment of slipped capital femoral epiphysis
Treatment of inflammatory joint diseases
Spinal curvature correction

Kyphosis
Scoliosis
Scheuermann's disease

Correction of congenital musculoskeletal deformities

Bone growth disorders
O-shaped and X-shaped lower limb deformities

Foot alignment

Clubfoot
Flat feet
Heel foot
Sickled feet

Treatment of musculoskeletal tumors in children

Osteosarcomas
Ewing's sarcomas
Tumor diseases: fibrous dysplasia, bone cysts, exostoses
Complications of tumors: local bone defects, pseudarthrosis, osteonecrosis

Treatment of musculoskeletal injuries in children

Foot surgery

Ankle replacement surgery
Ankle arthroscopy
Hallux valgus repair surgery
Treatment of metatarsal injuries
Correction of hammer and claw toes
Nail bed plastic repair
Ankle cartilage transplantation
Correction of complications of the peripheral nerve lesions and foot compression syndromes
Treatment of traumatic foot injuries

Other therapeutic options
Curriculum vitae of Prof. Dr. med. Sven Lendemans
Prof. Dr. med. Sven Lendemans holds the position of the Head of the Department of Adult and Pediatric Orthopedics, Trauma Surgery, Foot Surgery and Spinal Surgery at the Alfried Krupp Hospital in Essen-Steele. The specialist gained his clinical experience at the University Hospitals in Essen and Giessen, which are known as one of the best medical facilities in Germany. According to the Focus magazine, Prof. Lendemans regularly ranks among the best German doctors specializing in the treatment of orthopedic diseases and musculoskeletal injuries. Dr. Sven Lendemans also has a Master's Certificate from the German Spine Society (DWG).
The doctor's clinical interests include arthroplasty, knee surgery, hip surgery, treatment of musculoskeletal injuries, including bone fractures, and sports injuries.
Photo of the doctor: (c) Alfried Krupp Krankenhaus
Department of Adult and Pediatric Orthopedics, Trauma Surgery, Foot Surgery and Spinal Surgery.
Alfried Krupp Hospital in Essen-Steele:

Request more information now.
We will be happy to answer all your questions.
---
Certificates