Asklepios Municipal Hospital Bad Wildungen
Department of Anesthesiology and Intensive Care (

4

)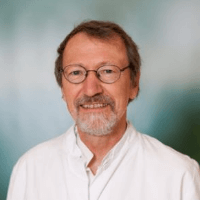 Dr. med.
Karl-Rainhold Brather
Specialized in: anesthesiology, intensive care
About the Department of Anesthesiology and Intensive Care at Asklepios Municipal Hospital Bad Wildungen
The scope of functions of anesthesiologists has developed significantly in recent decades: from simple pain management to complex anesthesia, pain therapy, intensive and emergency care. In the Department of Anesthesiology and Intensive Care of the Asklepios Clinic (Asklepios Klinik) all patients will be informed prior to surgery about the different methods of anesthesia used in modern medicine. Then the most appropriate method of anesthesia will be determined by the anesthesiologist.
Areas of specialization of the Department of Anesthesiology and Intensive Care of the Asklepios Clinic (Asklepios Klinik):
General Anesthesia
Regional (epidural) Anesthesia
Postoperative Recovery
Infusion-transfusion Therapy
Pain Management
Emergency Medical Assistance
Interdisciplinary Intensive Care
General Anesthesia
Balanced anesthesia
Intravenous general anesthesia
Aanalgosedation
Monitoring anesthesia
Intubation anesthesia
Laryngeal mask
BIS-monitoring (EEG monitoring)
Somatosensory evoked potentials during carotid endarterectomy (surgery on the carotid artery) under general anesthesia
In case of difficult airway situations:
ProSeal LMA
Intubating laryngeal mask airways
Bronchoscope
Bonfils retromolar intubation endoscope
Endotracheal tubes
Laryngeal tube
Video Laryngoscope
Device for single-stage conicotomy
Regional (epidural) Anesthesia
Lumbar and thoracic epidural anesthesia
Spinal anesthesia
Anesthesia of the brachial and cervical plexus
Blockade of the femoral nerve
Suprascapular nerve blockade
Intravenous regional anesthesia
Postoperative Recovery
10 beds for post-operative recovery
Stabilization of the blood circulation and respiration
Pain Therapy
Prevention and treatment of nausea and vomiting
Infusion-transfusion Therapy
Blood Bank
Pre- and postoperative blood transfusion
Autologous blood collection
Mechanical autotransfusion (blood transfusion taken from patient during the surgical procedure)
Pain Management
Special Pain Therapy
Pain management plan development
Epidural anesthesia
patient-controlled analgesia infusion pumps
Outpatient treatment of pain syndromes
Emergency medical services
The Department of Emergency Medical Care of Bad Wildungen is located directly at the Asklepios Clinic (Asklepios Klinik). Highly professional anesthetists work here closely with doctors – specialists in Internal Medicine. All physicians have extensive experience in the rescue service and can provide expert medical emergencies. Thus, a continuous chain of emergency medical activities from the place of accident to further treatment can be provided in the Asklepios Municipal Clinic (Asklepios Klinik).
Interdisciplinary Intensive Care
Department of Intensive Care
Devices for invasive and non-invasive mechanical ventilation
Dialysis or hemodialysis, in collaboration with the Department of Nephrology and Dialysis
Rotary Therapy
Therapeutic hypothermia
Blood Gas Analyzer
Mobile X-ray Unit
Ultrasound machine
Mobile ventilator
Noninvasive dilatation tracheostomy
Photo of the doctor: (c) Asklepios Kliniken GmbH
Department of Anesthesiology and Intensive Care.
Asklepios Municipal Hospital Bad Wildungen:

Request more information now.
We will be happy to answer all your questions.
---