Department of Adult and Pediatric General Surgery, Colorectal Surgery (

534864

)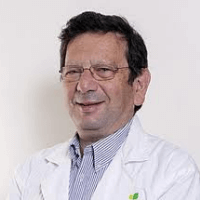 Prof. Dr. med.
Hanoch Kashtan
Specialized in: adult and pediatric general surgery, colorectal surgery
About the department
The Department of Adult and Pediatric General Surgery, Colorectal Surgery at the Assuta Hospital Tel Aviv offers the full range of surgical treatment of diseases of the abdominal cavity, hemorrhoids, and anal fissures. In addition, the doctors of the department specialize in kidney, parathyroid gland surgery, treatment of hemangiomas in children, and varicose veins. The Chief Physician of the department is Prof. Dr. med. Hanoch Kashtan.
Most interventions are performed using a minimally invasive method, which is the gold standard in medicine nowadays. During such operations, the surgeons make a small incision, thereby reducing the risk of complications, the patient experiences minimal pain during the postoperative period, and the healing occurs faster.
The service range of the department includes:
Diagnostics and treatment of pancreatitis

Diagnostics

Laboratory tests (blood, urine, stool tests)
Ultrasound examination
Magnetic resonance imaging
Computed tomography
Angiography of the pancreatic vessels
X-ray examination
Endoscopic ultrasound examination
Endoscopic retrograde cholangiopancreatography (for bile duct imaging)

Therapy

Drug therapy
Surgical treatment
Innovative therapeutic techniques (for example, unique pancreas and insulin-producing B-cell transplantation)
Proper diet, moderate physical activities and alcohol rejection

Diagnostics and treatment of urolithiasis

Remote shock wave lithotripsy (non-invasive method for stone breaking)
Ureteroscopy and retrograde intrarenal surgery
Percutaneous nephrolithotomy (minimally invasive surgery to remove kidney stones more than 2 cm in diameter)

Diagnostics and treatment of liver cirrhosis

Diagnostics

Laboratory blood tests (including serological and immunological ones)
Liver biopsy and laboratory examination of the biopsy sample
Ultrasound examination
Computed tomography
Magnetic resonance imaging
Liver fibroscan
Angiography of the liver vessels

Therapy

Drug therapy
Surgical intervention (in problems with bile outflow)
Liver transplantation (in extremely advanced cases)

Diagnostics and treatment of hemangiomas in children

Diagnostics

General medical examination
Ultrasound examination
Computed tomography
Magnetic resonance imaging
Radiography
Electromyography

Therapy

Cryotherapy (cryodestruction) for the treatment of a simple small hemangioms
Sclerotherapy (for the treatment of small hemangiomas)
Electrocoagulation (high frequency current influence)
Radiation therapy (in the case of tumor localization in hard-to-reach places)
Ultrasound in combination with cryotherapy
Laser therapy (especially in hemangiomas localized in the face)
Surgical intervention

Diagnostics and treatment of adenoids in children

Electrocoagulation
Сoblation
Removal of the pathological formations of tonsils with liquid nitrogen

Diagnostics and treatment of parathyroid neoplasms

Diagnostics

Clinical blood count
Parathyroid hormone level testing
Blood calcium test
Ultrasound examination
Radionuclide imaging of the parathyroid glands
Computed tomography

Therapy

Diagnostics and treatment of varicose veins

Endovenous laser coagulation of the varicose veins
Radiofrequency ablation of the varicose veins

Diagnostics and treatment of hemorrhoids

Diagnostics

Palpation
Anoscopy
Videorectoromanoscopy
Blood count, urinalysis
Reagent-enhanced colonoscopy

Therapy

Ligature
Coagulation
Laser surgery
Cryosurgery

Diagnostics and treatment of anal fissures

Conservative therapy
Surgical treatment

Other medical services
Curriculum vitae
Prof. Hanoch Kashtan is one of the most experienced Israeli surgeons, leading Israeli specialists in surgical treatment of gastric and pancreatic cancer, esophageal cancer, bowel cancer, liver cancer and number of other tumors. The professor owns the most modern methods of endoscopic surgery and the very latest technologies, which allow to remove the tumor as efficiently as possible and cause minimal damage to the patient's body, while preserving the affected organ, if possible. If it is impossible to preserve the organ, the professor brilliantly performs both open and minimally invasive surgeries to remove the stomach, esophagus, gallbladder, spleen, intestines, lymph nodes, or breast.
In addition to oncology, the professor specializes in a wide range of non-oncological surgical interventions, such as minimally invasive laparoscopic treatment of all types of hernias.
The doctor has an extensive clinical experience of more than 35 years, he took part in the international researches in the United States of America and Canada, underwent training in esophageal surgery at one of the most famous hospitals in France (Rangueil Hospital in Toulouse). Prof. Kashtan has successfully operated tens of thousands of patients.
The professor holds the important administrative positions. He is the Head of the Israeli Counseling Center for Esophageal Cancer, the Head of the International Forum for the Treatment of Esophageal, Gastric and Gastrointestinal Cancer, a Member of the Modernization Committee of the Cancer Society.
Prof. Kashtan is also a well-known researcher, he has published more than 100 researches, which were released in the most prestigious medical publications.
Memberships
Israeli Surgical Association.
Israel Association of Physicians.
European Association for Laparoscopic Surgery.
European Society for Medical Oncology.
American Society of Clinical Oncology.
Photo of the doctor: (c) Assuta Medical Centers
Department of Adult and Pediatric General Surgery, Colorectal Surgery.
Assuta Hospital Tel Aviv:

Request more information now.
We will be happy to answer all your questions.
---