Department of Gynecology (

534885

)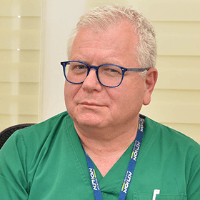 Dr. med.
Jacob Cohen
Specialized in: gynecology
About the Department of Gynecology at Assuta Hospital Tel Aviv
The Department of Gynecology at the Assuta Hospital Tel Aviv offers the full range of services in the field of modern diagnostics and treatment of diseases of the female reproductive system. The specialists of the department use innovative sparing, organ-preserving and fertility-saving laparoscopic methods. Of particular interest is the treatment of gynecologic cancers. The department holds a leading position in this field at the international level. The department is headed by Dr. med. Jacob Cohen.
At the stage of the treatment concept selection, an individual approach is applied to each patient, taking into account the nature and course of the disease, general health, age and many other factors. Depending on the specific clinical indications, doctors prescribe conservative treatment (drug therapy, physiotherapy, psychological preparation, diet therapy) or surgical treatment (laparoscopy, robotic surgery, open interventions). The department is proud of the high treatment success rates and thousands of saved lives of its patients.
The diagnostic options of the department include:
General and hormonal blood tests
Serological tests to detect infections of the female reproductive system
Genetic pathology testing
Ultrasound examination of the uterus with a transvaginal and transabdominal sensor
3D echography
Dopplerography
Computed tomography
Magnetic resonance imaging
X-ray examinations
Colposcopy
Hysteroscopy
Hysterosalpingography
Biopsy followed by histological examination
Other diagnostic methods
The department specializes in the treatment of the following gynecologic pathologies:
Inflammatory diseases

Candidiasis (vaginal thrush)
Bacterial vaginosis
Vulvitis
Adnexitis
Colpitis
Vulvar condylomas
Pelvioperitonitis
Uterine, cervical and vaginal synechiae
Parametritis
Endocervicitis
Endometritis
Cervical erosion

Diseases caused by endocrine regulation disorders

Dysmenorrhea
Vulvar kraurosis
Dysfunctional uterine hemorrhages
Premenopause
Postmenopause
Uterine fibroids
Premature ovarian failure
Sclerocystic ovary syndrome
Ovarian cysts

Gynecologic cancers

Cervical cancer
Endometrial cancer
Uterine sarcoma
Trophoblastic disease
Vulvar cancer
Fallopian tube cancer
Uterine cancer
Vaginal cancer
Vulvar cancer
Ovarian cancer

Precancerous conditions

Vulvar leukoplakia
Cervical epithelial dysplasia
Cervical leukoplakia

Changes in the normal anatomical interposition of the female genital organs or their impaired development

Cervical rupture
Vaginal prolapse
Uterine prolapse
Double uterus

Pathological conditions in pregnancy

Ectopic pregnancy
Dropsy of pregnancy
Nephropathy of pregnancy
Amniotic fluid embolism
Eclampsia in pregnant

Other gynecologic diseases
Curriculum vitae of Dr. med. Jacob Cohen
Education
Higher Medical Education, graduated with honors from the Faculty of Medicine, Tel Aviv University, Israel.
Internship in Endoscopy and Hysteroscopy in the Department of Gynecology and Obstetrics at the Hospital Liss.
Internship in Minimally Invasive Surgery in Gynecology, Royal Free Hospital, London.
Internship in Laparoscopic Hysterectomy at the Hospital of Chicago and at the Hospital of San Francisco, USA.
Clinical and Scientific Experience
In 2010, the doctor founded the Aya Medical Center of Advanced Technologies in Obstetrics and Gynecology together with Dr. med. D. Laxman.
Head of the Outpatient Department of Gynecology and Obstetrics at the Hospital Liss at the Ichilov Medical Center Tel Aviv.
Consultant of the leading Israeli medical centers in Endoscopy, Hysteroscopy and the development of advanced technological devices.
Member of international and Israeli conferences and symposia.
Author of numerous scientific publications in Gynecology.
Specialization
Endoscopic surgery.
Surgical gynecology.
Laparoscopy and hysteroscopy.
Urogynecology.
Oncogynecology.
Fertility treatment.
Membership in Professional Associations
Israeli Medical Association.
Israel Society of Obstetrics and Gynecology.
Israeli Fertility Association.
American Society for Reproductive Immunology.
American Association of Gynecologic Laparoscopists.
Photo of the doctor: (c) Assuta Medical Centers
Department of Gynecology.
Assuta Hospital Tel Aviv:

Request more information now.
We will be happy to answer all your questions.
---