Department of Gastroenterology (

534891

)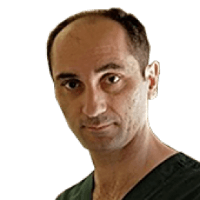 Dr. med.
Maor Lahav
Specialized in: gastroenterology
About the Department of Gastroenterology at Assuta Hospital Tel Aviv
The Department of Gastroenterology offers the full range of diagnostics and treatment of various diseases of the gastrointestinal organs. The doctors of the department work with the advanced diagnostic equipment, which allows to reveal all types of gastrointestinal pathologies at the early stages. The treatment program is selected on an individual basis, taking into account the specific indications, needs and wishes of the patient. The Chief Physician is Dr. med. Maor Lahav.
The department provides diagnostics and treatment of the following diseases:
Colitis
Heartburn (GERD)
Hemorrhoids
Crohn's disease
Chronic gastritis
Chronic duodenitis
Reflux esophagitis (reflux disease)
Chronic pancreatitis, other pancreatic diseases
Gallbladder diseases
Stomach and intestinal ulcer
Nonspecific ulcerative colitis
Gastrointestinal bleeding
Syndromes of the operated stomach
Liver diseases
Barrett's esophagus
Stomach cancer
Liver cancer
Colon and small intestine cancer
Rectal cancer
Benign liver tumors
Pancreatic cancer
Cirrhosis
Hepatitis C
Other pathologies
The diagnostic range of the department includes:
Gastroscopy (also with biopsy)
Colonoscopy (also with biopsy)
Esophagoscopy (also with biopsy)
Computed tomography (CT)
Positron emission tomography (PET-CT)
Magnetic resonance imaging (MRI)
Virtual colonoscopy
Examination of the digestive tract sphincter
Capsule endoscopy
Helicobacter Pylori tests
Functional diagnostics (for example, electrocardiography, dopplerography)
Abdominal ultrasound
Liver function tests
Other diagnostic options
The therapeutic spectrum of the department includes:
Stent implantation to restore the patency of the gastrointestinal tract
Dilatation of esophageal stenosis
Endoscopic polyp removal
Removal of the biliary tract stones (laparoscopic techniques)
Vagotomy (surgical technique to treat gastric ulcer)
Minimally invasive surgery
Open surgical interventions
Endovascular interventions
Endoscopic closure of the fistula between trachea and esophagus
Multiple-organ surgery (performed simultaneously on several organs)
Innovative Fast Track Rehabilitation Program to recover patients after operations on the gastrointestinal tract
Hyperthermic intraperitoneal chemotherapy (HIPEC) for the treatment of gastrointestinal malignant tumors
Gamma Knife therapy
Focused ultrasound ablation
Other treatment methods
Curriculum vitae of Dr. med. Maor Lahav
Education and Clinical Experience
1995 Higher Medical Education at the CIS University.
Internship in Internal Medicine and Gastroenterology, Sheba Medical Center, Israel.
Long Internship and Participation in International Researchers, Hospital at the University of Chicago, USA.
Dr. Maor Lahav is a leading Israeli gastroenterologist, a doctor with more than 21 years of experience. He is a world-class specialist in the field of accurate diagnostics and minimally invasive treatment of a wide range of diseases of the gastrointestinal tract, such as Crohn's disease, atrophic gastritis and many others.
The doctor removes tumors and stones using the most advanced methods, such as ERCP (endoscopic retrograde cholangiopancreatography) or ESD (endoscopic submucosal dissection). He also extensively applies radiofrequency ablation (RFA) in the treatment of Barrett's esophagus, endoscopic ultrasound (EUS) for the diagnostics of gastrointestinal tumors, double balloon endoscopy (DBE) for the diagnostics and treatment of small intestine and many other very latest techniques.
Thanks to his knowledge and experience, Dr. Lahav restores health of hundreds of patients annually.
Photo of the doctor: (c) Assuta Medical Centers
Department of Gastroenterology.
Assuta Hospital Tel Aviv:

Request more information now.
We will be happy to answer all your questions.
---