Department of Oncology and Hematology (

534900

)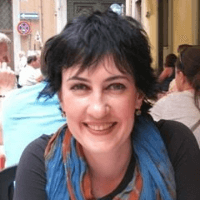 Dr. med.
Julia Greenberg
Specialized in: oncology, hematology
About the Department of Oncology and Hematology at Assuta Hospital Tel Aviv
The Department of Oncology and Hematology at the Assuta Hospital Tel Aviv offers the full range of diagnostics and treatment of all types of cancer at any stages and in patients of any age group. Thanks to the combination of high professionalism of Israeli oncologists, advanced anti-cancer methods, innovative drugs, advanced medical technologies, state-of-the-art medical and diagnostic equipment and an individual approach, the department demonstrates excellent treatment results and is one of the leading medical facilities in the world. The department is headed by Dr. med. Julia Greenberg.
Since oncopathology is one of the most difficult challenges of modern medicine, its treatment requires a comprehensive, interdisciplinary approach.Therefore, the department is staffed by a multidisciplinary team of highly qualified doctors, such as oncologists, surgeons, radiologists, chemotherapists, psychologists, who are among the country's best doctors, and also gained credibility in the international arena.
The specialists of the department aim not only to completely rid the patient of a malignant neoplasm and metastases, but also to preserve his acceptable quality of life. Therefore, when choosing medical methods, they give preference to those that not only lead to the desired result, but will also be as sparing as possible. For example, they perform surgical interventions using modern minimally invasive methods, which mostly allow to preserve the integrity and functionality of the organ affected by the tumor, while among the available drugs choose only those that accurately affect cancer cells, without making harm to the healthy ones.
Before a treatment program is prescribed, the patient undergoes the most comprehensive examination with the use of modern effective and safe diagnostic methods, such as CT, PET-CT, MRI, X-rays, biochemical, molecular, genetic studies, endoscopic studies.
The department provides the diagnostics and treatment of the following diseases:
Breast cancer and tumors of the female reproductive system
Cancer of the male genital organs
Tumors of the genitourinary system in women and men
Gastrointestinal cancer
Bowel cancer
Lung and respiratory tract cancer
Bone and soft tissue cancer
Brain and spinal cord tumors
Skin cancer
Leukemia
Lymphomas
Endocrine tumors
Neuroendocrine tumors
Tumors in the maxillofacial area
Head and neck tumors
Eye tumors
Other cancers
The therapeutic options of the department include:
Classical radiotherapy and chemotherapy
Intensity modulated radiotherapy
Selective internal radiation therapy
Contact radiotherapy (brachytherapy)
Radiosurgery (Gamma Knife, CyberKnife)
Hyperthermic intraperitoneal chemotherapy (HIPEC)
High intensity focused ultrasound (HIFU)
Hormone therapy
Immunotherapy
Endoscopic treatments
Organ-preserving surgery
Reconstructive surgery
Bone marrow transplantation in malignant blood diseases

Autologous transplantation (patient's bone marrow transplantation)
Allogeneic transplantation (donor bone marrow transplantation)

Other treatment methods
Curriculum vitae of Dr. med. Julia Greenberg
Julia Greenberg is a distinguished Israeli specialist in the treatment of breast cancer, as well as in the use of thermal therapy and cryogenic methods in oncology. The main specialization of Dr. Greenberg is medical and clinical oncomammology (treatment of breast cancer), within which she has carried out extensive research work, the results of which were published in Israeli and foreign scientific journals. Dr. Greenberg's activities also include the treatment of cancers of the urogenital system, digestive system and lungs.
In her clinical practice, Dr. Greenberg skillfully combines advanced anticancer techniques with traditional treatments.Thus, she achieves the highest possible effectiveness of therapy, while in advanced cases she manages to achieve significant improvement in the patient's health and the quality of life. In cancer treatment, Dr. Greenberg is guided by the principle of a differentiated approach to each patient, developing individual treatment programs based on the results of a comprehensive examination. This approach allows her to simultaneously achieve the highest possible treatment efficiency and reduce the negative effects of long-term courses of radiation- and chemotherapy.
Dr. Julia Greenberg has worked in the largest Israeli medical complex called Ichilov (currently Sourasky Hospital) for 11 years (2002 - 2013), where she held the position of a Senior Oncologist in the Department of Oncology and Radiation Therapy.
In addition to clinical practice, Julia Greenberg is engaged in research of anticancer drugs and their combinations in the treatment of cancers. Also, she conducts trainings in this field for oncologists specializing in pharmaceutics.
Specialization
Oncological mammology.
Palliative care in breast cancer.
Urologic oncology.
Gastrointestinal oncology.
Treatment of malignant lung tumors.
Education
Medical Institute of Tashkent, Uzbekistan.
Internship in Oncology and Radiology, Sheba Medical Center, Israel.
Membership in Professional Societies
Medical Association of Israeli Doctors.
Association of Clinical Oncology and Radiation Therapy of Israel.
American Association of Clinical Oncology.
European Society for Medical Oncology.
Photo of the doctor: (c) Assuta Medical Centers
Department of Oncology and Hematology.
Assuta Hospital Tel Aviv:

Request more information now.
We will be happy to answer all your questions.
---