Hip osteoarthritis (coxarthrosis) treatment with hip replacement (hip endoprosthesis) (program ID:

362696

)
ATOS Clinic Heidelberg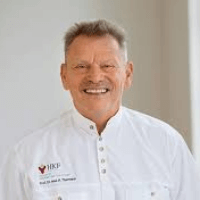 Head Physician
Prof. Dr. med.
Hajo Thermann
Specialized in: adult and pediatric orthopedics, surgical orthopedics
Department of Adult and Pediatric Orthopedics, Surgical Orthopedics
Program includes:
Initial presentation in the clinic
clinical history taking
physical examination
review of medical records
laboratory tests:

complete blood count
general urine analysis
biochemical analysis of blood
indicators of inflammation (CRP, ESR)
indicators blood coagulation

x-ray examination of the hip
MRI scan of the hip
preoperative care
hip replacement (hip endoprosthesis)
symptomatic treatment
control examinations
physiotherapeutic procedures
orthopedic appliances
the cost of essential medicines and materials
nursing services
full hospital accommodation
explanation of future recommendations
How program is carried out
Preliminary preparation for hip replacement includes quitting smoking and drinking alcohol; cancelling non-steroidal anti-inflammatory drugs (diclofenac, ibuprofen); cancelling anticoagulants (warfarin); normalization of body mass, if possible.
Preoperative examination, including consultation with an anesthesiologist and necessary related specialists, takes 1-2 days. According to its results, the most suitable endoprosthesis is selected.
Hip replacement. The operation is performed under general anesthesia. The patient lies on his side, the affected leg is bent and fixed in this position. The surgeon makes an incision 15-20 cm long, minimally traumatizing the muscles and nerve endings. Through this incision, miniature instruments are inserted to remove the damaged joint structures. Healthy bone is adjusted for further reliable implant fixation.
The surgeon installs a femoral stem in the center of the upper part of the femur. Ball-shaped head of the joint is fixed on it. The surgeon also implants a special liner that facilitates movement of the leg and protects the structures of the prosthesis. After the primary fixation of the prosthesis components, the doctor assesses the joint range of motion, as well as the length and symmetry of the lower limb.
The implant is fixed with cement or cementless method. The doctor treats the operating field with antiseptics, conducts its final revision and sutures the wound layer by layer. A temporary drainage is installed in the joint, and a bandage is applied on top.
Postoperative care. During the first day after the intervention the patient stays in the intensive care unit, under round-the-clock medical supervision. After that, with a smooth course of the postoperative period, the patient is transferred to a regular ward and the drains are removed. The range of motion expands gradually, from light toes movements to walking. Walking with the use of walking aids is allowed in 3-5 days after the operation.
Required documents
X-ray examination of the hip joints
MRI scan of the hip joints, if available
Service
Price:
Type of program :
Expected duration of the program:
You may also book

Price:
About the department
The Department of Adult and Pediatric Orthopedics, Surgical Orthopedics at the ATOS Clinic Heidelberg offers the full range of services in these medical focuses. It provides an accurate diagnostics and an effective treatment of diseases of the ankle, hip, knee and shoulder. The department's range of services also covers hand, foot surgery and treatment of other diseases in this field. The department is headed by Prof. Dr. med. Hajo Thermann.
Foot pain, injuries and defects are orthopedic pathologies that require the competent medical care of an orthopedist. The most common diseases in adults are hallux valgus and hallux rigidus. The type of treatment for these deformations depends on their degree of severity. It can be both conservative and surgical. To date, there are more than 150 surgical techniques for treating hallux valgus and hallux rigidus. Doctors can use interventions on soft tissues without bone correction, as well as combined operations involving a simultaneous correction of soft and bony tissues.
Other foot deformities include pes valgus, clubfoot (most commonly found in children), hollow foot and many others. Diseases can be either congenital or they can develop due to neurological disorders, such as stroke, nerve damage, spinal disc herniation, cerebral palsy. A special role is played by hereditary pathologies (hereditary motor and sensory neuropathy (NMSN)) or metabolic disorders (e.g,, Charcot foot). The department has a rich arsenal of methods for treating pathologies of any complexity. It also offers many conservative methods: physiotherapy, corrective insoles, orthopedic shoes and individually manufactured orthoses.
Another priority of the department's work is hand surgery. The department has more than 25 years of experience in this medical field. As a member of national and international professional societies, the department constantly maintains contact with colleagues and takes over experience at congresses and specialized courses.
The department offers treatment of the entire spectrum of hand pathologies. Most commonly, doctors have to deal with diseases, such as arthrosis of the wrist joint, Dupuytren's contracture, hand injuries (distal radius fracture, scaphoid fracture), chronic diseases, e.g., rhizartrosis, arthrosis of other hand finger joints, pseudoarthrosis of the scaphoid bone, as well as with nerve compression syndromes (carpal canal syndrome, cubital canal syndrome) and many other conditions.
The medical team adjusts treatment according to individual needs and wishes of patients. Surgical treatment is used only if conservative methods of treatment do not yield positive results.
In addition, the specialization of the department is the treatment of injuries and diseases of the knee. The widest service spectrum covers all the problems that cause knee pain ranging from diagnosis, conservative therapy up to surgical treatment. The department treats diseases of any severity: knee injury, meniscus rupture, cruciate ligament rupture, sports injuries, arthrosis and many others.
The medical team has an extensive experience in endoprosthetics. If the patient needs knee replacement surgery, doctors are trying to perform partial endoprosthetics (unicondylar knee replacement). Nevertheless, even total knee replacement is minimally invasive. New materials and surface coatings (for example, ceramics) ensure minimum wear and prolonged implant service. Modern endoprosthesis correspond to the anatomy and biomechanics of the human knee providing a greater range of motion and better functioning.
Also, the department has extensive clinical experience in hip treatment. Hip pain can occur in both young people and elderly patients. The highly qualified team of the department provides treatment of the widest spectrum of pathologies in this medical field. The main of them are coxarthrosis (hip arthrosis), hip dysplasia, hip impingement syndrome, femoral head necrosis and other inflammatory processes in the hip (for example, rheumatism).
It should be noted that the department has an excellent reputation in the treatment of shoulder diseases. This is facilitated by 20 years of experience and highly professional doctors of the department. Most often, patients with complaints, such as shoulder bursitis and arthrosis seek medical help from the department. Naturally, it offers treatment of the full range of shoulder problems. Many operations are minimally invasive, which helps to reduce the period of hospital stay and ensures rapid recovery of patients.
The range of medical services of the department includes:
Diseases of the foot
Shockwave therapy
Treatment with autologous conditioned plasma (ACP)
Hyaluronic acid injections
Botulinum toxin injection therapy
Arthroscopic surgery
Cartilage replacement surgery, microfracture surgery
Osteotomy
Interventions to correct bones of the posterior part of the foot
Interventions to correct bones of the middle and anterior parts of the foot
Ankle replacement surgery
Complex corrective operations on soft and bone tissues
Tendon transplantation
Arthrodesis
And other interventions
Hand pain
Wrist arthroscopy (in inflammatory and purulent diseases, cartilage damage)
Percutaneous osteosynthesis of scaphoid fracture
Plate osteosynthesis in distal radius fracture
Finger and wrist endoprosthetics
Resection arthroplasty of the carpometacarpal joint of the thumb
Nerve reconstruction (microsurgery) by suturing
Surgery to restore joint mobility
And many other therapeutic options
Diseases of the knee
Hyaluronic acid injections
Treatment with autologous conditioned plasma
Microfracturing of the knee joint cartilage
Nanofracturing with a matrix
Transplantation of cartilaginous cells
Autologous matrix-induced chondrogenesis (AMIC)
Osteotomy
Knee replacement surgery (all modern prostheses and methods of joint replacement)
And other interventions
Hip pain
Treatment of knee joint cartilage
Alignment, removal or reconstruction in damaged articular lip
Surgical treatment of hip necrosis
3-dimensional correction of the pelvis in hip dysplasia (PAO, triple pelvic osteotomy, derotation and varus osteotomy)
Hip replacement surgery (total and partial)
Conservative treatment
And many other treatments
Diseases of the shoulder
Arthroscopic interventions
Reconstruction of the rotator cuff (tendon suturing), revision and repeated operations after unsuccessful tendon suturing
Shoulder stabilization (Bankart procedure)
Treatment of biceps brachii tendon (tenodesis and tenotomy) in biceps brachii tendon rupture
Removal of calcareous plaque in calcific tendinitis
Subacromial shoulder decompression in shoulder impingement syndrome
Resection of the angular part of the shoulder joint
Stabilization in (acute and chronic) shoulder instability
And other interventions
Open interventions
Shoulder replacement surgery
Revision interventions (also renewal of the prosthesis after a few years)
Prosthesis replacement
Tendon transplantation in incurable rotator cuff defects
Operations to stabilize bones
Stabilization in (acute and chronic) shoulder instability
And other interventions
Curriculum vitae
1986 - 1998 Department of Trauma Surgery, Hannover Medical School (Head: Prof. Dr. H. Tscherne).
1990 Specialist in Surgery.
1991 Specialist in Trauma Surgery.
1993 Defense of doctoral dissertation, Traumatology (topic: "Functional treatment of the Achilles tendon rupture. Clinical and experimental research").
1994 Additional qualification in emergency medical care.
1993 Senior Physician of the Department of Trauma Surgery.
1993 Academic Supervisor of the working group on foot surgery, Department of Trauma Surgery.
01/1998 Visiting Professor.
Since 1998 Chief Physician of the Center for Foot, Knee and Hip Surgery, Sports Traumatology, ATOS Orthopedic Clinic Heidelberg.
07/2010 Chief Physician of the ATOS Orthopedic Clinic Heidelberg.
Membership in professional societies
Since 1989 Member of the German Society of Surgery.
Since 1990 Member of the German Society of Traumatology.
Since 1990 Member of the working group "Sports Medicine (CAS)" in the German Society of Surgery.
Since 1991 Member of the Society of Orthopedic Traumatological Sports Medicine.
Since 1991 Member of the working group "Sonography", German Society of Surgery.
Since 1991 Member of the working group "Distraction osteogenesis", German Section of the International Association for Osteosynthesis Study.
Since 1994 Board Member of the European Society of Foot and Ankle Surgeons.
Since 1995 Member of the working group "Biomechanics of the Foot and Ankle", American Orthopaedic Foot and Ankle Society.
Since October 1996, Chairman of the Education Committee of the European Society of Foot and Ankle Surgeons.
Since 1997 International Member of the American Orthopedic Society of Foot and Ankle Surgery.
Since October 1997 Management Board Member of the journal "Foot and Ankle Surgery".
Since June 1998 Board Member of the European Foot and Ankle Society.
Since May 2005 Honorary Member of the Brazilian Foot and Ankle Society.
Since October 2005 Visiting Professor of the 3rd Military Medical University of Chongqing (China).
Since 01.01.2006 "International external adviser" (Chinese University of Hong Kong).
Photo of the doctor: (c) ATOS Klinik Heidelberg
---
About hospital
Accommodation in hospital
Hip osteoarthritis (coxarthrosis)
Program [Description]
Hip osteoarthritis (coxarthrosis) treatment with hip replacement (hip endoprosthesis)
Hospital: ATOS Clinic Heidelberg
Type:
access_time Duration:
Price:
date_range
There are 97 hip osteoarthritis (coxarthrosis) treatment hospitals on Booking Health website
Show all clinics