ATOS Fleetinsel Clinic Hamburg
Department of Orthopedics and Surgery (

334472

)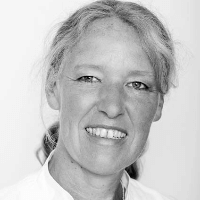 Dr. med.
Christiane Gebhardt
Specialized in: orthopedics, surgery
About the Department of Orthopedics and Surgery at ATOS Fleetinsel Clinic Hamburg
The Department of Orthopedics and Surgery at the Fleetinsel Clinic Hamburg offers the full range of services in these focuses. The department specializes in the surgical treatment of elbow, shoulder, hip, knee and hernias. The medical team of the department performs many spinal surgeries. Particular attention is paid to both diagnosis and treatment of vascular diseases, foot diseases and other disorders in this field. The department is headed by Dr. med. Christiane Gebhardt.
The spectrum of different treatments in orthopedics ranges from minimally invasive endoscopic procedures, all types of open surgeries up to endoprosthestics. The department offers a broad variety of conservative methods, including physical therapy programs or injection treatments. The choice of appropriate treatment will be discussed with the patients individually. The doctors of the department always start with a sound and well-rounded patient's anamnesis analysis. To assure the diagnosis, imaging techniques like computer tomography scanning (CT) or magnetic resonance imaging (MRI) are usually necessary. A specific therapy will start immediately afterwards.
The department performs highly effective hip, knee and shoulder replacement surgeries. The specialists are able to perform joint surgeries at every degree of severity – from primary care patients to patients in need of pre-existing artificial joint replacement.
Nowadays, prostheses are refined high-tech constructions. The modern prostheses make sure that the patient is not only free of pain but also mobile again. Also, many sports activities can be pursued again which returns a high quality of life. There are many different types of implants that can be chosen according to the stage of disease and individual situation. Often, the entire joint is not destroyed, only a small part of it and there is no need to always replace the entire joint. For some patients it is totally sufficient to only use a so-called partial prosthesis (e.g. sliding prosthesis for the knee). An artificial joint is always a good alternative when other treatment interventions cannot achieve freedom from pain and mobility.
Thanks to many years of medical experience, knowledge and application of the latest technologies the department provides the most effective treatment of spine diseases.
The treatment strategy is considered and developed for each patient depending on different individual factors. It needs to be assessed at all times whether a conservative treatment is a better and more responsible option. It is often possible to choose a semi invasive treatment such as targeted injections that are monitored with imaging techniques (x-ray, ultrasound) to avoid the surgery. In some cases, surgery is the best option. Doctors of the department take all measures to fully rehabilitate patients, performing an operation to maximally restore mobility.
A separate focus of the department is hernia treatment. Back in the day, hernias were treated with enormous abdominal incisions, which often led to great pain, long absences due to the medical condition and scars. Nowadays, surgeons prefer the so-called keyhole technique (TAPP hernia repair), which allows to place a synthetic mesh in front of the peritoneum to stabilize the inguinal region. With this procedure, the patient is only left with three tiny incisions. This procedure can also be done using the Lichtenstein technique, which requires a bigger inguinal incision. The usage of synthetic mesh can only be dismissed for exceptional cases (Shouldice procedure).
Also, the service spectrum of the department is complemented with vascular surgery. There is used one of the latest color ultrasound imaging machines for diagnosis. One of the advanced and outstanding procedures used in the department to treat vascular diseases is the "crochet hook technique". During that procedure, the invalid vein is being removed using a very fine needle that actual has the shape of a crochet hook. Therefore, only small incisions are made.
Slight venous problems can even be controlled with specific vein gymnastics and sports. Slighter forms also contain spider veins. It is possible to treat those with sclerotherapy, laser or electricity depending on the stage of the disease. It can be recommended to wear compression stockings. They compress the leg and therefore the vein from the outside. Consequently, the venous valves are able to close sufficiently again and the blood flows back towards the heart. Surgery is strongly suggested when a severe venous disorder is diagnosed.
Large varicose veins are still removed by the standard surgery procedure – vein stripping. Due to great perioperative diagnosis and finer instruments, this procedure developed into a significantly more indulgent surgery. An additional therapy option is lasering of the superficial main veins. This procedure is very gentle and can be performed using local anesthesia.
In addition, the department offers a variety of treatment for foot diseases. Many symptoms can be treated conservatively. In such cases, special insoles, suitable shoes, self-acting exercises or physical therapy are recommended. However, some diseases require surgery to recover the impaired function and alleviate the pain.
The treatment focuses of the department include:
Treatment of elbow, shoulder, hip and knee (conservative and surgical)
Surgical treatment of hernias
Spinal surgery
Vascular surgery
Treatment of foot diseases (conservative and surgical)
and treatment of other diseases
Curriculum vitae of Dr. med. Christiane Gebhardt
1991 - 1997 Education in general, vascular and thoracic surgery (internship under the direction of Prof. Imig, AK Harburg Clinic).
1997 Examination in the specialty.
Since 2000 Head of the Department of General, Vascular and Thoracic Surgery, AK Harburg Clinic.
From 06/2003 Position in the Fleetinsel Clinic.
Photo of the doctor: (c) ATOS Klinik Fleetinsel Hamburg
Department of Orthopedics and Surgery.
ATOS Fleetinsel Clinic Hamburg:

Request more information now.
We will be happy to answer all your questions.
---