Surgical treatment in constipation (program ID:

497654

)
Beta Klinik Bonn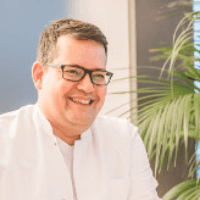 Head Physician
Dr. med.
Stefan Mühlbauer
Specialized in: general surgery, proctology
Department of Surgery and Proctology
Program includes:
Initial presentation in the clinic
clinical history taking
physical examination
review of medical records
laboratory tests:

complete blood count
general urine analysis
biochemical analysis of blood
TSH-basal, fT3, fT4
indicators of inflammation (CRP, ESR)
indicators blood coagulation

abdominal ultrasound
CT/MRI abdomen
preoperative care
surgical treatment of constipation
symptomatic treatment
control examinations
the cost of essential medicines and materials
nursing services
nutrition recommendations
full hospital accommodation
explanation of future recommendations
Service
Price:
Type of program :
Expected duration of the program:
You may also book

Price:
About the department
The Department of Surgery and Proctology at the Beta Klinik offers surgical treatment of the abdominal organs, abdominal wall and thyroid gland (general and abdominal surgery), as well as diagnostics and treatment of diseases of the colon and rectum, conservative and surgical treatment of the pelvic floor organs in fecal incontinence, etc. (coloproctology). The department specializes in the treatment of hernias (for example, umbilical, inguinal, etc.), minimally invasive surgery on the gallbladder, cecum and thyroid. The Chief Physician of the department is Dr. med. Stefan Mühlbauer.
It should be noted that the competent specialists of the department have a unique experience in the diagnostics and conservative (non-surgical) treatment of diseases of the colon and rectum. In surgical treatment, preference is given to sparing and minimally invasive techniques, for example, laparoscopy, including in diseases of the small and large intestine. With appropriate clinical indications, it is possible to use a single-port surgical technique that provides an excellent cosmetic result. In this case, the intervention is performed through a small incision in the navel. Also, in the arsenal of the department's medical team there are especially sparing methods for the treatment of bowel diseases, for example, hemorrhoidal disease.
The range of medical services of the department includes:
Diagnostic services and conservative therapy options
Endoscopy
Proctologic diagnostics
Non-surgical treatment of hemorrhoids
Diagnosis and treatment of chronic constipation and incontinence
Second opinion
Patient counseling before abdominal interventions
Other services
Surgical treatment
Surgical hernia repair (inguinal hernia, umbilical hernia, abdominal wall hernia and incisional hernia)
Gallbladder and appendix removal (for example, with the use of SILS technique)
Thyroid surgery
Surgical treatment of haemorrhoids, anal fissures, anal abscesses and fistulae, minimally invasive and plastic treatment of coccyx fistulae (according to Bascom's technique)
Surgical treatment of inflammatory and oncologic diseases of the large and small intestine (for example, sigmoid diverticulitis), rectocele, internal and external rectal prolapse
Sacral nerve stimulation
Port system implantation (for example, for chemotherapy)
Other services
Photo of the doctor: (c) Beta Klinik Service-, Verwaltungs- und Forschungs- GmbH
---
About hospital
Accommodation in hospital
Constipation
Program [Description]
Surgical treatment in constipation
Hospital: Beta Klinik Bonn
Type:
Duration:
Price:
date_range
There are 7 constipation treatment hospitals on Booking Health website
Show all clinics