Department of Neurosurgery and Interventional Neuroradiology (

414239

)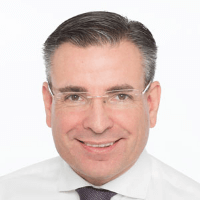 Prof. Dr. med.
Thomas Gasser
Specialized in: neurosurgery, interventional neuroradiology
About the Department of Neurosurgery and Interventional Neuroradiology at Beta Klinik Bonn
The Department of Neurosurgery and Interventional Neuroradiology at the Beta Klinik is a modern maximum care medical facility, which offers the full range of diagnostic and therapeutic services in the field of neurosurgery. It provides the first-class treatment of diseases of the brain, bone marrow, spine, blood vessels and peripheral nerves. The successful treatment outcome is facilitated by the high professionalism of doctors and the cutting-edge technical equipment. The department is headed by Prof. Dr. med. Thomas Gasser.
In clinical practice, the specialists of the department widely use microscopic and endoscopic interventions, for example, for the treatment of spinal diseases, but also modern neuromodulation methods (deep brain stimulation, spinal cord stimulation, etc.) are actively used.
Within the framework of interventional neuroradiology, diagnostics and treatment involves the use of ultrasound, CT, MRI and angiography, for example, in vascular diseases (aneurysms, carotid stenosis). Such a sparing minimally invasive treatment can be provided due to the department's excellent technical equipment. It should be noted that the department has a specially trained team for postoperative patient care.
The department treats the following diseases:
Brain diseases

Headache / migraine
Dystonia
Tremor
Neuralgia / trigeminal neuralgia
Dizziness
Ringing in the ears (tinnitus)
Brain tumors
Parkinson's disease
Other diseases

Diseases and injuries of the peripheral nerves

Carpal tunnel syndrome
Meralgia paresthetica
Morton's disease
Cubital tunnel syndrome
Tarsal tunnel syndrome
Tumors of the peripheral nerves (for example, schwannomas)
Other pathologies

Spinal diseases

Herniated discs
Spinal stenosis
Spinal instability
Facet joint arthrosis
Osteoporosis (fractures of the vertebrae)
Back pain
Other pathological conditions

Vascular diseases (interventional neuroradiology)

Aneurysms
Carotid stenosis
Other pathologies
The department's range of therapeutic services includes:
Treatment of brain diseases
Conservative therapy for headaches, migraines and dizziness

Drug therapy (infusion therapy, administration of special drugs)
Manual therapy and physiotherapy
Acupuncture
Special treatment course for the corresponding primary pathology
Prevention
Other methods

Conservative therapy for brain tumors

Treatment of edema with steroids
Treatment of symptomatic epilepsy (if any)
Special therapy methods for tumors (for example, chemotherapy)
Other methods

Treatment of trigeminal neuralgia with the help of Jannetta procedure
Treatment of motor disorders with deep brain stimulation
Microsurgical interventions for the treatment of brain tumors
Treatment of headaches and dizziness with microtherapy
Treatment of chronic pain by spinal cord stimulation
Other therapeutic methods
Treatment of diseases and injuries of the peripheral nerves
Decompression interventions
Surgical interventions for nerve restoration (in case of injuries with blunt or sharp objects)
Surgical removal of peripheral nerve tumors
Other treatments
Treatment of spinal diseases
Intervertebral disc prosthetic repair
Decompression interventions (microlaminectomy)
Endoscopic abrasion
Endoscopic spinal surgery
Microsurgical spinal interventions
Microtherapy

Treatment of facet joint diseases
Treatment of nerve root diseases
Treatment of spinal canal diseases

Spinal cord stimulation
Implantation of the interspinous implant (SPACER)
Spinal fusion (spinal stabilization)
Vertebroplasty and kyphoplasty
Other treatments
Curriculum vitae of Prof. Dr. med. Thomas Gasser
Prof. Thomas Gasser studied medicine at the Ignaz-Semmelweis University in Budapest, the Essen University Hospital and had many trainings abroad. He was a Visiting Physician at the Groote Schuur Hospital in Cape Town. He followed on from his licence to practice medicine with his PhD on epidural scarring after lumbar intraspinal intervention. Then he had his training for a Medical Specialist with the habilitation on the development and clinical relevance of functional magnetic resonance imaging in neurosurgery.
He founded the Faculty of Functional Neurosurgery and Intraoperative Imaging at the Johann Wolfgang Goethe University in Frankfurt (Germany) and has been responsible for the Faculty of Functional Neurosurgery at the Essen University Hospital since 2008.
The application of the state-of-the-art therapies for the treatment of pain and movement disorders (neuromodulation, for example, spinal cord stimulation, deep brain stimulation) are his primary focuses as a physician. Additionally, he specializes in the microsurgical treatment of neuro-oncological, degenerative and vascular brain and spine diseases.
Prof. Gasser scientifically focuses on the application of complex imaging procedures in neurosurgery. In 2005, he was awarded the International Exchange Grant of the German and Japanese Society of Neurosurgery, leading him to a successful scientific research project at Tokyo Women's Medical University (Japan).
Prof. Gasser is author and co-author of more than 130 scientific publications, holds two patents for medicine products and regularly gives scientific lectures at international congresses. Furthermore, he is the Scientific Consultant and Member of the Scientific Advisory Board of Medtronic Navigation, Louisville, USA. He is also a Member of several specialized associations:German Society of Neurosurgery, World Congress of Neurological Surgeons (WCNS) and World Society for Stereotaxy and Functional Neurosurgery (WSSFN).
Photo of the doctor: (c) Beta Klinik Service-, Verwaltungs- und Forschungs- GmbH
Epilepsy treatment with MRI-guided laser ablation of epileptic foci
Glioblastoma treatment with MRI-guided laser ablation
Brain metastases treatment with MRI-guided laser ablation
Department of Neurosurgery and Interventional Neuroradiology.
Beta Klinik Bonn:

Request more information now.
We will be happy to answer all your questions.
---