Clinic de Genolier Genolier
Department of Thoracic Surgery (

603877

)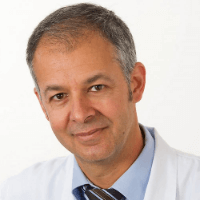 Dr. med.
Thierry Roth
Specialized in: thoracic surgery
About the Department of Thoracic Surgery at Clinic de Genolier Genolier
The Department of Thoracic Surgery at the Clinic de Genolier Genolier offers the full range of surgical treatment for thoracic organs, with the exception of the heart and aorta. The high competence of the department's doctors, the cutting-edge technological equipment, as well as an individual approach to each clinical case are the key to a successful treatment outcome. The department is headed by Dr. med. Thierry Roth.
The main tasks of the department's specialists include minimally invasive interventions for the removal of tumors of the bronchi, mediastinal organs, lungs, as well as the surgical treatment of pathologies of pleura and emphysema. The department also carries out laser procedures to treat stenosis of the respiratory tract, for example, due to the neoplasms.
Prior to any thoracic surgery, the patient undergoes a comprehensive examination, which allows the doctors not only to make an accurate diagnosis, but also to assess the nature of the course of the disease, the condition of all organs, and also to develop an optimal plan for further treatment. The department offers such diagnostic tests as bronchoscopy, X-ray examinations, endoscopic techniques (thoracoscopy, mediastinoscopy), ultrasound, CT, MRI scanning, biopsy followed by histological examination, the full range of laboratory tests, etc.
The department specializes in the surgical treatment of the following diseases:
Malignant thoracic diseases

Lung tumors
Mediastinal tumors
Pleural tumors
Chest wall tumors
Metastatic spreading of cancers of other organs to the lungs

Lungs and bronchial cysts
Pulmonary emphysema
Bronchiectasis
Purulent and inflammatory processes in the lungs and pleura
Thoracic injuries and deformities
Hemoptysis
Pneumothorax
Pleural effusion (pleurisy)
Stenosis of the bronchi and larynx
Foreign bodies in the respiratory tract
Other thoracic diseases and pathological conditions
Curriculum vitae of Dr. med. Thierry Roth
Education
1998 Diploma in Digestive Oncology, University of Nice, France.
1994 Doctor of Medicine.
1981 - 1987 Medical School at the University of Geneva, Switzerland.
Professional Career
2005 Fellowship in Abdominal Surgery, Hospital St-Antoine in Paris (Prof. E. Tiret).
2001 - 2005 Fellowship in Thoracic Surgery, Hospital Hotel-Dieu in Paris (Prof. J.-F. Regnard).
2001 Fellowship in Thoracic Surgery, Hospital Marie Lannelongue in Paris (Prof. P. Dartevelle).
2000 - 2006 Staff Surgeon, University Hospital Berne (Prof. R. Schmid, Prof. D. Candinas) Switzerland.
1998 - 1999 Staff Surgeon, Neuchatel Hospital (Prof. P. Tschantz), Switzerland.
1997 - 1998 Fellowship in Abdominal Surgery, Hospital Princess Grace in Monaco (Prof. C. Huguet).
1995 - 1997 Staff Surgeon, Regional Hospital Aigle (Dr C.-H. Ruegsegger), Switzerland.
1992 - 1993 Cantonal Hospital Fribourg, Switzerland.
1991 - 1995 Residency, Regional Hospital Morges, Switzerland.
1988 - 1991 Residency, University Hospital Geneva, Switzerland.
1987 - 1988 Residency, Hospital La Tour, Geneva, Switzerland.
Memberships
2006 Swiss Board of Specialists in Thoracic Surgery.
2006 Swiss Board of Specialists in Abdominal Surgery.
2002 European Board in Cardiothoracic Surgery.
1995 Swiss Board of General Surgery.
Photo of the doctor: (c) Clinique de Genolier
Department of Thoracic Surgery.
Clinic de Genolier Genolier:

Request more information now.
We will be happy to answer all your questions.
---