Surgical treatment of perianal thrombosis (program ID:

58805

)
Clinic de Genolier Genolier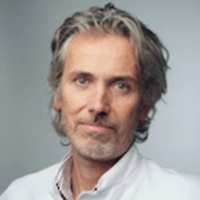 Head Physician
Dr. med.
Alfred-Roland Blaser
Specialized in: general and abdominal surgery
Department of General and Abdominal Surgery
Program includes:
Initial presentation in the clinic
clinical history taking
physical examination
review of medical records
laboratory tests:

complete blood count
general urine analysis
biochemical analysis of blood
TSH-basal, fT3, fT4
indicators of inflammation (CRP, ESR)
indicators blood coagulation

abdominal ultrasound
CT/MRI abdomen
preoperative care
surgical treatment of perianal thrombosis
symptomatic treatment
control examinations
the cost of essential medicines and materials
nursing services
nutrition recommendations
full hospital accommodation
explanation of future recommendations
Service
Price:
Type of program :
Expected duration of the program:
You may also book

Price:
About the department
The Department of General and Abdominal Surgery at the Clinic de Genolier Genolier offers the full range of services in these medical fields. The main areas of specialization include the surgical treatment of diseases of the digestive organs, endocrine glands, hernias, removal of malignant tumors, removal of appendix, etc. The department is headed by Dr. med. Alfred-Roland Blaser.
The department has state-of-the-art operating rooms equipped with the cutting-edge computer technologies, devices for laparoscopic interventions, precise monitoring systems for the control of vital bodily functions. All the therapeutic measures comply with the strictest standards of modern medicine. Special attention should be given to the high professionalism of the department's surgeons, which allows them to perform extremely complex surgical interventions and at the same time to achieve excellent treatment results.
The service range of the department includes the diagnostics and treatment of the following surgical diseases:
Hernias

Anterior abdominal wall hernia
Umbilical hernia
Inguinal hernia
Diaphragmatic hernia

Acute and chronic appendicitis
Acute pancreatitis
Benign and malignant neoplasms of the abdominal cavity and retroperitoneal space
Cholelithiasis
Gallbladder polyps
Acute cholecystitis
Abdominal and retroperitoneal cysts
Acute bowel obstruction
Gastric and duodenal ulcer
Gastric haemorrhage
Hemorrhoids
Anal fissures
Purulent diseases of the skin, subcutaneous tissue, soft tissue
Emergency clinical cases
Other diseases and pathological conditions
Curriculum vitae
Clinical Interests
Laparoscopic surgery for morbid obesity, rectal, biliary tract and stomach diseases.
Obesity surgery: gastric banding, gastric bypass surgery.
Colorectal surgery for benign and malignant rectal diseases.
Anterior abdominal wall surgery, for example, for hernias.
Professional Career
2014 - 2015 Head of the Department of Bariatric Surgery, Hirslanden Clinique Cecil, Lausanne.
2009 - 2013 Consulting Expert on Hernioplasty using Baxter fibrin sealant.
2009 - 2013 Head of the Department of Bariatric Surgery, Nyon Hospital.
1999 - 2013 Chief Physician, Department of Surgery, Nyon Hospital.
1998 - 1999 Head of the Edouard Herriot Hospital, Lyon.
1994 - 1998 Head of the Department of Surgery, Nyon Hospital.
1989 - 1994 Assistant Physician in the Department of Surgery.
Higher Education and Postgraduate Training
2013 Certificate of Competency in Laparoscopic Surgery.
2006 Advanced training in General and Emergency Surgery.
2003 Advanced training in Abdominal Surgery.
2001 - 2016 Continuous professional training in General and Abdominal Surgery, boar certification in General and Abdominal Surgery.
1999 Training in Biomedical Engineering, Lausanne.
1997 Board certification in Surgery, Swiss Medical Association (FMH).
1989 - 1994 Training in Surgery at the Hôpital de Sion and the University Hospital Lausanne.
1982 - 1988 Study of Human Medicine at the University of Lausanne.
Memberships in Professional Societies
Swiss Society of Surgery (SSC).
European Association of Endoscopic Surgery (EDS).
Swiss Association for Laparoscopic and Thoracoscopic Surgery (ASCLT).
Swiss Society of General Surgery (SSCG).
Swiss Society of Abdominal Surgery (SSCV).
International College for Obesity Treatment (ICOT).
Swiss Society for the Study of Morbid Obesity (SMOB).
French Association of Surgery (AFC).
Photo of the doctor: (c) Clinique de Genolier
---
About hospital
Accommodation in hospital
Perianal thrombosis
Program [Description]
Surgical treatment of perianal thrombosis
Hospital: Clinic de Genolier Genolier
Type:
Duration:
Price:
date_range
There are 99 perianal thrombosis treatment hospitals on Booking Health website
Show all clinics