Clinic for Molecular Orthopedics Duesseldorf
Department of Orthopedics (

413078

)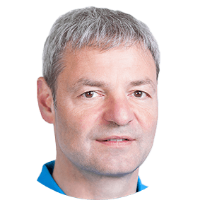 Dr. med.
Markus Granrath
Specialized in: orthopedics
About the Department of Orthopedics at Clinic for Molecular Orthopedics Duesseldorf
The Department of Orthopedics at the Clinic for Molecular Orthopedics Duesseldorf provides the full range of medical services in the areas of ​its ​specialization. The medical facility specializes in the prevention, diagnostics and treatment of all musculoskeletal diseases. The department's diagnostic options include ultrasound examination, digital X-ray, computed tomography, magnetic resonance imaging, 3D spine and posture analysis, and gait analysis. When treating orthopedic diseases, the department's doctors use both conservative techniques and surgical interventions with the focus on minimally invasive operations to avoid severe trauma to healthy tissues. In addition, the department offers the very latest methods of biological therapy (molecular orthopedics), which allow achieving excellent results in the treatment of arthritis, rheumatic joint injuries, inflammatory and degenerative processes in the joints and spine. Biological therapy is a modern alternative to the surgical treatment of the above mentioned pathologies, when conservative therapeutic procedures do not give the desired result. The work of the specialists of the medical facility is based on an individual approach to each patient, therefore, during the development of a treatment regimen, doctors always take into account the particular clinical indicators of the patient. The department's medical team makes every effort to provide the patient with high-quality and maximally sparing treatment, after which he will forget about pain and movement restrictions. The department is headed by Dr. med. Markus Granrath.
Arthrosis is one of the most common orthopedic pathologies. The disease causes a gradual destruction of the cartilage tissue of the joints and, without timely treatment, often leads to disability – a person experiences such a strong pain syndrome that he cannot move normally. Arthrosis can affect any joints, but in most cases doctors have to deal with knee, hip and ankle arthrosis. Until recently, such methods as drug therapy, physiotherapeutic procedures, and surgical treatment (arthroscopy or endoprosthetics) were used to combat the pathological process. The department's specialists successfully use in their clinical practice another highly effective and safe method – biological therapy. The essence of the technique is the administration of medicines based on the patient's platelet-rich plasma, which acts as a natural source of growth factors required for regenerative processes. The doctor collects blood, after which the required plasma is separated in a special centrifuge. After a while, the obtained biological material is injected into the affected joint, tendons, muscles or ligaments. The therapeutic manipulation is performed by experienced doctors, under CT guidance. The main advantage of the procedure is its safety and the absence of side effects. It is clinically proven that the technique gives excellent results – the patient's pain syndrome disappears and mobility improves. Prior to prescribing biological therapy to the patient, he undergoes a thorough preliminary examination in order to assess the advisability of such treatment.
The department's doctors also have in their arsenal such conservative treatment methods as manual therapy, shock wave therapy, electrical and ultrasound muscle stimulation, as well as acupuncture. Each of these methods helps the doctors to effectively eliminate pain syndromes caused by various orthopedic diseases. The above-mentioned types of therapy are practically painless. To achieve a successful result, a systemic course of one or another therapy or a combination of these methods is usually required. The treatment is carried out by a specially trained doctor who has a perfect command of a particular type of therapy.
The operation always acts as a last-line treatment, when, after studying the results of the preliminary diagnostics, doctors come to the conclusion that conservative therapy will be ineffective or will not improve the patient's condition at all. The team of the department's orthopedists performs surgical procedures for the treatment of diseases of the spine, hip, knee, shoulder, elbow and ankle joints, as well as foot pathologies. The surgeons of the medical facility specialize in arthroscopic and minimally invasive operations, during which only one or several minimal incisions in the skin and soft tissues are performed to provide surgical access, through which special instruments and a miniature camera are inserted. Such an approach allows displaying images of the surgical field on a large screen. Thus, the surgeon can see the pathological focus in multiple zooming and perform the necessary manipulations to eliminate it. The use of low-traumatic surgical techniques guarantees the patient a quick postoperative recovery and mild pain syndrome. The health risks during and after the intervention are also practically zero. The department's surgeons have unique and long experience in the surgical treatment of various orthopedic pathologies, so patients can be sure that the surgery will be successful and with a good result.
The department's range of diagnostic and therapeutic options includes:
Diagnostics

Ultrasound examinations
Digital X-ray
Computerized tomography
Magnetic resonance imaging
3D spine and posture analysis
Gait analysis

Treatment

Conservative treatment

Biological therapy
Pharmacotherapy
Manual therapy
Shockwave therapy
Electrical and ultrasound muscle stimulation
Acupuncture (classical and laser technique)

Surgery

Spinal surgery

Surgical interventions for spinal disc herniation
Surgical interventions for spinal stenosis
Facet joint infiltration and periradicular therapy for back pain management
Vertebroplasty and kyphoplasty for vertebral fracture treatment

Shoulder surgery

Endoscopic subacromial decompression for impingement syndrome
Surgical interventions for rotator cuff tears
Surgical interventions for shoulder labral tear (Bankart procedure)
Partial and total shoulder replacement surgery

Elbow surgery

Surgical interventions for epicondylitis
Surgical interventions for cubital tunnel syndrome

Hip surgery

Arthroscopic interventions
Partial and total hip replacement surgery
Surgical interventions for femoroacetabular impingement syndrome
CT-guided injection therapy for pain management in arthrosis

Knee surgery

Surgical interventions for patellar luxation
Surgical interventions for meniscus tear
Corrective knee osteotomy
Cartilage transplantation
Partial and total knee replacement surgery

Foot and ankle surgery

Cartilage transplantation
Abrasive arthroplasty
Interventions for forefoot deformities
Arthrodesis

Other medical services
Curriculum vitae of Dr. med. Markus Granrath
University Education and Professional Career
Since 1998 Head Physician of the Department of Orthopedics at the Clinic for Molecular Orthopedics Duesseldorf.
1998 Board certification in Orthopedics.
1995 - 1998 Research Fellow, Department of Orthopedics at the University Hospital Duesseldorf.
1993 - 1995 Research Fellow in the Department of Traumatology and Reconstructive Surgery at the Charite University Hospital.
1991-1993 Internship, Department of Arthroscopic Surgery and Sports Medicine, Orthopedic Hospital Manhagen Grosshansdorf.
1993 Thesis defense, University of Duesseldorf. Subject: "Influence of various methods of rehydration on the stability and composition of bone grafts after lyophilization, sterilization using gamma rays and adipose tissue extraction".
1985 - 1991 Study of Human Medicine at the University of Duesseldorf.
Memberships in Professional Societies
German-speaking Working Group for Arthroscopy (AGA).
International Cartilage Repair Society (ICRS).
German Society of Orthopaedic Sports Medicine and Orthopaedic Traumatology (GOTS).
Photo of the doctor: (c) Gemeinschaftspraxis Königsallee Zentrum für Molekulare Orthopädie
Department of Orthopedics.
Clinic for Molecular Orthopedics Duesseldorf:

Request more information now.
We will be happy to answer all your questions.
---