Diagnostic Clinic Kantpraxis Berlin
Department of Cardiovascular Medicine (

414293

)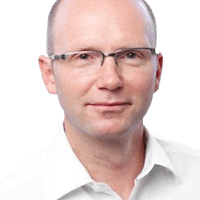 Dr. med.
Elmar Gieseke
Specialized in: cardiovascular medicine
About the Department of Cardiovascular Medicine at Diagnostic Clinic Kantpraxis Berlin
The Department of Cardiovascular Medicine at the Diagnostic Clinic Kantpraxis Berlin offers the full range of services in the diagnosis, prevention and treatment of cardiovascular diseases. In addition, the scope of the department's tasks includes the diagnosis and treatment of pathologies, such as hypertension, disorders of blood supply to the heart muscle (IHD), arrhythmias, asthma and chronic obstructive pulmonary disease (COPD). The Chief Physician of the department is Dr. med. Elmar Gieseke.
The medical team of the department regularly demonstrates excellent results in the field of its specialization, due to which has won the trust of patients. Also, the department is proud of its state-of-the-art medical equipment, which, combined with the high professionalism of doctors, is the guarantor of accurate diagnosis and effective treatment.
The department's range of diagnostic services includes:
Electrocardiography (ECG)
24-hour ECG monitoring
Ergometry (on an exercise bike)
24-hour blood pressure measurement
Pulmonary function testing (spirometry)
Heart ultrasound
Duplex scanning of the carotid arteries (ultrasound of the cervical vessels)
Other diagnostic options for identifying cardiovascular diseases
Curriculum vitae of Dr. med. Elmar Gieseke
Study of Medicine in Berlin and at the famous St. Bartholomew's Medical School in London.
Internship in Beijing with gaining experience in the field of acupuncture.
Studied acupuncture. Member of the German Medical Association for Acupuncture (DÄGfA).
Training in Internal Medicine, Clinic DRK Westend, Department of Cardiology (Chief Physician: Dr. med. Ralph Schoeller). Here the doctor has acquired extensive experience in the diagnosis and treatment of cardiac diseases.
2011 Doctor of the basketball team Alba Berlin.
Photo of the doctor: (c) Kantpraxis
Department of Cardiovascular Medicine.
Diagnostic Clinic Kantpraxis Berlin:

Request more information now.
We will be happy to answer all your questions.
---