DRK Altenkirchen-Hachenburg Hospital
Department of General and Abdominal Surgery (

320975

)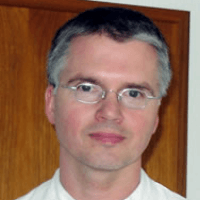 Dr.
Robert Hanisch
About the Department of General and Abdominal Surgery at DRK Altenkirchen-Hachenburg Hospital
The Department of General and Abdominal Surgery at the DRK Altenkirchen-Hachenburg Hospital performs all types of surgery to treat abdominal organs, thyroid disorders and proctology. The procedures are mostly minimally invasive, i.e. performed through the holes in the abdominal wall ranging in size from 5 to 12 mm. Also, the surgeon monitors the surgical site using a high-resolution camera. The department is headed by Dr. Robert Hanisch.
Another focus of the department is placed on proctology with surgical endoscopy (colon and colonoscopy) and on the treatment of diabetic foot syndrome and chronic wounds.
The department treats patients with malignant tumors. Each patient receives an individual treatment plan both before and after surgery. It is possible thanks to close cooperation with therapists, oncologists, radiologists and other doctors working in the hospital. Thus, it is possible to provide a smooth process of interdisciplinary treatment in accordance with the latest therapeutic achievements.
The range of surgical (minimally invasive) services includes:
Thyroid and parathyroid surgery
Fundoplication (for heartburn)
Liver surgery
Gallbladder removal
Removal of small intestinal part, adhesion solution in case of pain
Removal of fractions of the large intestine and rectum (also in colon cancer)
Appendectomy
Abdominal wall fractures and inguinal hernias with mesh implantation
Photo of the doctor: (c) DRK gemeinnützige Krankenhausgesellschaft mbH Rheinland-Pfalz
Department of General and Abdominal Surgery.
DRK Altenkirchen-Hachenburg Hospital:

Request more information now.
We will be happy to answer all your questions.
---