Eilenriede Clinic Hannover
Department of Hernia Surgery, Orthopedic Surgery, Endocrine Surgery and Neurosurgery (

111

)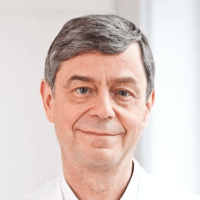 Prof. Dr. med.
Philipp Lobenhoffer
Specialized in: orthopedics, traumatology and general surgery
About the department
The Clinic of surgery and orthopedics specialized in:
Rectum surgery
Thyroid surgery
Shoulder, elbow joint, hand, femur, knee, ankle joint, foot surgery.
Treatment of arthrosis
An artificial joint (prosthesis)
Arthroscopy
Curriculum vitae
Studium und Promotion an der Georg-August-Universität Göttingen
Weiterbildung am Zentrum Chirurgie der Medizinischen Hochschule Hannover (MHH) und an der Orthopädischen Klinik der Ludwig-Maximilians-Universität München
Oberarzt und leitender Oberarzt der Unfallchirurgischen Klinik der MHH (1990-1997)
Habilitation für Unfallchirurgie
Chefarzt der Klinik für Unfall- und Wiederherstellungschirurgie am Diakoniekrankenhaus Henriettenstiftung Hannover (1998-2009)
Autor von vier Fachbüchern
Mehr als 270 Publikationen als Autor und Co-Autor, 15 Buchbeiträge
Über 1.000 Vorträge weltweit
Preisträger Michael-Jäger-Preis, GOTS-Beiersdorf Award und weiterer Fachpreise
Präsident der AGA (Gesellschaft für Arthroskopie und Gelenkchirurgie) (2003-2007)
Vizepräsident Deutschland der GOTS (Gesellschaft für Orthopädisch-Traumatologische Sportmedizin) (2002-2004)
Ehrenmitglied der AGA, Ehrenbeirat der GOTS
Korrespondierendes Mitglied der Amerikanischen Gesellschaft für Unfallchirurgie und der Österreichischen Gesellschaft für Unfallchirurgie
Mitglied ACL Study Group, EKA, ISAKOS, ESSKA
Seit 2003 Leiter der Joint Preservation Expert Group der AO Foundation Davos (internationale Knie-Expertengruppe, verantwortlich u.a. für die Entwicklung der Tomofix-Implantate)
Seit 10 Jahren in der Ärzteliste des Focus als einer der besten Knieexperten Deutschlands
Seit 2009 selbständig leitender Arzt der go:h
Initiator der Einführung der Tomofix-Technik für die Knieosteotomie in Deutschland
Erfahrungen aus über 20.000 Operationen, führt ca. 650 operative Eingriffe jährlich durch
Photo of the doctor: (c) Eilenriede Klinik
Department of Hernia Surgery, Orthopedic Surgery, Endocrine Surgery and Neurosurgery.
Eilenriede Clinic Hannover:

Request more information now.
We will be happy to answer all your questions.
---