Gaziosmanpasa Hospital of Yeniyuzyil University
Department of Nephrology (

535116

)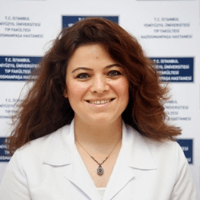 Assoc. Prof. Dr. med.
Gülay Yılmaz
Specialized in: nephrology
About the Department of Nephrology at Gaziosmanpasa Hospital of Yeniyuzyil University
The Department of Nephrology at the Gaziosmanpasa Hospital of Yeniyuzyil University offers the full range of diagnostics and treatment of kidney diseases, including kidney failure, arterial hypertension, kidney stones, kidney cancer and many other pathologies. The department uses both progressive surgical techniques and modern drug therapy in its clinical practice. The patients with kidney failure and other irreversible kidney dysfunctions are offered all modern dialysis procedures. The Chief Physician of the department is Assoc. Prof. Dr. med. Gülay Yılmaz.
To make an accurate diagnosis, the department carries out all the necessary studies, for example, ultrasound, X-rays, uroflowmetry, retrograde ureteropyelography, advanced urinalysis, CT, MRI scanning and other examinations. Once the results of the diagnostic examinations are studied, the patient will receive an optimal treatment strategy.
The specialists of the department mostly have to deal with the following kidney pathologies:
Glomerulopathy
Pyelonephritis
Acute and chronic kidney failure
Kidney stone disease
Kidney infections
Benign and malignant kidney neoplasms
Polycystic kidney disease
Hydronephrosis
Complications of other diseases affecting the kidneys (for example, arterial hypertension)
Intoxication and side effects of drugs causing kidney dysfunction
Other diseases and pathological conditions
The therapeutic options of the department include:
Drug therapy
Renal replacement therapy (dialysis) in kidney failure

Hemodialysis
Hemofiltration
Peritoneal dialysis
Plasma exchange

Extracorporeal shock wave lithotripsy for the treatment of kidney stone disease
Kidney transplantation (in collaboration with the Department of General and Transplant Surgery)
Comprehensive patient care before and after kidney transplantation
Radical and partial nephrectomy
Other treatments
Curriculum vitae of Assoc. Prof. Dr. med. Gülay Yılmaz
Education and Professional Experience
1996 - 2002 Faculty of Medicine, Istanbul University.
2003 - 2009 Department of Internal Medicine, Istanbul Okmeydani Training and Research Hospital.
2010 - 2013 Faculty of Medicine, Trakya University, Department of Nephrology.
2013 - 2015 Physician at the Edirne State Hospital.
Memberships
Turkish Medical Association.
Istanbul Medical Association.
Medical Interests
Kidney failure.
Glomerulonephritis.
Hypertension.
Kidney transplantation.
Photo of the doctor: (c) Private Gaziosmanpasa Hospital
Department of Nephrology.
Gaziosmanpasa Hospital of Yeniyuzyil University:

Request more information now.
We will be happy to answer all your questions.
---