Hanyang University Medical Center Seoul
Department of Cardiology (

404754

)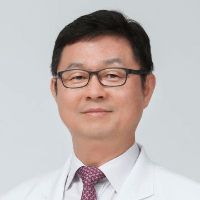 Dr. med.
Kim Kyung Soo
Specialized in: cardiology
About the Department of Cardiology at Hanyang University Medical Center Seoul
The Department of Cardiology at the Hanyang University Medical Center offers the full range of diagnostic and therapeutic services in this medical field. The department is fitted out with the state-of-the-art equipment for the detection of cardiac pathologies, as well as has in its arsenal a number of effective treatments that allow improving patients' health or even saving their lives. The department is headed by Dr. med.
Kim Kyung Soo.
The range of medical services of the department includes:
Diagnosis and treatment of common heart diseases
Diagnosis and treatment of coronary heart disease
Diagnosis and treatment of heart failure
Diagnosis and treatment of angina pectoris
Diagnosis and treatment of arrhythmia

Paroxysmal tachycardia
Atrial fibrillation
Ventricular tachycardia
Bradycardia

Diagnosis and treatment of hypertension
Preventive and emergency measures for sudden cardiac death
Treatment of fainting
Treatment of acute myocardial infarction
Treatment of peripheral vascular diseases
Cardiovascular intervention procedures
Stem cell therapy for the treatment of heart diseases
Cardiac resynchronization therapy
Implantation of permanent pacemakers
Installation of an implantable cardioverter defibrillator
Other services
Photo of the doctor: (c) Hanyang University Medical Center
Department of Cardiology.
Hanyang University Medical Center Seoul:

Request more information now.
We will be happy to answer all your questions.
---