Diagnostic tests for epigastric hernia (program ID:

504884

)
Hanyang University Medical Center Seoul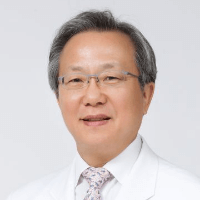 Head Physician
Dr. med.
Kwon Sung Joon
Specialized in: general surgery
Department of General Surgery
Program includes:
Initial presentation in the clinic
clinical history taking
review of medical records
physical examination
laboratory tests:

complete blood count
inflammation indicators (CRP, ESR)
helicobacter pylori test

abdominal ultrasound
gastroscopy (on indication 800 €)
nursing services
consultation of related specialists
consultation of the chief physician and all leading experts
development of individual treatment plan
written statement
Service
Price:
Type of program :
Expected duration of the program:
You may also book

Price:
About the department
The Department of General Surgery at the Hanyang University Medical Center offers the full range of services in this field. It uses the latest surgical techniques, for example, robotic and laparoscopic interventions that help avoid large incisions and significantly shorten the period of hospitalization, provide minimal pain. Also, the department specializes in performing open surgical procedures of high complexity. The department is headed by Dr. med. Kwon Sung Joon.
The service range of the department includes:
Transplant surgery
Vascular surgery
Surgical treatment of stomach diseases
Surgical treatment of duodenal diseases
Surgical interventions on the liver, biliary tract and pancreas (also for cancer treatment)
Surgical treatment of bowel diseases, including bowel cancer
Surgical treatment of rectal diseases
Surgical treatment of ulcerative colitis
Surgical treatment of benign and malignant thyroid diseases
Surgical treatment of benign and malignant breast diseases
Surgical treatment of hernias
Bariatric surgery (surgical treatment of obesity)
Endovascular surgery
Surgical treatment of proctologic diseases
Hepatobiliary surgery
Other medical services
Photo of the doctor: (c) Hanyang University Medical Center
---
About hospital
Accommodation in hospital
Price:
Program [Description]
Diagnostic tests for epigastric hernia
Hospital: Hanyang University Medical Center Seoul
Type:
access_time Duration:
date_range