Heart and Diabetes Center NRW Bad Oeynhausen
Department of Cardiothoracic Surgery (

583881

)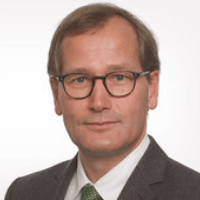 Prof. Dr. med.
Jan Gummert
Specialization: cardiothoracic surgery
About the department
The Department of Cardiothoracic Surgery at the Heart and Diabetes Center NRW Bad Oeynhausen offers all the surgical techniques for the treatment of diseases of the heart, vessels and thoracic organs. The department specializes in minimally invasive interventions on the heart and blood vessels, coronary artery bypass grafting, treatment of heart arrhythmias, the use of mechanical heart support systems and transplantation medicine (lung transplantation and heart-lung complex). The department belongs to the Centers for Cardiothoracic Surgery with the greatest clinical and surgical experience in the world. The department is headed by Prof. Dr. med. Jan Gummert.
One of the department's key focuses is cardiovascular surgery. The department's specialists perform both traditional (conventional) interventions and complex surgeries to treat cardiovascular diseases. The minimally invasive interventions have been successfully used for many years in bypass grafting and in the surgical treatment of heart valve diseases. A surgical treatment technique is determined individually for each patient, depending on the clinical case, patient's age and/or possible concomitant diseases. The high quality of treatment is indicated by the number of patients. The department performs more than 3,500 surgeries on heart and closely located vessels every year.
The department's special focus is the treatment of heart arrhythmias. The department's interdisciplinary working group, which consists of cardiologists, cardiac surgeons and transplant medicine specialists, offers patients with heart rhythm disorders the modern resynchronisation therapy using pacemakers and defibrillators. As a rule, a pacemaker is implanted under local anesthesia in the cardiac muscle area and almost does not affect the patient's life.
In addition, the department has special experience in the treatment of patients with heart diseases associated with diabetes mellitus. It is quite common that the diabetes patients have affected coronary vessels over time, so a large number of such patients seek medical help from the department (nearly a third of all patients, who require heart intervention). The patients of this group receive cardiac medical care with the participation of specialists in the treatment of diabetes mellitus.
The surgical range of the department includes the following options:
Cardiovascular surgery

Bypass grafting (off-pump coronary artery bypass)
Heart valve surgery

Aortic valve
Mitral valve
Tricuspid valve
Pulmonary valve

Transcatheter aortic valve implantation

Surgical treatment of heart arrhythmias

Pacemaker implantation
Defibrillator implantation
Cardiac resynchronisation therapy

Transplantation surgery and heart support

Heart transplantation
Heart-lung transplantation
Implantation of the ventricular assist device (VAD)

And other surgical treatment techniques for heart, vascular and thoracic diseases
Curriculum vitae
Education and Professional Career
1982 - 1988 Study of Human Medicine, Universities of Tuebingen and Bonn.
1988 - 1990 Internship in the Department of Surgery at the University Hospital Bonn.
1989 PhD thesis defense on the subject: "Recurrence rate and degeneration of villous and tubulovillous adenomas".
1990 - 1994 Assistant Physician, Department of Thoracic and Cardiovascular Surgery, University Hospital Göttingen.
1994 - 1996 Assistant Physician, Department of Cardiac Surgery, Heart Center Leipzig.
1996 Board certification in Cardiac Surgery.
1997 - 1998 Postdoctoral Fellowship, Stanford University (scholarship of the German Research Foundation).
1998 - 2001 Senior Physician, Department of Cardiac Surgery, Heart Center Leipzig.
2002 C3 Professorship for Cardiac Surgery (focus on thoracic organ transplantation).
2002 - 2005 Academic Dean, Faculty of Medicine, University of Leipzig.
2006 W3 Professorship for Cardiothoracic Surgery, Friedrich Schiller University Jena, Head of the Department of Cardiothoracic Surgery.
2009 Director, Department of Cardiothoracic Surgery at the Heart and Diabetes Center NRW Bad Oeynhausen.
(Selected) Research Projects
Pharmacodynamics of immunosuppressants (German Research Foundation, Gu 472 / 1-1-472 / 2-3).
Passive cardiomyoplasty (Acorn multicenter study).
Anastomotic devices in coronary artery surgery.
Off-pump surgery.
Long-term preservation of donor organs.
Quality assurance in Cardiac Surgery.
Membership in Professional Societies
German Society for Thoracic and Cardiovascular Surgery (DTHG), Chairman of the Working Group EDP/QA in Cardiac Surgery.
German Transplantation Society.
International Society for Heart and Lung Transplantation (ISHLT).
International Society of Minimally Invasive Cardiac Surgery (ISMICS).
Cardiac Specialist Group of the German HQ for Quality Assurance.
German Society of Cardiology.
Photo of the doctor: (с) Herz- und Diabeteszentrum NRW, Bad Oeynhausen
Department of Cardiothoracic Surgery.
Heart and Diabetes Center NRW Bad Oeynhausen:

Request more information now.
We will be happy to answer all your questions.
---