Diagnostic tests for epigastric hernia (program ID:

382165

)
HELIOS Clinic Krefeld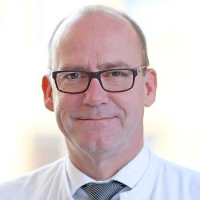 Head Physician
PD Dr. med.
Christoph Wullstein
Specialized in: general, abdominal, minimally invasive surgery
Department of General, Abdominal and Minimally Invasive Surgery
Program includes:
Initial presentation in the clinic
clinical history taking
review of medical records
physical examination
laboratory tests:

complete blood count
inflammation indicators (CRP, ESR)
helicobacter pylori test

abdominal ultrasound
gastroscopy (on indication 800 €)
nursing services
consultation of related specialists
consultation of the chief physician and all leading experts
development of individual treatment plan
written statement
Service
Price:
Type of program :
Expected duration of the program:
You may also book

Price:
About the department
The Department of General, Abdominal and Minimally Invasive Surgery at the HELIOS Clinic Krefeld offers the full range of services in these medical fields. The department specializes in the surgical treatment of abdominal organs: esophagus, stomach, small and large intestine, liver, pancreas, gallbladder and bile ducts, thyroid gland. Here are used only proven and sparing surgical treatment methods, which guarantee a rapid recovery of patients. The department is headed by PD Dr. med. Christoph Wullstein.
The specialists of the department have many years of experience and expertise in performing minimally invasive interventions ("keyhole surgery") that help the patient avoid severe pain, prolonged hospitalization, the risk of infection and loss of blood.
The department shows excellent results in the treatment of oncological diseases. It performs successful operations to treat esophageal, stomach, intestinal, liver and pancreatic cancer. The department holds weekly tumor boards, during which gastroenterologists, radiologists, oncologists and radiation therapists jointly discuss each case and develop an optimal treatment plan.
In addition, the department specializes in the diagnostics and treatment of proctologic diseases (hemorrhoids, anal fissures, fecal incontinence, etc.). After a comprehensive diagnosis, the doctor prescribes the necessary course of therapy. Treatment can be both conservative and surgical.
A separate focus of the department is surgical treatment of the endocrine organs. There are performed many operations on the thyroid gland, parathyroid glands, adrenal glands and pancreas.
The department's scope of tasks also includes the treatment of obesity. Should conservative obesity treatment not yield positive results, the doctors of the department offer safe operations that will help to cope with the problem, for example, sleeve gastroplasty, gastric bypass surgery and others. The operation is preceded by a special individual consultation, during which the doctor informs about the possibility of performing certain interventions and the risks that they may entail.
The range of medical services of the department includes:
General surgery

Cholecystectomy (surgery to remove the gallbladder)
Surgery to treat inguinal, umbilical and incisional hernias
Surgical treatment of heartburn
Surgical removal of soft tissue tumors and abscesses
Port system implantation (for example, for chemotherapy in cancer treatment)

Proctologic diseases

Hemorrhoids
Anal thrombosis
Anal fissures
Anal fistulas and anal abscesses
Coccyx fistulas
Genital warts
Rectal prolapse
Fecal incontinence

Endocrine surgery

Thyroid surgery (for example, in malignant diseases)
Parathyroid surgery (for example, in hyperparathyroidism)
Adrenal surgery (for example, in benign or malignant neoplasms)
Pancreatic surgery (for example, in insulinoma)

Cancer surgery

Esophageal cancer
Stomach cancer
Colon cancer
Liver cancer
Pancreatic cancer

Bariatric surgery

Sleeve gastroplasty
Gastric bypass surgery

Minimally invasive surgery

Resection of the gallbladder, appendix and adrenal glands
Surgery to treat inguinal hernias and heartburn
Resection of the colon and rectum
Surgery to treat pancreatic and esophageal tumors

Highly specialized abdominal interventions

Partial resection of the esophagus in esophageal cancer
Total or partial resection of the pancreas in pancreatic cancer
Liver resection for the treatment of liver metastases or liver cancer
Surgery to treat colon and rectal cancers
Peritoneal resection with hyperthermic intraperitoneal chemotherapy (HIPEC) in peritoneal cancer and peritoneal carcinomatosis

And other interventions
Curriculum vitae
1986 - 1993 Medical studies, Ruhr University Bochum, Germany.
1995 Licence to practice medicine, Germany.
1997 Doctorate in medicine, Ruhr University Bochum.
1999 Board certification as Surgeon.
2002 Board certification as Abdominal Surgeon.
2004 Postdoctoral qualification in surgery, Johann Wolfgang Goethe University Frankfurt, Germany. "Risk factors of the non-immunological morbidity following simultaneous pancreas and kidney transplantation in uremic type 1 diabetics".
Professional Career
1993 - 1995 Assistant Physician, Department of Bone and Joint Surgery,
Academic Hospital Remscheid.
1995 - 1998 Assistant Physician, Department of General and Thoracic Surgery, Hospital Barmbek, Teaching Hospital of the University of Hamburg.
1998 - 1999 Assistant Physician, Department of General, Thoracic and Vascular Surgery.
2000 Senior Physician, Department of

Transplantation Surgery, University of Rostock
(Prof. U. T. Hopt).
2001 - 2002 Chief Physician, Department of Surgery, Ruhr University Bochum,
Knappschaftskrankenhaus Bochum-Langendreer
(Prof. W. O. Bechstein).
2002 - 11/2008 Chief Physician, Department of General and Vascular Surgery, Johann Wolfgang Goethe University Frankfurt
(Prof. W. O. Bechstein).
Since 12/2008 Chief Physician, Department of General, Abdominal and Minimally Invasive Surgery, HELIOS Clinic Krefeld.
Membership in Professional Societies
German Society of Surgery.
Professional Association of German Surgeons.
Study Group on Minimally Invasive Surgery.
Awards
Roche Transplantation Award 2003
2004 Scientific Award of the Study Group on Gastroenterology, Central Germany.
Photo of the doctor: (c) Helios Klinikum Krefeld
---
About hospital
Accommodation in hospital
Price:
Program [Description]
Diagnostic tests for epigastric hernia
Hospital: HELIOS Clinic Krefeld
Type:
access_time Duration:
date_range