Treatment of melanoma with targeted therapy (1 course) (program ID:

382452

)
HELIOS Clinic Krefeld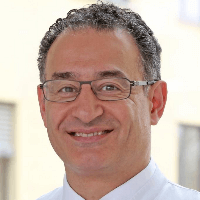 Head Physician
PD Dr. med.
Chalid Assaf
Specialized in: dermatology, venereology
Department of Dermatology and Venereology
The program includes:
Initial presentation in the clinic
clinical history taking
review of medical records
physical examination
laboratory tests:

complete blood count
biochemical analysis of blood
TSH-basal, fT3, fT4
tumor markers
inflammation indicators (CRP, ESR)
indicators blood coagulation

ultrasound
targeted therapy (1 course)
the cost of essential medicines and materials
nursing services
consultation of related specialists
treatment by chief physician and all leading experts
explanation of individual treatment plan
Required documents:
Medical records
Biopsy results (if available)
Service
Price:
Type of program :
Expected duration of the program:
You may also book:

Price:
About the department
The Department of Dermatology and Venereology at the HELIOS Clinic Krefeld offers the full spectrum of services in these medical focuses. The department specializes in the diagnostics and treatment of all skin diseases, allergies and sexually transmitted diseases. Here are used only advanced methods of treatment, which correspond to the high standards of international medicine. The department is headed by PD Dr. med. Chalid Assaf.
Among the most important focuses of the department is the diagnostics and treatment of skin cancer. The most common oncological skin diseases include basal cell carcinomas (white skin cancer) and malignant skin melanomas (black skin cancer). To identify basal cell carcinoma, photodynamic diagnostics is mostly used, while the detection of malignant skin melanoma requires a biopsy of the suspicious tissue and sentinel lymph node biopsy. Depending on the type of cancer, tumor localization and the stage of its spread, optimal individual therapy is selected.
In most cases, skin cancer requires surgical intervention. The specialists of the department prefer to conduct a three-dimensional histology, which is an absolutely safe treatment method. In extensive operations, further reconstructive interventions are also performed, for example, skin grafting from other parts of the body. In addition, the therapeutic possibilities of the department include conservative treatment: chemotherapy, electrochemotherapy, radiation therapy, immunotherapy, cryotherapy, photodynamic therapy, extracorporeal photopheresis, etc. For patients with progressive stages of skin cancer, there is offered an opportunity to participate in national and international clinical trials.
The department's scope of tasks also includes the diagnostics and treatment of acute and chronic inflammatory skin diseases. There are offered various therapies tailored for each patient individually. As a rule, acute inflammatory diseases of the skin develop due to the infections, parasite infection or venereal diseases. The most common chronic inflammatory skin diseases are neurodermatitis (atopic eczema) and psoriasis.
The department specializes in the treatment of chronic wounds: lower extremity ulcers, diabetic foot syndrome, bed sores, etc.
In addition, the range of the department's services is complemented by the diagnostics and treatment of autoimmune skin diseases. Patients with such pathologies are offered the latest methods of therapy, which are selected individually and act locally on the affected area of the skin. The treatment methods include extracorporeal photopheresis, immunoadsorption, immunobiological therapy, and many other methods.
In the field of venereology, both diagnostics and treatment of all sexually transmitted diseases are offered.
The range of medical services of the department includes:
Skin cancers

Surgical removal of skin tumors (three-dimensional histology)
Immunotherapy and targeted therapy
Chemotherapy
Electrochemotherapy
Photodynamic therapy (PDT)
Cryotherapy (treatment with cold)
Extracorporeal photopheresis
Radiation therapy
Clinical trials
Psycho-oncological care
Social service
Other treatments

Dermatosurgery

Removal of skin tissue in inflammatory diseases (for example, inverse acne, coccyx fistula)
Skin plastic surgery after accidents or burns (reconstructive flap surgery)
Circumcision in the inflammation or narrowing of the foreskin (phimosis)
Removal of genital warts, which may be sexually transmittable, caused by human papillomavirus infection (HPV), including rectoscopy
Scar revision
Surgical correction of rhinophyma
Surgical removal of birthmarks and moles
Biopsy, including muscle biopsy
Other surgical interventions

Acute and chronic inflammatory skin diseases

Differential diagnostics of unclear skin diseases
Targeted treatment of the initial inflammatory focus
Local therapy (according to the stage of the disease)
Systemic therapy with the help of Biologicals (for example, in psoriasis)
Systemic therapy for infectious diseases
Light therapy (UVB 311nm, UVA, UVA cold light, PUVA therapy)
Diagnostics with the use of photosensitive devices (determination of the so-called light threshold)
Treatment of parasitic diseases
Diagnostics and treatment of pruritus
Other treatments

Chronic wounds

Lower extremity ulcer
Diabetic foot syndrome
Bedsores
Other chronic wounds

Autoimmune skin diseases

Extracorporeal photopheresis
Immunoadsorption
Biologicals
Other treatments

Diagnostics and treatment of allergies
Diagnostics and treatment of sexually transmitted diseases
Curriculum vitae
June 2008 Habilitation, Venia Legendi in Dermatology (Assistant Professor, University Lecturer). Habilitation thesis: "Diagnostic and clinical impact of T-cell receptor gene analysis in cutaneous T-cell lymphoma", University Hospital Charité, Berlin.
December 2001 Doctoral Thesis: "Development of TCR-beta PCR for analysis of T-cell lymphomas in combination with Genescan analysis", Magna Cum Laude graduate.
May 1997 Dr. med., Free University of Berlin, Germany.
Professional Career
Since 01/2009 Head of the Department of Dermatology and Venereology, HELIOS Clinic Krefeld.
2004 - 2008 Head of the Lymphoma Section of the Skin Cancer Center Charité.
2005 - 2008 Senior Physician of the Department of Dermatology (Head: Prof. W. Sterry), University Hospital Charité, Berlin.
2003 - 2004 Specialist at the Department of Dermatology and Venereology (Head: Prof. C.E. Orfanos), Benjamin Franklin Campus, Free University of Berlin, Berlin, Germany.
2003 German Board Certification (Medical Specialist).
1999 - 2003 Internship, Department of Dermatology and Venereology (Head: Prof. C.E. Orfanos), Benjamin Franklin Campus, Free University of Berlin, Berlin, Germany.
1997 - 1999 Internship at the Department of Pathology (Head: Prof. H. Stein), Benjamin Franklin Campus, Free University of Berlin, Germany.
1993 Extern Fellowship, John Radcliffe Hospital, University of Oxford, UK.
Photo of the doctor: (c) Helios Klinikum Krefeld
---
About hospital
Accommodation in hospital
Melanoma
Program [Description]
Treatment of melanoma with targeted therapy (1 course)
Hospital: HELIOS Clinic Krefeld
Type:
Duration:
Price:
date_range
There are 57 melanoma treatment hospitals on Booking Health website
Show all clinics