Diagnosis and conservative treatment for liver cirrhosis (program ID:

392396

)
HELIOS University Hospital Wuppertal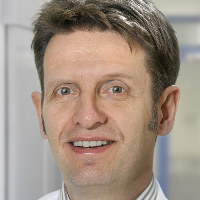 Head Physician
Prof. Dr. med.
Christian Prinz
Specialized in: gastroenterology, hepatology, diabetology, endocrinology
Department of Gastroenterology, Hepatology, Diabetology and Endocrinology
Program includes:
Initial presentation in the clinic
clinical history taking
review of medical records
physical examination
laboratory tests:

complete blood count
biochemical analysis of blood
(ALT, AST, GGT, AP, Bilirubin)
enzymes and proteins
hepatitis serology
tumor markers (AFP)
inflammation indicators (CRP, ESR)
indicators blood coagulation

abdominal ultrasound
fibroscan (transient elastography)
doppler blood vessels of the liver
gastroscopy with endoscopic variceal banding
or sclerotherapy (if indicated)
removing fluid with a needle in aszitis (paracentesis)
detox therapy
consultation of related specialists
symptomatic specific treatment
the cost of essential medicines and materials
nursing services
control examinations
full hospital accommodation
developing of further guidance
Price:
Type of program :
Expected duration of the program:
You may also book

Price:
About the department
The Department of Gastroenterology, Hepatology, Diabetology and Endocrinology at the HELIOS University Hospital Wuppertal offers individual and complex diagnostics and treatment of all diseases of the digestive system, including those of the pancreas and liver. Pancreatic and bowel cancers are treated within the specialized centers (the Bowel Cancer Center, the Pancreatic Cancer Center) certified by the German Cancer Society (DKG). The Chief Physician of the department is Prof. Dr. med. Christian Prinz.
The main tasks of the department include diagnosis and treatment of diabetes, metabolic disorders, bowel cancer, digestive system diseases, hormone producing organs (endocrinology), liver and biliary tract diseases, etc. All advanced treatment methods are available for the treatment of diseases. In particular, in the treatment of bowel cancer, depending on its location, the treatment program can include both chemo-, radiation therapy and surgical treatment. Priority is given to organ-preserving operations, the formation of enterostomy may be required in rare cases.
The range of the department's services includes the following options:
Diagnosis and treatment of digestive diseases (gastroenterology)
Diagnosis and treatment of rectal diseases
Diagnosis and treatment of peritoneal diseases
Diagnosis and treatment of diseases of the liver, gallbladder and pancreas
Diagnosis and treatment of cancers
Diagnosis and treatment of infectious and parasitic diseases
Diagnosis and treatment of geriatric diseases
Treatment of blood poisoning/sepsis
Diagnosis and treatment of other diseases
---
About hospital
Accommodation in hospital
Liver Cirrhosis
Price:
Program [Description]
Diagnosis and conservative treatment for liver cirrhosis
Hospital: HELIOS University Hospital Wuppertal
Type:
access_time Duration:
date_range
There are 35 liver cirrhosis treatment hospitals on Booking Health website
Show all clinics