Treatment of av-malformation of brain using platinum coils embolization (coiling) (program ID:

394190

)
HELIOS University Hospital Wuppertal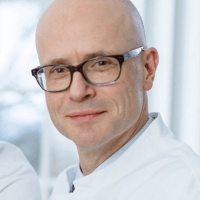 Head Physician
Dr. med.
Thorsten Schmidt
Specialized in: neuroradiology
Department of Neuroradiology
Program includes:
Initial presentation in the clinic
clinical history taking
review of medical records
physical examination
laboratory tests:

complete blood count
general urine analysis
biochemical analysis of blood
inflammation indicators (CRP, ESR)
indicators blood coagulation

neurological examination
functionality x-ray
CT/MRI scan
neuropsychological tests (on indications):

ENMG (electroneuromyography)
EEG (electroencephalography)
SEPs (somatosensory evoked potentials)
VEPs (visually evoked potentials)
BAEP tests (brainstem auditory evoked potential)

preoperative care
treatment of the av-malformation with coiling
1-day intensive care unit stay
postoperative MRI control
symptomatic treatment
control examinations
the cost of essential medicines and materials
nursing services
full hospital accommodation
developing of further guidance
Service
Price:
Type of program :
Expected duration of the program:
You may also book

Price:
About the department
The Department of Neuroradiology at the HELIOS University Hospital Wuppertal offers the full range of services in this medical focus. The department specializes in diagnostic imaging examinations of the nervous system and minimally invasive treatment of vascular diseases and brain, spinal cord tumors, including diseases of the meninges. The department is headed by Dr. med. Thorsten Schmidt.
One of the most important focuses of the department is interventional treatment of acute stroke, in which drug therapy is not always effective. In the case of such a clinical situation, there is used a special catheterization method that helps to remove the thrombus and, consequently, to eliminate vascular occlusion. This modern method of stroke treatment is called thrombectomy. It should be noted that this procedure is carried out in the department around the clock.
In addition, in cooperation with the Departments of Neurosurgery, Neurology, Vascular Surgery, Otolaryngology, the following diseases are treated:
Cerebral aneurysm (expansion of cerebral vessels)
Brain arteriovenous malformations
Vascular malformations of the meninges (dural arteriovenous fistulas)
Carotid artery stenosis, vertebral artery stenosis, subclavian artery stenosis, etc.
Intracranial stenosis
Vascular tumors in the head and neck (glomus tumors, hemangiomas)
And other diseases
The department's scope of tasks also includes CT-guided pain therapy (for example, periarticular injections, facet infiltration) and tissue sampling for CT-guided examinations (biopsy).
Photo of the doctor: (c) Helios Universitätsklinikum Wuppertal
---
About hospital
Accommodation in hospital
Av-malformation of brain
Price:
Program [Description]
Treatment of av-malformation of brain using platinum coils embolization (coiling)
Hospital: HELIOS University Hospital Wuppertal
Type:
access_time Duration:
date_range
There are 27 av-malformation of brain treatment hospitals on Booking Health website
Show all clinics