Hirslanden Clinic Bois-Cerf Lausanne
Department of Cardiac Rehabilitation (

26253

)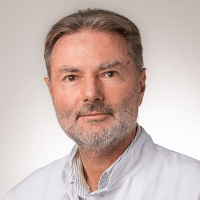 Dr. med.
Milos Savcic
Specialized in: cardiac rehabilitation
About the Department of Cardiac Rehabilitation at Hirslanden Clinic Bois-Cerf Lausanne
The Department of Cardiac Rehabilitation at the Hirslanden Clinic Bois-Cerf Lausanne offers comprehensive rehabilitation programs for patients with cardiovascular diseases, as well as for patients after cardiac surgeries. The Chief Physician of the department is Dr. med. Milos Savcic.
The department's specialists have all the necessary modern resources for the restoration of the patients' health and their reintegration into everyday life. A team of the department's doctors develops individual structured rehabilitation programs, which are provided on an outpatient basis.
An experienced team consisting of professional rehabilitologists, physiotherapists, nutritionists and psychologists takes care of the patients during the rehabilitation. In addition to modern gyms with various exercise simulators, the department has a swimming pool.
The department provides rehabilitation for the patients with the following diseases and pathological conditions:
Exacerbations of coronary heart disease
Angina attacks
Myocardial infarction
Acute heart failure
Hypertensive crisis
Conditions after coronary angioplasty
Conditions after coronary artery bypass grafting
Conditions after implantation of pacemakers
Cardiac rehabilitation program plan (8 weeks, 4 sessions per week):
Physiotherapy classes, including water aerobics and exercises on the simulators under the guidance of competent medical staff
Development of an individual diet
Relaxation exercises for stress control
Group exercises for teaching patients a new lifestyle with one or another cardiological pathology
Other rehabilitation measures
Photo of the doctor: (c) Hirslanden AG
Department of Cardiac Rehabilitation.
Hirslanden Clinic Bois-Cerf Lausanne:

Request more information now.
We will be happy to answer all your questions.
---
Certificates