Treatment of cervical spinal disc herniation with discectomy and intervertebral disc prosthesis (program ID:

396924

)
Hirslanden Clinic Stephanshorn St. Gallen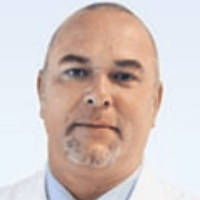 Head Physician
Dr. med.
Stephan Jakob
Specialized in: neurosurgery
Department of Neurosurgery
Program includes:
Initial presentation in the clinic
clinical history taking
review of medical records
physical examination
laboratory tests:

complete blood count
general urine analysis
biochemical analysis of blood
inflammation indicators (CRP, ESR)
indicators blood coagulation

neurological examination
functionality x-ray of the spine
CT/MRI scan of the spine
neuropsychological tests (on indications):

ENMG (electroneuromyography)
SEPs (somatosensory evoked potentials)

preoperative care
discotomy and joint replacement of intervertebral disc
postoperative control
symptomatic treatment
control examinations
the cost of essential medicines and materials
nursing services
full hospital accommodation
developing of further guidance
Required documents
Medical records
X-ray of the cervical spine (if available)
MRI/CT scan of the cervical spine (if available)
Service
Price:
Type of program :
Expected duration of the program:
You may also book

Price:
About the department
Neurosurgery is an extremely high-precision branch of medicine, with the expertise and excellent tools being the basic condition for achieving optimal results. Neurosurgeon uses minimally invasive processes that reduce pain and hospital stay, as well as provides direct accompanying treatment.
Neurosurgery deals with surgical treatment of diseases of the nervous system. For the convenience of our patients, and to provide the most effective treatment, we offer a modern infrastructure, long-term experience of neurosurgeons, as well as our own techniques enabling the neurosurgeon to use modern operating methods in a more competent way. The interdisciplinary approach and great opportunities ensured by the collegial exchange of opinions ensure quality service to patients in Eastern Switzerland as well.
Curriculum vitae
2009 – 2010 Oberarzt, Klinik für Neurochirurgie, Kantonsspital Winterthur
2008 – 2009 Praxis Dr. med. W. Morgenstern, Wirbelsäulenchirurgie und Schmerztherapie, Uster
2008 Oberarzt i.V., Abteilung für Spinale Neurochirurgie, Westpfalzklinikum Kaiserslautern
2005 – 2007 Neurochirurgische Klinik, Kantonsspital Aarau
2004 – 2005 Wirbelsäulen- und Rückenmarkschirurgie, Spine Unit, Schulthess Klinik in Zürich
2002 Promotion an der medizinischen Universität zu Lübeck; Dissertation: Endoskopischer Einsatz des Water-Jet-Dissektors im Hirnkammersystem - eine experimentelle Studie
2001 – 2004 Klinik für Neurochirurgie, Kantonsspital St.Gallen
1992 – 2000 Hochschulstudium für Humanmedizin an der medizinischen Universität zu Lübeck
Photo of the doctor: (c) Hirslanden AG
---
About hospital
Accommodation in hospital
Cervical spinal disc herniation
Program [Description]
Treatment of cervical spinal disc herniation with discectomy and intervertebral disc prosthesis
Hospital: Hirslanden Clinic Stephanshorn St. Gallen
Type:
Duration:
Price:
date_range
There are 92 cervical spinal disc herniation treatment hospitals on Booking Health website
Show all clinics
Certificates