Department of Ophthalmology (

667981

)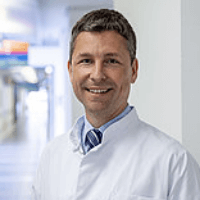 Prof. Dr. med.
Felix Treumer
Specialized in: ophthalmology
About the Department of Ophthalmology at Hospital Kassel
The Department of Ophthalmology at the Hospital Kassel offers the full range of services in the diagnostics and treatment of patients with diseases of the eye and its appendages. The department has at its disposal 25 beds for inpatient treatment. The diagnostic examinations are performed in modern diagnostic rooms equipped with slit lamps and phoropters, an optical coherence tomography device, ultrasound scanners, systems for fluorescence angiography, etc. The department's specialists provide both conservative and surgical treatment of ophthalmic pathologies of varying severity. The availability of advanced laser equipment allows for the treatment of many eye diseases conservatively, avoiding a full-fledged operation. The department's ophthalmologists also specialize in emergency eye care. The work of the department's specialists is based on an individual approach to each patient and his clinical case, which allows to achieve excellent treatment results. The department is headed by Prof. Dr. med. Felix Treumer.
The department provides both inpatient and outpatient medical care. Upon the patient's admission to the department, the attending physician carefully studies his medical history, conducts a clinical examination and appoints all the necessary diagnostic tests, which may include visual field test using a Goldmann perimeter, pachymetry, electrooculography, electroretinography, optical coherence tomography, various advanced laser-assisted procedures, fundus fluorescein angiography, ultrasound diagnostics, corneal thickness measurement, binocular vision assessment, strabismus diagnostics, etc.
The department's specialists have extensive experience in the use of laser technologies for the treatment of eye diseases. For example, the department successfully performs laser treatment of retinal diseases (vascular occlusion, complications of diabetes mellitus), treatment of secondary cataracts using an Nd:YAG laser, selective laser trabeculoplasty and laser cyclophotocoagulation to lower elevated intraocular pressure, which can provoke the development of severe eye diseases. During laser procedures, the laser affects the target areas without harmful effects on the healthy adjacent tissues. Thus, the laser treatment allows completely avoiding the use of a scalpel, due to which the postoperative recovery period is significantly reduced.
The department also includes three state-of-the-art operating rooms, within which various eye surgical procedures are performed. Depending on the severity of the ophthalmic pathology, the surgical interventions can be performed both on an outpatient and inpatient basis. Most operations are performed under anesthesia, which is provided by a specially trained team of anesthesiologists for each patient individually. One of the most demanded surgical interventions in the department's clinical practice is ultrasound-guided artificial lens implantation using minimally invasive techniques (phacoemulsification). The procedure is most often performed to treat cataracts. The department's doctors also regularly perform operations to treat retinal detachment, vitreous hemorrhage, epiretinal gliosis and macular holes in the retina. The surgical range is complemented by interventions for elevated intraocular pressure due to glaucoma, trabeculectomy, basal iridectomy, microinvasive glaucoma surgery, surgical interventions to treat corneal diseases, aesthetic eyelid surgery, etc. When performing surgery, the ophthalmologists strictly adhere to the current clinical protocols, which practically eliminates the risk of developing any complications during or after surgery.
The departments main clinical focuses include:
Diagnostics

Slit lamp and phoropter eye examination
Visual field testing, including a visual field test using a Goldmann perimeter
Optical coherence tomography (especially for the diagnostics of retinal diseases)
Fundus fluorescein angiography
Fundus autofluorescence
Ultrasound diagnostics

A-mode ultrasound
B-mode ultrasound
Ultrasound biomicroscopy

Pachymetry
Electrooculography
Electroretinography

Treatment

Conservative treatment using laser technology

Laser treatment of retinal diseases, including vascular occlusions and complications of diabetes mellitus
Nd: YAG laser treatment of secondary cataracts
Selective laser trabeculoplasty to lower elevated intraocular pressure
Laser cyclophotocoagulation to lower elevated intraocular pressure

Surgical treatment

Ultrasound-guided artificial lens implantation for cataracts using the very latest minimally invasive technology (phacoemulsification)
Surgical interventions for retinal diseases using endotamponade
Surgical interventions to lower elevated intraocular pressure due to glaucoma (trabeculectomy, basal iridectomy, microinvasive glaucoma surgery)
Surgery for corneal diseases (keratoplasty)
Aesthetic eyelid surgery for all eyelid diseases (for example, congenital defects, tumors, inflammation)
Oculomotor muscle surgery
Intravitreal injections for various forms of circulatory disorders of the eye (for example, in the case of diabetes mellitus, thrombosis, chronic inflammation)

Other diagnostic and therapeutic services
Curriculum vitae of Prof. Dr. med. Felix Treumer
Since May 2020, Prof. Dr. med. Felix Treumer has been heading the Department of Ophthalmology at the Hospital Kassel. He studied medicine at the Universities of Rostock and Kiel. The doctor then began clinical practice in the Department of Ophthalmology at the University Hospital in Kiel, where he worked as a Senior Physician with management responsibilities specializing in vitreoretinal surgery for over 16 years. In 2013, he had his habilitation on the subject: "Clinical and experimental studies of new surgical and laser therapeutic methods for the treatment of age-related macular degeneration". The following year after habilitation, Dr. Treumer became an Extraordinary Professor. For his outstanding achievements and merits in ophthalmology, Prof. Felix Treumer was awarded the Leonard Klein Prize of the German Ophthalmological Society.
Thanks to many years of experience and participation in scientific research, the doctor has won recognition not only in Germany, but also throughout the world. Every year, Prof. Felix Treumer participates in international conferences, at which he reports on the development of new methods of treating eye diseases in patients of all age groups.
Photo of the doctor: (c) Klinikum Kassel
Department of Ophthalmology.
Hospital Kassel:

Request more information now.
We will be happy to answer all your questions.
---
Certificates