Department of Trauma Surgery, Orthopedic Surgery and Foot Surgery (

668407

)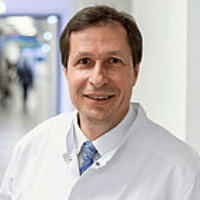 Prof. Dr. med.
Clemens Dumont
Specialized in: trauma surgery, orthopedic surgery, foot surgery
About the Department of Trauma Surgery, Orthopedic Surgery and Foot Surgery at Hospital Kassel
The Department of Trauma Surgery, Orthopedic Surgery and Foot Surgery at the Hospital Kassel offers the full range of modern diagnostic tests for the detection of musculoskeletal diseases, as well as many effective treatment methods for their elimination. Moreover, the department enjoys the status of the Center of Excellence for Trauma Surgery, so trauma surgeons working in the medical facility have a rich and unique experience in the treatment of patients after both simple common and especially complex injuries, including traumatic brain injuries, spinal injuries, polytrauma, injuries of the internal organs, etc. In addition to the treatment of injuries, a special focus is on arthroscopic interventions, joint replacement surgery, interventions to treat foot diseases and deformities, as well as surgery to resect soft tissue tumors. The surgical treatment is provided in the high-tech operating rooms with advanced surgical instruments and computerized systems for the most effective interventions with minimal damage to the healthy adjacent tissues. The department is headed by Prof. Dr. med. Clemens Dumont.
Thanks to the availability of modern technical equipment in the department, many joint surgeries can be performed using arthroscopic techniques. As a rule, arthroscopic interventions are outpatient and a patient can return home the same day after surgery. The main surgical instrument during such interventions is an arthroscope – a tool with a hollow tube several millimeters in diameter; it is equipped with a light source, an optical system or a tiny video camera, which transmits a multiply zoomed image of the joint cavity on a large screen. When performing the arthroscopic procedure, the surgeon makes two skin incisions: one for inserting the arthroscope, and the other one for inserting miniature endoscopic surgical instruments into the joint cavity. Prior to the operation, the surgeon fills the joint cavity with saline, which remains there throughout the surgical procedure. Due to this solution, the joint cavity expands. The main advantage of such interventions is the speedy postoperative recovery of the patient, which takes only 1-3 weeks, which is much less than after classical open surgery. At the same time, arthroscopic interventions are not inferior to open surgeries in terms of their efficiency and give excellent results even in the case of severe joint injuries. The department's orthopedic surgeons specialize in arthroscopic knee, hip, shoulder, elbow and ankle surgery.
An important place in the department's clinical practice is given to the joint replacement surgery – knee, hip, shoulder, elbow and ankle. The competence of the department's doctors covers both partial and total replacement surgeries, as well as revision replacement surgery. Whenever possible, joint replacement is performed using minimally invasive surgical techniques. To ensure the most accurate positioning of the prosthesis during operations, modern navigation systems are used. The joints are replaced using only high-quality prostheses from leading world manufacturers. They are characterized by high reliability and long service life.
The department's specialists admit patients with spinal diseases and injuries. As the Center of Excellence for Trauma Surgery, the department provides the effective treatment of spinal injuries of any severity – from osteoporotic fractures of the vertebral bodies to acute transverse injuries of the entire spine. The department's medical team also specializes in the treatment of spinal tumors (in cooperation with the Department of Oncology). Many operations are performed using minimally invasive techniques, which greatly simplifies the patient's recovery after surgical treatment. The advanced computer navigation systems allow the doctors to perform surgical procedures with millimeter accuracy, avoiding damage to the vital anatomical structures of the spine.
The department's range of medical services includes:
Diagnostics and treatment of injuries, including limb amputation (certified Center of Excellence for Trauma Surgery)

Abdominal injuries
Pelvic ring injuries
Thoracic injuries
Clavicle injuries
Ankle and calcaneal injuries
Chemical, thermal or burn injuries
Elbow injuries
Hip injuries
Knee injury
Shoulder injury
Tarsal injuries
Forearm injuries
Wrist injuries
Hand and finger injuries
Heart injuries
Injuries of several tubular bones
Muscle injuries (compression syndromes)
Nerve injuries
Vascular and arterial injuries
Paired and multiple limb injuries
Polytrauma, sepsis, organ failure
Traumatic brain injuries
Soft tissue injuries
Spinal injuries
Sports injuries

Shoulder instability
Rotator cuff tear
Dislocated shoulder
Tennis elbow
Golfer's elbow
Meniscus injuries
Cruciate ligament rupture and lateral ligament injuries
Patellar dislocation
Patellar fracture
Hamstring and patellar tendon rupture
Ligament injuries
Achilles tendon rupture

Diagnostics and treatment of orthopedic diseases

Arthroscopic surgery

Knee arthroscopic surgery

Cartilage replacement surgery (cartilage cell transplantation, microfracturing, bone and cartilage graft transplantation)
Anterior/posterior cruciate ligament replacement
Meniscus repair (suturing, partial resection)
Patellar dislocation repair

Shoulder arthroscopic surgery

Rotator cuff repair
Shoulder dislocation stabilisation surgery
Impingement syndrome surgery
Shoulder dislocation surgery
Frozen shoulder surgery
Shoulder stiffness surgery

Ankle arthroscopic surgery

Cartilage replacement surgery, microfracturing, bone and cartilage graft transplantation
Impingement syndrome surgery
Osteochondritis dissecans surgery

Hip arthroscopic surgery

Operations for impingement syndrome
Surgery for damage to cartilage tissue (microfracturing)
Osteochondritis dissecans surgery

Arthroscopic interventions on the elbow joint

Knee, hip, shoulder, elbow and ankle replacement surgery

Partial replacement surgery
Total replacement surgery
Revision replacement surgery

Foot surgery

Foot fractures
Hallux valgus
Hallux rigidus
Hammer and claw toes
Clubfoot
Metatarsalgia
Flat feet
Foot arthrosis
Heel spur
Morton's neuroma
Tarsal tunnel syndrome
Charcot foot
Chronic ankle instability
Osteochondritis dissecans

Spinal surgery

Spinal injuries and fractures
Degenerative diseases
Inflammatory and infectious spinal diseases
Spinal tumors and metastases
Pathological spinal changes caused by osteoporosis

Soft tissue tumor surgery

Other medical services
Curriculum vitae of Prof. Dr. med. Clemens Dumont
Since January 2015, Prof. Dr. med. Clemens Dumont has been heading the Department of Trauma Surgery, Orthopedic Surgery and Foot Surgery at the Hospital Kassel. For over 11 years, Prof. Dumont held the position of Senior Physician, and for the last four years of a Senior Physician with management responsibilities in the Department of Traumatology, Plastic and Reconstructive Surgery at the University Hospital Göttingen. The specialist received his medical education at the Faculty of Medicine of the University of Duesseldorf, where he also defended his doctoral thesis in medicine. This was followed by specialized training in Surgery, Orthopedics and Trauma Surgery at the hospitals in Moers, Duisburg and Göttingen. The specialist also received additional qualifications in Special Trauma Surgery, Orthopedics, Emergency Medical Care and Hand Surgery. In 2009, the doctor had his habilitation, and also received a degree at the Technical College in "Management in Medical Facilities". Prof. Dumont was a Member of the Habilitation Committee and the Ethics Committee at the University Hospital Göttingen. He was also responsible for assessing the quality of medical care in the Trauma Network Göttingen-Kassel.
Prof. Clemens Dumont's special clinical focuses include surgery on the joints of the upper and lower limbs, treatment of pelvic injuries, periprosthetic fractures and spinal cord injuries.
Photo of the doctor: (c) Klinikum Kassel
Department of Trauma Surgery, Orthopedic Surgery and Foot Surgery.
Hospital Kassel:

Request more information now.
We will be happy to answer all your questions.
---
Certificates