Department of Dermatology, Allergology and Venerology (

668410

)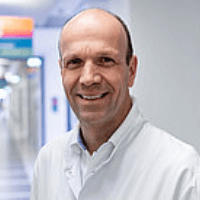 Prof. Dr. med.
Rainer Rompel
Specialized in: dermatology, allergology, venereology
About the Department of Dermatology, Allergology and Venerology at Hospital Kassel
The Department of Dermatology, Allergology and Venerology at the Hospital Kassel offers the full range of modern diagnostic tests and effective therapeutic procedures for the treatment of skin diseases, allergic skin manifestations, as well as sexually transmitted diseases. The department is one of the five largest Dermatology Clinics in Germany, so patients can count on the high quality treatment using cutting-edge medical advances. The department's doctors successfully apply conservative and surgical treatments, as well as use state-of-the-art laser systems for the treatment of skin pathologies. One of the department's priority focuses is skin cancer treatment, which is provided within a specialized center. The department treats over 3,700 inpatients and about 10,000 outpatients every year. The department has 82 beds for inpatient treatment. The team of dermatologists working in the medical facility is distinguished by high professionalism and an individual approach to each patient, which allows the doctors to achieve the best treatment results. The department is headed by Prof. Dr. med. Rainer Rompel.
The surgical treatment of dermatological diseases is at the highest level in the department. The surgical treatment methods for skin diseases are most often required for patients with benign and malignant skin neoplasms, congenital and acquired skin defects, as well as inflammatory skin lesions. The doctors of this medical field also specialize in cosmetic procedures for the elimination of varicose veins, pigment spots, including age spots, scars and the consequences of accidents. Prior to the operation, the department's dermatologists thoroughly study the patient's medical history and prescribe the necessary set of diagnostic procedures, according to the results of which they develop the optimal treatment tactics, taking into account not only medical factors, but also the aesthetic aspect.
The most important structural unit of the department is the specialized Skin Cancer Center. The patients with skin cancer receive optimal treatment in accordance with current international protocols, based on the latest medical and scientific advances. Skin cancer is one of the most common types of oncology in the world and every year the number of patients with this pathology grows. The department carries out early diagnostics and prevention of all types of skin cancer. During the diagnostics, the department's specialists use standardized skin cancer screening, epiluminescence microscopy, lymph node ultrasound, photodynamic examinations, radiography, CT and MRI scans. After receiving comprehensive diagnostic results, an individual treatment regimen is developed at an interdisciplinary tumor board. Depending on the stage, localization and aggressiveness of the tumor, the doctors may appoint a surgical intervention for tumor resection, alternative non-surgical methods (for example, photodynamic therapy, cryosurgery, radiation therapy), drug treatment, or several types of treatments combined for maximum efficiency. In most cases, the patient has to undergo chemotherapy, radiation therapy, immunotherapy or targeted therapy after surgery. The department also provides qualified psycho-oncological care, since such a diagnosis can cause a serious emotional shock for patients and their loved ones, provoke depressive states in the patient, which prevent the achievement of a successful treatment outcome.
The department also includes the Emergency Care Unit, which admits patients with urgent dermatological conditions, such as acute drug and anaphylactoid reactions, acute skin infections, etc. All therapeutic procedures are carried out by a highly professional medical team with long clinical experience.
The department specializes in the diagnostics and treatment of the following diseases:
Benign and malignant skin diseases
Eczema
Psoriasis
Severe allergic skin reactions
Different types of acne
Congenital skin diseases and skin lesions caused by metabolic disorders
Skin keratinization disorders and connective tissue diseases
Vesicular dermatitis
Infectious skin diseases
Inflammatory skin diseases
Allergic diseases of the skin and upper respiratory tract
Occupational skin disorders
Congenital and acquired skin defects
Skin pigmentation disorders
Venous disease (focus on varicose veins) and leg ulcers
Sexually transmitted diseases
Other diseases
The therapeutic options of the department include:
Conservative treatment methods

Conservative treatment methods for benign skin diseases

Treatment of psoriasis using biologicals
Systemic treatment of chronic inflammatory skin diseases
Differentiated dermatological local therapy
Phototherapy (UVA and UVB therapy, local and systemic PUVA therapy, balneo PUVA therapy)
Hyperhidrosis treatment (curettage of the subcutaneous sweat glands)
Iontophoresis
Laser procedures

Conservative treatment methods for malignant skin diseases

Immunotherapy, including the use of checkpoint inhibitors
Targeted therapy, including the use of BRAF inhibitors and MEK inhibitors
Photodynamic therapy
Cryosurgery
Chemotherapy and polychemotherapy
Immunotherapy, chemoimmunotherapy
Intralesional
Radiation therapy
Treatment within clinical trials of innovative therapies
Psycho-oncological care

Surgical treatment methods

Dermabrasion
Laser ablation
Micrographic surgery of malignant skin tumors
Plastic surgery with free and local flaps
Sentinel lymph node dissection
Operations under tumescent local anesthesia
Surgical treatment of axillary hyperhidrosis (excessive sweating)
Miniflebectomy and stripping for varicose veins
Surgical treatment of trophic leg ulcers
Laser surgery, electrosurgery and cryosurgery

Other treatment methods
Photo of the doctor: (c) Klinikum Kassel
Department of Dermatology, Allergology and Venerology.
Hospital Kassel:

Request more information now.
We will be happy to answer all your questions.
---
Certificates