Department of Plastic Reconstructive and Aesthetic Surgery, Hand Surgery, Burn Surgery (

668411

)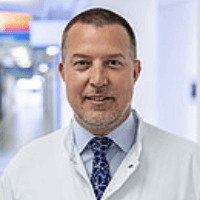 Prof. Dr. med.
Goetz Andreas Giessler
Specialized in: plastic reconstructive and aesthetic surgery, hand surgery, burn surgery
About the Department of Plastic Reconstructive and Aesthetic Surgery, Hand Surgery, Burn Surgery at Hospital Kassel
The Department of Plastic Reconstructive and Aesthetic Surgery, Hand Surgery, Burn Surgery at the Hospital Kassel offers the full range of medical services in the areas of its specialization at the highest level of modern medicine. The department's team of plastic surgeons focuses on surgery to reconstruct large defects in soft and bone tissue after accidents or tumor removal, treatment of chronic wounds, breast reconstruction using autologous tissues in women after breast cancer, as well as surgery for congenital and acquired hand diseases, burn treatment. In addition, the department successfully performs lymphedema surgery. Aesthetic plastic surgery is also very demanded in the department. The patients often undergo breast augmentation, face and neck lift, otoplasty, rhinoplasty, etc. The department's specialists pay due attention to an individual approach to each patient and the selection of the best surgical treatment method for the restoration of aesthetics of the face and body. The doctors use in their clinical practice only advanced surgical techniques, which exclude trauma to healthy adjacent tissues. The Chief Physician of the department is Prof. Dr. med. Goetz Andreas Giessler.
Before making a decision about the advisability of plastic surgery, the surgeon holds a consultation with a patient, during which he conducts a clinical examination, listens to the patient's wishes and offers him possible options for the elimination of a defect. The next stage of the therapeutic process is comprehensive diagnostics, including assessment of laboratory indicators and the functioning of organs in order to eliminate health risks to the patient during or after surgery. If the clinical parameters are satisfactory, the patient is admitted to surgery. The department has state-of-the-art computer simulation systems, with the help of which the plastic surgeon can reproduce images with the expected result of the upcoming intervention in various projections, for example, a patient who wants to undergo rhinoplasty (nose reshaping) can see and assess his face with a new form of the nose even before the operation. Such an approach is a modern standard in the field of plastic surgery in developed countries with a high level of medicine, as it helps to avoid unsatisfactory results of surgery and repeated corrective plastic surgery.
The department's specialists have successful experience in the treatment of the most complex hand injuries and diseases. The department offers both conservative and surgical treatment methods. With appropriate clinical indications, it is possible to provide outpatient treatment. The key areas of work of the surgeons in this field include the treatment of hand injuries of any severity, including replantation of amputated limbs, treatment of compression syndromes, arthrosis, chronic pain syndromes, treatment of Dupuytren's contracture, correction of congenital hand malformations, restoration of hand functionality after paralysis, etc.
The department's team of plastic surgeons is responsible for the comprehensive treatment of lymphedema. Initially, the doctors use only conservative treatment – complex physical antiedema therapy. This type of therapy is the basis of modern lymphedema treatment. It consists of four key elements: manual lymphatic drainage, compression therapy, intensive skin care and therapeutic exercise. However, in most cases, a combination of conservative measures and a surgical intervention is required. The department's doctors specialize in such effective lymphedema surgical procedures as lymphovenous anastomosis and vascularized lymph node transfer. The interventions are performed using microsurgical techniques.
The department's range of medical services includes:
Plastic aesthetic surgery and cosmetic procedures

Breast reduction and lift for women
Breast augmentation for women using innovative implants from the world's leading manufacturers
Surgical correction of gynecomastia in men
Bodylifting (circumferential body lift) after significant weight loss
Liposuction (for example, thighs, abdomen, double chin correction)
Lipedema treatment using a special liposuction procedure, which does not harm the lymphatic system
Body contouring using patient's autologous tissues (for example, Brazilian butt lift)
Autologous fat injections
Face, forehead, eyebrow and neck lift
Upper and lower eyelid lift, correction of bags under the eyes
Ear reshaping (otoplasty)
Intimate plastic surgery for women and men (for example, labiaplasty, scrotal lift)
Rhinoplasty
Hand rejuvenation surgery
Lip reshaping
Treatment of wrinkles (injections of botulinum toxin, hyaluronic acid)
Dermabrasion for scar revision and wrinkle treatment

Plastic reconstructive surgery

Plastic reconstructive interventions on the bone, muscle and soft tissues of the limbs, body and head after injuries and tumor surgery, as well as congenital malformations
Female breast reconstruction using the very latest microsurgical techniques, implants and autologous tissues
Repair of skin defects caused by chronic wounds in all body areas
Reconstructive plastic surgery of the body in lipedema, congenital disorders of adipose tissue distribution, extreme weight loss
Scar revision
Muscle and nerve transplant in the case of paralysis of the upper and lower limbs
Restoration of lymphatic drainage from the upper and lower limbs using innovative microsurgical interventions

Hand surgery

Treatment of any hands injuries, including replantation of amputated limbs
Finger transplantation
Treatment of compression syndromes (for example, carpal tunnel syndrome)
Wrist surgery in the case of chronic pain, arthrosis and after fractures
Stabilization of non-healing fractures (for example, scaphoid fracture)
Surgery for Dupuytren's contracture
Surgical correction of congenital hand defects
Hand function restoration after paralysis of the nerves of the hand and forearm

Burn surgery

Plastic surgery for severe burns
Scar revision after burns, including facial scars after severe burns

Other therapeutic services
Curriculum vitae of Prof. Dr. med. Goetz Andreas Giessler
Prof. Dr. med. Goetz Andreas Giessler heads the Department of Plastic Reconstructive and Aesthetic Surgery, Hand Surgery, Burn Surgery at the Hospital Kassel. The doctor underwent specialized training in Plastic and Reconstructive Surgery, Hand Surgery according to the German and European standards. He had internships in the renowned Plastic Surgery Clinics both in Germany and abroad. The plastic surgeon's special clinical focuses include blepharoplasty, breast plastic surgery, abdominoplasty and body contouring. Prof. Giessler is a Fellow of the European Board of Plastic Reconstructive and Aesthetic Surgery (FEBOPRAS), the German Society of Plastic, Reconstructive and Aesthetic Surgeons (DGPRÄC), the American Society for Reconstructive Microsurgery (ASRM), the American Society of Plastic Surgeons (ASPS) and the Professional Association of German Surgeons (BDC).
Photo of the doctor: (c) Klinikum Kassel
Department of Plastic Reconstructive and Aesthetic Surgery, Hand Surgery, Burn Surgery.
Hospital Kassel:

Request more information now.
We will be happy to answer all your questions.
---
Certificates