Department of Pediatric Radiology (

669298

)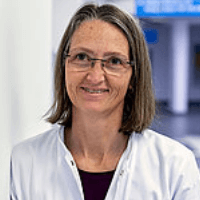 Dr. med.
Christine Huslage
Specialized in: pediatric radiology
About the Department of Pediatric Radiology at Hospital Kassel
The Department of Pediatric Radiology at the Hospital Kassel offers the full range of high-precision imaging diagnostics in children. The diagnostic examinations are conducted in children of various age categories – from infants to adolescents. Since the body of the child is more sensitive to radiation than the adult's one, the department's doctors have special training in imaging tests in children. In addition, the diagnostic equipment in the department is specially adapted to the characteristics of a growing child's body and guarantees a minimum dose of radiation during the diagnostics, which will not affect the child's further development. The department's doctors and nursing staff strive to make the process of examination as comfortable as possible for the child, without fear and anxiety. In their work, the department's specialists strictly adhere to the current clinical protocols and recommendations of professional societies. The department is headed by Dr. med. Christine Huslage.
The department offers advanced diagnostic systems for ultrasound scanning in children, classical radiography, fluoroscopy, computed tomography (CT) and magnetic resonance imaging (MRI). Since a visit to the hospital usually causes fear in the child, the department's doctors encourage the accompaniment of a child by one of the parents during the diagnostics.
The department's radiologists cooperate closely with pediatric specialists in many other medical fields, including general pediatricians and neonatologists, pediatric neurosurgeons, pediatric urologists, pediatric oncologists and hematologists. A well-coordinated cooperation provides young patients with comprehensive diagnostics of the highest quality, as well as allows detecting the slightest abnormalities in the organs and anatomical structures of the child's body, and then provide effective treatment using the very latest therapeutic methods.
The department's range of diagnostic services includes:
Ultrasound scanning

Abdominal ultrasound
Head ultrasound
Duplex and Doppler vascular scanning
Contrast-enhanced ultrasound
Ultrasound of the musculoskeletal system and soft tissue (especially ultrasound screening of hip dysplasia in newborns)
Scrotal ultrasound
Ultrasound scanning of the internal genital organs in girls
Thyroid ultrasound

Classical X-ray

X-ray for injuries (for example, bone fractures)
X-ray for scoliosis
X-ray of the lower extremities
Chest X-ray
Abdominal X-ray

Fluoroscopy

Gastrointestinal fluoroscopy
Micturating cystourethrogram
Fistulography

Computed tomography (CT)

Low-dose chest CT
Computed tomography for injuries
Musculoskeletal CT
Abdominal CT

Magnetic resonance imaging (MRI)

Abdominal MRI
Musculoskeletal MRI
Thoracic MRI
Head and neck MRI for suspected oncological and inflammatory diseases, injuries

Other diagnostic methods
Photo of the doctor: (с) Klinikum Kassel
Department of Pediatric Radiology.
Hospital Kassel:

Request more information now.
We will be happy to answer all your questions.
---
Certificates