Hospital Kloster Grafschaft Schmallenberg
Department of Pulmonology (

146

)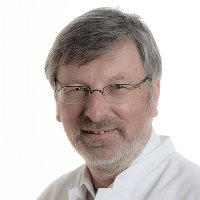 Dr. med.
Peter Haidl
Specialized in: pulmonology
About the Department of Pulmonology at Hospital Kloster Grafschaft Schmallenberg
The Department of Pulmonology at the Hospital Kloster Grafschaft Schmallenberg offers all the options of modern medicine in the diagnostics and treatment of diseases of the lungs, bronchi and pleural cavities. The priority focuses of the department's doctors are the treatment of chronic obstructive pulmonary disease (COPD), bronchial asthma and pulmonary emphysema. Another important focus of the medical facility is on the diagnostics and treatment of chronic cough. The treatment of lung tumors is also within the competence of the department. It is provided in cooperation with the Lung Cancer Center Hemer – one of the best specialized centers in Germany certified by the German Cancer Society. The department is proud of its excellent diagnostic equipment: X-ray devices, computed tomography, equipment for bronchoscopy, spirometry, whole body plethysmography, etc. Thus, pulmonologists have all the necessary resources to make an accurate diagnosis, which determines the success of further therapeutic measures. The department's medical team annually admits more than 4,000 patients, which testifies to the high level of medical care and the reputability of the department in the area of its specialization. The department is headed by Dr. med. Peter Haidl.
The department is distinguished by successful experience in the treatment of chronic obstructive pulmonary disease (COPD). COPD is a pathology characterized by chronically restricted air movement in the respiratory system. The main symptoms of COPD are chronic cough, profuse sputum when coughing and shortness of breath. The standard diagnostic protocol includes a general clinical examination, spirometry, sputum cytology and X-ray imaging. Should the diagnosis of chronic obstructive pulmonary disease be confirmed, the patient will receive an individual treatment regimen. COPD therapy is based on the intake of such medications as bronchodilators, mucolytics, antibiotics, etc. The department's doctors also actively use inhalation therapy (the use of bronchodilators in the form of inhalation), which is one of the most effective treatment methods for COPD. The specialists often use long-term oxygen therapy, which can be supplemented by non-invasive ventilation. All the therapeutic procedures are carried out under strict medical supervision. In addition, the department's doctors strongly recommend the patients to quit smoking.
An integral part of clinical practice of the department's doctors is the treatment of chronic cough. Cough is a symptom of many pulmonary diseases (for example, influenza, bronchitis, pneumonia), so it is extremely important for the specialists to determine the exact cause of its development and to provide the required treatment. The treatment of recurrent infectious pulmonary diseases (bronchitis, pneumonia and others) is of particular interest to the department's medical team. As a rule, to treat these pathologies, the doctors use drug therapy with antibiotics.
The department's service range is complemented by comprehensive diagnostics and treatment of lung tumors. Lung cancer is one of the most dangerous types of oncology, and therefore modern treatment methods are required to fight against this disease. The department's pulmonologists treat lung cancer in cooperation with one of the best Lung Cancer Centers in Germany (Hemer). In most cases, the patients with lung cancer require surgery to resect a malignant tumor. If the tumor is detected at the early stages, it is possible to perform endoscopic procedures (therapeutic bronchoscopy). However, if the pathology has reached an advanced stage, the patient will then be indicated either minimally invasive or classical open surgery. The surgical treatment can be complemented by chemotherapy, radiation therapy and chemoradiotherapy. The patients with terminal lung cancer receive high-quality palliative care aimed at relieving symptoms and improving quality of life. As in the case of benign pulmonary diseases, the treatment regimen for lung cancer is developed for each patient individually.
The department specializes in the diagnostics and treatment of the following respiratory diseases:
Chronic obstructive pulmonary disease (COPD)
Pulmonary emphysema
Bronchial asthma
Lung tumors
Interstitial lung disease
Chronic cough
Shortness of breath of unknown origin
Pleurisy
Diaphragmatic disorders
Other diseases of the respiratory system
The department's range of medical services includes:
Diagnostics

Pulmonary function testing

Whole body plethysmography to assess airway resistance and static lung volumes
Spirometry to assess volumetric and velocity parameters of breathing
Measurement of the diffusion capacity of the lungs (single breath method)
Capillary blood test (at rest and stress) to assess pulmonary gas exchange
Bronchospasmolysis test to assess the reversibility of airway obstruction
Non-specific bronchial provocation test with histamine to detect bronchial hyperresponsiveness
Measurement of respiratory muscle strength (P01, Pimax) to detect impairments of their pumping function
Diagnostics of impaired mucociliary clearance
Six-minute walk test
Spiroergometry
Capnometry during sleep to assess the concentration or partial pressure of carbon dioxide in the inhaled and exhaled air during the patient's breathing cycle
Electrocardiography
24-hour blood pressure monitoring

Diagnostic flexible and rigid bronchoscopy
Diagnostic bronchoalveolar lavage
X-ray-guided transbronchial lung biopsy
Endobronchial ultrasound (EBUS)
Endobronchial ultrasound-guided transbronchial needle aspiration (EBUS-TBNA)
Diagnostic pleural puncture
Ultrasound and CT-guided transthoracic needle biopsy
Diagnostic thoracoscopy
Diaphragm X-ray scanning
Gastroscopy
Rectoscopy and colonoscopy
Transesophageal echocardiography

Treatment

Drug therapy
Inhalation therapy
Long-term oxygen therapy
Therapeutic flexible and rigid bronchoscopy
Therapeutic bronchoalveolar lavage
Argon plasma coagulation
Therapeutic pleural puncture
Pleural drainage
Therapeutic thoracoscopy
Pleurodesis

Other diagnostic and therapeutic options
Curriculum vitae of Dr. med. Peter Haidl
Higher Education and Professional Career
1976 - 1982 Study of Human Medicine at Ludwig Maximilian University of Munich.
01.1983 - 05.1984 Compulsory military service as a Military Doctor.
04.1984 Doctoral thesis defense, Department of Internal Medicine II, University Hospital Grosshadern. Subject: "Clinical significance of beta hCG in patients with testicular germ cell tumours".
07.1984 - 01.1991 Assistant Physician, Departments of Surgery and Internal Medicine, Hospitals in Lindenberg and Kempten.
09.1991 Board Certification in Internal Medicine.
02.1991 - 09.1993 Advanced training in Pulmonology and Allergology, Lung Hospital Wangen im Allgäu.
05.1993 Specialization in Pulmonology.
10.1993 Senior Physician in the Department of Pulmonology and Somnology at the Hospital Kloster Grafschaft Schmallenberg.
01.2003 Senior Physician and Deputy Head of the Department of Pulmonology, Respiratory Medicine and Somnology at the Hospital Kloster Grafschaft Schmallenberg.
Since 09.2007 Chief Physician of the Department of Pulmonology at the Hospital Kloster Grafschaft Schmallenberg.
Since 01.07.2013 Medical Director of the Hospital Kloster Grafschaft Schmallenberg.
Qualifications
General intensive care.
Allergology.
Drug tumor therapy.
Theoretical basis of the use of radioactive substances.
Authorized to Conduct Advanced Training Courses
Internal medicine and pulmonology.
Chest X-ray.
Research Interests
Pharmacological influence on mucociliary clearance.
Clinical problems of inhalation therapy.
Use of aerosols in medicine.
Non-invasive ventilation.
Memberships in Professional Societies
International Society for Aerosols in Medicine.
European Respiratory Society.
Section for Pathophysiology and Pharmaceutical Aerosols of the German Respiratory Society.
Examiner of the Medical Association of Westphalia-Lippe.
Section for Internal Medicine and Pulmonology of the Academy for Medical Training of the Medical Association of Westphalia-Lippe (Board Member).
Photo of the doctor: (c) Fachkrankenhauses Kloster Grafschaft
Department of Pulmonology.
Hospital Kloster Grafschaft Schmallenberg:

Request more information now.
We will be happy to answer all your questions.
---
Certificates