Treatment of lumbar spinal stenosis (1 segment) with decompressive laminectomy and discotomy (program ID:

284561

)
Hospital Neuwerk Moenchengladbach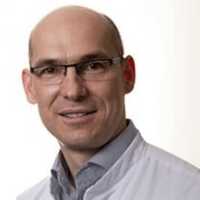 Head Physician
Dr. med.
Andreas Bitter
Specialized in: spinal surgery
Department of Spinal Surgery
The Department of Spinal Surgery annually treats more than 960 patients with lumbar spinal stenosis. The specialists remove the parts of the vertebrae and intervertebral discs that compress the spinal cord endoscopically. The surgery involves the use of a three-dimensional O-Arm x-ray system that provides complete protection of the spinal cord. The department is headed by Dr. med. A Bitter, who specializes in microsurgical spinal interventions.
Program includes:
Initial presentation in the clinic
clinical history taking
review of medical records
physical examination
laboratory tests:

complete blood count
general urine analysis
biochemical analysis of blood
inflammation indicators (CRP, ESR)
indicators blood coagulation

neurological examination
functionality x-ray
neuropsychological tests (on indications):

ENMG (electroneuromyography)
SEPs (somatosensory evoked potentials)

CT/MRI of the spine
myelography
preoperative care
decompressive laminectomy and discotomy (1 segment)​
postoperative control
symptomatic treatment
control examinations
the cost of essential medicines and materials
nursing services
full hospital accommodation
developing of further guidance
Required documents
Medical records
X-ray examination, MRI/CT scan (if available)
Service
Price:
Type of program :
Expected duration of the program:
You may also book

Price:
About the department
The Department of Spinal Surgery at the Hospital Neuwerk Moenchengladbach offers both conservative and surgical treatment of all back pain syndromes, which can be caused by disc herniation or protrusion, inflammatory changes, osteoporosis, tumors, etc. The department specializes in the particularly sparing treatment with minimally invasive surgical techniques. It uses all modern technologies and tools, including the O-Arm surgical imaging system. The Chief Physician of the department is Dr. med. Andreas Bitter.
The specialists of the department are first-class experts in the conservative treatment of back diseases. In the majority of patients, the spinal pain syndrome can be successfully treated with conservative methods. The key to the success of conservative treatment is the effective combination of drug therapy, special thermotherapy and therapeutic exercises.
When the patient requires surgical treatment is required, the department offers the very latest medical technologies, which ensure an optimal result and the best possible safety for the patient. The department is also equipped with state-of-the-art mobile tomograph, the so-called O-Arm. This system is used to treat patients with implants. When performing surgery, the position of the surgical instruments and the implant is imagined on the realtime X-ray. Thanks to this, the position of the implant can be determined as accurately as possible and spinal cord can be additionally protected as well.
Thanks to the intensive, interdisciplinary cooperation with the Departments of Orthopedics,Traumatology, Interventional Pain Therapy and Intensive Care Unit within the framework of the Center for Musculoskeletal Care, as well as the Savita Center for Health and Movement, the patients of the department receive the best treatment. It goes without saying that the treatment is provided in accordance with the current standards of the professional medical societies.
The diagnostic and therapeutic range of the department:
Disc protrusions and herniated discs
Inflammatory changes
Osteoporosis
Tumors
Spinal stenosis
Degenerative changes in the vertebrae and intervertebral discs
Dislocated vertebrae
Vertebral fractures
Spinal curvature (scoliosis)
Other spinal diseases
Photo of the doctor: (c) Hospital Neuwerk Moenchengladbach
---
About hospital
Accommodation in hospital
Lumbar spinal stenosis
Program [Description]
Treatment of lumbar spinal stenosis (1 segment) with decompressive laminectomy and discotomy
Hospital: Hospital Neuwerk Moenchengladbach
Type:
access_time Duration:
Price:
date_range
There are 91 lumbar spinal stenosis treatment hospitals on Booking Health website
Show all clinics
Certificates