Department of Pediatric Neurological Rehabilitation (

251167

)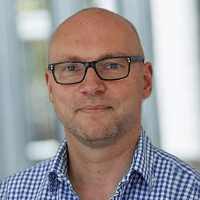 Dr. med.
Ulf Hustedt
Specialized in: pediatric neurological rehabilitation
About the Department of Pediatric Neurological Rehabilitation at HELIOS Clinic Hattingen
The Department of Pediatric Neurological Rehabilitation at the HELIOS Clinic Hattingen offers the full range of medical services in its area of specialization. The department provides the high-quality rehabilitation measures for diseases and injuries of the nervous system in patients of various age categories, ranging from infants, school children, adolescents to young people. During the development of an individual rehabilitation program, the department's specialists set themselves the goal of eliminating motor and intellectual disabilities as much as possible, so that young patients can return to their usual way of life. The department is headed by Dr. med. Ulf Hustedt.
The classical forms of physiotherapy, art therapy, ergotherapy, neuropsychological care are supplemented by rehabilitation measures using robotic systems. The department has advanced equipment, such as an Erigo® tilt-table, a Lokomat® robotic orthopedic simulator for gait restoration, an Andago® simulator for more intensive gait training, and an Armeo®Spring simulator for restoring hand and arm functions. The training on robotic equipment gives an effective result. Such therapy is mostly prescribed for paraplegia, stroke, traumatic brain injuries, multiple sclerosis, Parkinson's disease and cerebral palsy.
The medical team of the department believes that successful rehabilitation results can only be achieved using an integrated approach, and therefore the specialized doctors, physiotherapists, neuropsychologists, occupational therapists, speech and language therapists, art therapists and other experts participate in the treatment program. All of them not only carry out therapeutic measures, but also strongly support their patients on their way to recovery.
The department specializes in the neurological rehabilitation for the following diseases:
Traumatic brain injuries
Brain lesions due to hypoxia
Inflammatory brain lesions
Brain hemorrhage / cerebral infarction
Brain tumors
Spinal cord injuries
Neuromuscular diseases
Cerebral palsy
Congenital malformations of the nervous system (for example, spina bifida)
Conditions after surgery (for example, for hip dysplasia, scoliosis)
Other diseases and pathological conditions
The therapeutic options of the department include:
Physiotherapy (individual and group training)

Training using the Erigo® tilt-table to restore balance while standing
Forced-use therapy
"Music and movements" training complex
Kinesio taping
Therapeutic golf rehabilitation
Relaxation procedures
Manual therapy (classical massage, massage of reflexogenic zones on the feet, colon massage, manual lymphatic drainage, compression procedures)
Hydrotherapy (four-chamber baths, therapeutic baths with special additives, Kneipp therapy)
Heat therapy (the use of special mud, infrared light, hot compresses)
Electrotherapy

Ergotherapy

Perfetti method
Bobath therapy
Affolter approach
Training to restore self-care skills (personal hygiene, eating, etc.)

Neuropsychological care to eliminate attention, memory, perception disorders, personality disorders
Speech and language therapy (individual and group training) to restore speech and eliminate problems with swallowing
Remedial gymnastics (mainly group training)

Balance training
Endurance training
Training to improve motor function
Lokomat® training

Robotic rehabilitation therapy

Training on the special Erigo® tilt-table
Training on the Lokomat® robotic orthopedic simulator for gait restoration
Training on the Andago® simulator for more intense gait training
Training on the Armeo®Spring simulator to restore the functions of the hand and arm

Art therapy
Music therapy
Other rehabilitation services
Curriculum vitae of Dr. med. Ulf Hustedt
Education and Professional Career
04.1989 - 04.1995 Study of Medicine at the Free University of Berlin, Ludwig-Maximilian University of Munich, University of London.
1995 Doctoral degree, Humboldt University of Berlin.
07.1995 - 12.1996 Research Fellow in Neurology, Berlin.
01.1997 - 12.2000 Research Fellow in Neuropediatrics, University Hospital Dresden.
01.2001 - 12.2004 Medical Director, Publicis Vital GmbH.
07.2001 - 03.2014 Senior Physician, Head of the Section for Motor Disorders, Social and Pediatric Center at the Frankfurt Hoechst Hospital.
Since 01.2005 Manager, Agency for Medical Education "med + ED".
Since 06.2014 Chief Physician of the Department of Pediatric Neurological Rehabilitation at the HELIOS Clinic Hattingen.
Photo of the doctor: (c) VAMED Gesundheit Holding Deutschland GmbH
Department of Pediatric Neurological Rehabilitation.
HELIOS Clinic Hattingen:

Request more information now.
We will be happy to answer all your questions.
---
Certificates