Academic Hospital Hildesheim
Department of Trauma and Orthopedic Surgery (

12

)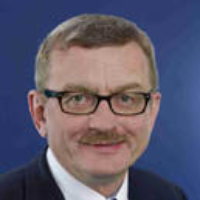 Prof. Dr. med.
Burkhard Wippermann
Specialized in: traumatology, orthopedic surgery
About the department
The Department of Trauma and Orthopedic Surgery at the Academic Hospital Hildesheim under the direction of Prof. Dr. med. Burkhard Wippermann specializes in joint surgery (shoulder, elbow, hip, knee and ankle), as well as in foot surgery. The service range covers arthroscopy, bone interventions and endoprosthetic replacement surgery. The department performs about 900 joint replacement surgeries every year.
Another important focus of the department is diagnosis, pre- and post-treatment of bone and soft tissue tumors. To this end, doctors have not only extensive experience in the field of surgical treatment, but also the most advanced diagnostic (CT, MRI, scintigraphy) and therapeutic (radiotherapy and chemotherapy) methods.
The department is the cornerstone of the Trauma Center at the Hospital Hildesheim. The doctors of the department serve a region with 250,000 residents, but also provide medical care to patients from many other regions. There is offered the entire spectrum of services in trauma surgery, including spine surgery, as well as interventions on the pelvic ring and acetabulum.
Another focus of the department is spine surgery for degenerative changes, such as herniated discs and strictures of the spinal canal. The standard treatments include microsurgical techniques (the use of an operating microscope with the appropriate instruments).
The medical team of the Department of Trauma and Orthopedic Surgery has everything to treat both rare and common clinical pictures. In addition to the professional qualifications, the department, first of all, appreciates a warm human attitude and keen attention to patients.
The service range of the department includes:
Diagnostic and therapeutic interventions on all joints
Emergency medical care
Minimally invasive total hip replacement surgery (with the use of special prostheses if necessary)
Knee replacement surgery, including surgery to replace the prosthesis (with the use of special prostheses if necessary)
Shoulder, elbow and ankle arthroplasty in case of wear or severe injuries
Surgery to treat bone and soft tissue tumors
Treatment of polytrauma, including severe traumatic brain injury
Treatment of all fractures, including fractures of the pelvis and acetabulum, spine and skull with the use of the latest methods of osteosynthesis
Intervertebral disc surgery, expansion of the spinal canal and stabilization of all parts of the spine, including the placement of intervertebral disc prostheses in the lumbosacral spine
Photo of the doctor: (c) Helios Kliniken GmbH
Department of Trauma and Orthopedic Surgery.
Academic Hospital Hildesheim:

Request more information now.
We will be happy to answer all your questions.
---
Certificates