Academic Hospital Hildesheim
Department of Cardiology, Angiology, Rhythmology and Intensive Care Medicine (

15

)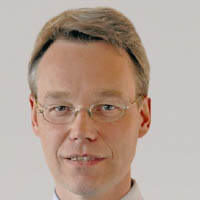 Prof. Dr. med.
Juergen Tebbenjohanns
Specialized in: cardiology, angiology, rhythmology, intensive care medicine
About the department
The Department of Cardiology, Angiology, Rhythmology and Intensive Care Medicine at the Academic Hospital Hildesheim under the direction of Prof. Dr. med. Jürgen Tebbenjohanns deals with the diagnosis and treatment of all acute and chronic heart diseases. The key attention is paid to PTCA and stent implantation (there is a 24-hour cardiac catheterization room), as well as to electrophysiology with all the methods of catheter ablation for tachycardiac arrhythmias. The department annually treats over 4,000 inpatients.
The department pays particular attention to the treatment of patients with cardiovascular diseases. There are offered all common conventional, invasive and interventional diagnostic and treatment methods, such as ECG, ergometry, long-term ECG monitoring, 24-hour blood pressure monitoring, echocardiography, cardiac pacemakers, catheter diagnostics of the heart and catheter therapy, electrophysiological examination with the so-called ablation therapy and treatment of cardiac arrhythmias. In addition, in cooperation with the Department of Surgery I, there are implanted pacemakers.
Another important focus of the department is angiology. Angiologic diagnosis involves the use of duplex and Doppler scanning. The color-coded sonography (duplex scanning) produces a very accurate image of the arteries supplying the brain, hands, feet and kidneys. Thus, one can not only determine the localization and morphology of atherosclerotic vascular changes, but also use Doppler ultrasound to conclude that the changes are hemodynamically relevant. Also, the department successfully treats venous diseases, such as chronic venous insufficiency or varicose veins.
The range of medical services of the department includes:
Cardiology (heart diseases)
Angiology (vascular diseases)
Intensive care medicine
Department of Emergency Cardiology
Pacemaker and defibrillator therapy
Neurology
Photo of the doctor: (c) Helios Kliniken GmbH
Department of Cardiology, Angiology, Rhythmology and Intensive Care Medicine.
Academic Hospital Hildesheim:

Request more information now.
We will be happy to answer all your questions.
---
Certificates