Academic Hospital Hildesheim
Department of Nephrology and Dialysis (

17

)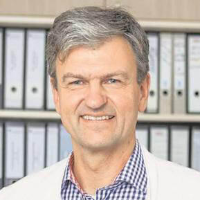 Prof. Dr. med.
Burkhard Kreft
Specialized in: nephrology, dialysis
About the department
The Department of Nephrology and Dialysis under the direction of Prof. Dr. Burkhard Kreft is one of three Departments of Internal Medicine at the Academic Hospital Hildesheim and treats all acute and chronic kidney diseases and hypertension. The department specializes in the treatment of acute kidney failure, vascular, diabetic and inflammatory kidney diseases, dialysis-associated diseases and aftercare following kidney transplantation.
In case of a temporary or permanent kidney failure, the department offers all kinds of renal replacement therapy: hemodialysis, hemofiltration, hemodiafiltration, peritoneal dialysis. Also, the department performs plasmapheresis (to remove pathological protein) and hemoperfusion (for intoxication). The department has the Sections of Internal Medicine and Anesthesiology where kidney failure is treated. In addition, peritoneal dialysis is offered as an alternative treatment of kidney failure. This method allows for patient care at home.
The department has its own Dialysis Unit and a 24-hour Emergency Dialysis Service. The department provides over 25,000 outpatient and inpatient dialysis procedures every year.
The Department of Nephrology and Dialysis was the first in Germany to be awarded with a certificate recognizing it as the specialized Nephrology Center.
Photo of the doctor: (c) Helios Kliniken GmbH
Department of Nephrology and Dialysis.
Academic Hospital Hildesheim:

Request more information now.
We will be happy to answer all your questions.
---
Certificates