Academic Hospital Hildesheim
Department of Dermatology, Venereology and Allergology (

21

)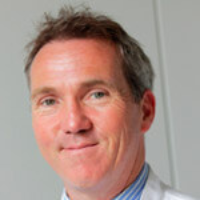 Prof. Dr.
Michael Tronnier
Specialized in: dermatology, venereology, allergology
About the department
The Department of Dermatology, Venereology and Allergology at the Academic Hospital Hildesheim under the direction of Prof. Dr. med. Michael Tronnier offers the whole spectrum of treatment of skin and venereal diseases, as well as allergology. In addition to the most common and important diseases, such as neurodermatitis (atopic dermatitis) and psoriasis (scaly lichen), the department also treats all other skin conditions.
The patient care in the department can be both outpatient and inpatient. The department provides intensive diagnosis and inpatient targeted therapy to treat severe chronic inflammatory diseases resistant to outpatient treatment (e.g. psoriasis or neurodermatitis), connective tissue diseases (collagen disease), side effects of the drugs manifested on the skin, allergic diseases, vein diseases ("open leg"). If necessary, other departments of the hospital can be involved in the treatment process, which helps to identify all possible physical and psychological causes of the disease.
The treatment of skin cancers in the department covers prevention, accurate clinical diagnosis with the procedures for early detection, cancer surgery, if necessary, accompanying drug therapy and aftercare planning. In addition, the department offers comprehensive diagnostics and high quality treatment in the field of dermatology.
The service range of the department covers the treatment of the follwoing diseases:
Inflammatory skin diseases (lichen diseases, such as neurodermatitis, psoriasis)
Allergic diseases (allergology)
Skin tumors (skin cancer, dermato-oncology)
Fungal diseases (mycology)
Diseases of the veins (phlebology)
Hair and nail disorders
Diffuse connective tissue diseases
Sexually transmitted diseases (venereology)
"Male diseases" (andrology)
Cosmetic dermatology, aesthetic dermatology
Psychosomatic complex of symptoms
Photo of the doctor: (c) Helios Kliniken GmbH
Department of Dermatology, Venereology and Allergology.
Academic Hospital Hildesheim:

Request more information now.
We will be happy to answer all your questions.
---
Certificates