Academic Hospital Hildesheim
Department of Thoracic Surgery (

254463

)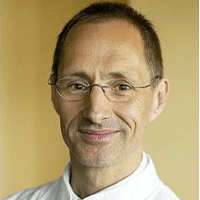 Dr. med.
Andreas Pfeiffer
Specialized in: thoracic surgery
About the department
The Department of Thoracic Surgery at the Academic Hospital Hildesheim under the direction of Dr. med. Andreas Pfeiffer offers the full range of treatment for lung, thoracic and mediastinal diseases. A single team of the Cancer Center integrates thoracic surgeons, pulmonologists, oncologists and radiation therapists. Thanks to an effective combination of diagnostic methods and the latest approaches to both conservative and surgical treatment, the department provides top-class comprehensive treatment.
The Department of Thoracic Surgery performs all surgical interventions on the lungs and thorax, except for the operation with the use of a heart-lung machine. In the field of lung surgery, the treatment of lung cancer is of particular importance. One of the main tasks is a timely detection, accurate diagnosis and competent treatment of this common, solid tumor corresponding to all current recommendations. In this case, there are used minimally invasive endoscopic techniques, surgical techniques that preserve lung tissue, such as classical segmental resection and bronchoplasty, as well as resection of several organs. In addition, particular attention is paid to the treatment of lung metastases. The surgery is performed within the framework of a comprehensive treatment program promoting the improvement of the prognosis of the disease.
Along with the elimination of the focus of the disease, the primary objective of lung surgery is to preserve lung tissues as best as possible. With a large number of bronchoplastic resections (with the preservation of lung tissues by suturing peripheral parts of the lungs) and a minimal number of pneumonectomy (removal of the entire half of the lung), the department meets the current criteria of quality standards.
The increase in the number of people with lung cancers, particularly the elderly, requires active cooperation with other disciplines of the Hospital Hildesheim, such as Spine Surgery, Trauma Surgery, Plastic Surgery and Internal Medicine with Cardiology, Interventional Endoscopy and Oncology, as well as Radiation Therapy.
The main focuses of the department include:
Thoracic surgery
Lung surgery
Minimally invasive surgery
Photo of the doctor: (c) Helios Kliniken GmbH
Department of Thoracic Surgery.
Academic Hospital Hildesheim:

Request more information now.
We will be happy to answer all your questions.
---
Certificates