Surgical resection of congenital lid nevus (program ID:

514187

)
Helios Hospital Hildesheim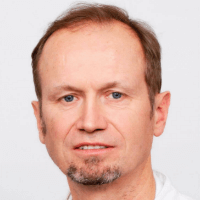 Head Physician
Dr. med.
Nikolaus Unbehaun
Specialized in: adult and pediatric plastic surgery, reconstructive burn surgery, hand surgery
Department of Adult and Pediatric Plastic Surgery, Reconstructive Burn Surgery and Hand Surgery
The program includes:
Initial presentation in the clinic
clinical history taking
physical examination
review of medical records
laboratory tests:

complete blood count
general urine analysis
biochemical analysis of blood
indicators of inflammation
indicators blood coagulation

preparation according to preoperative standard
nevus resection with the plastic of defect
removed tissue examination
symptomatic treatment
control examinations
cost of essential medicines and materials
nursing services
full hospital accommodation
explanation of future recommendations
Required documents:
Medical records
Photo of the target body region
Service
Price:
Type of program :
Expected duration of the program:
You may also book:

Price:
About the department
The Department of Adult and Pediatric Plastic Surgery, Reconstructive Burn Surgery and Hand Surgery at the Helios Hospital Hildesheim offers the full range of modern interventions for the elimination of defects after injuries and removal of tumors, scar revision, as well as surgery for improving the appearance and rejuvenating the face, body contouring, breast lift and augmentation. The department's doctors also specialize in the treatment of hand diseases and injuries, including in children. The department's service range is complemented by reconstructive interventions in adults and children with burns of varying severity. The department is headed by Dr. med. Nikolaus Unbehaun.
Thanks to the advanced surgical equipment and a perfect command of modern surgical techniques, the department's plastic surgeons successfully cope with the most complex operations. Some interventions are performed on an outpatient basis. The team of the department's doctors annually performs more than 2,000 operations, and therefore it has a wealth of clinical experience. Prior to surgery, the attending physician holds an individual consultation, at which the patient talks about his wishes and also learns about the features of the upcoming operation, the risks and the predicted result.
One of the main clinical tasks of the team of the department's surgeons is to restore the face and body in patients who have suffered serious injuries, tumor resection surgery and burns, as well as in patients with congenital malformations. In the course of such operations, the department's specialists not only eliminate defects in appearance, but also restore the function of bones, muscles and nerve endings. The department's competent surgeons perform plastic reconstructive interventions using the very latest surgical techniques – flap surgery and microsurgery. The most demanded reconstructive surgeries include breast reconstruction after mastectomy, operations on the upper and lower limbs after tumor resection and facial plastic surgery, for example, after tumor removal, in case of facial nerve paralysis, congenital malformations.
The department's medical team has vast experience in reconstructive burn surgery. The interventions of this spectrum are performed in both adults and children. To close the defects after burns, the surgeons of the medical facility carry out skin grafting – flap surgery. The patients with moderate burns are treated with the special bandages that heal wounds. Such a kind of treatment almost does not leave any scars.
The department's plastic surgeons often admit patients who want to improve their appearance without any medical indications. In most cases, plastic surgery is performed to eliminate congenital defects and anti-aging interventions. The most popular are breast augmentation surgery, facelift, liposuction, arm and thigh lift, abdominoplasty, as well as body contouring procedures. The department's surgeons always strive to achieve the most natural result of cosmetic correction. When preparing for a plastic surgery, the surgeon takes into account all the wishes of the patient and, if necessary, uses modern computer-assisted programs to simulate the predicted result of the intervention. Such an approach allows the patient to assess his new appearance even before the operation, which guarantees satisfaction with the final outcome.
An important area of ​​work of the department's medical team is hand surgery. The specialists provide effective treatment for hand injuries of any severity, congenital and acquired hand diseases, including in children. The department's therapeutic options include the treatment of carpal tunnel syndrome, Dupuytren's contracture, trigger fingers, hand fractures, rheumatic wrist lesions, congenital hand malformations in children, etc. Many hand surgeries are performed on an outpatient basis under local anesthesia. The surgeons of the medical facility prefer modern tissue-preserving and microsurgical techniques.
The department's range of surgical services includes:
Reconstructive plastic surgery

Correction of congenital malformations
Correction of the consequences of traumatic injuries
Correction of defects after tumor removal
Scar revision
Surgery for nerve ending compression syndromes (carpal tunnel syndrome, cubital canal syndrome and tarsal tunnel syndrome)
Correction of the consequences of peripheral paralysis
Correction of defects after removal of nerve tumors (for example, neuromas)
Correction of the consequences of facial paralysis
Correction of nerve lesions (neurolysis, nerve transplantation)

Aesthetic plastic surgery

Aesthetic plastic surgery of the head and face

Face lift
Neck lift
Forehead lift
Treatment of wrinkles using botulinum toxin and fillers
Blepharoplasty
Rhinoplasty
Otoplasty

Aesthetic plastic surgery of the body

Abdominoplasty (tummy tuck)
Gynecomastia treatment in men
Breast augmentation, reduction and lift in women
Lipofilling (autologous adipose tissue transplantation)
Liposuction
Body contouring
Hand lift
Inner thigh lift
Intimate plastic surgery

Hand surgery

Surgery for carpal tunnel syndrome
Surgery for trigger fingers
Surgery Dupuytren's contracture
Surgery for wrist arthritis and arthritis of the thumb saddle joint
Surgery for ganglion
Surgery for hand cysts and tumors
Surgery for hand ligament tears, tendon and ligament injuries
Surgery for hand fractures
Surgery for post-traumatic and rheumatic joint changes
Surgery for hand malformations in children
Surgery for Sudeck's atrophy,
Nail surgery
Replantation surgery
Surgery for infectious hand lesions

Other medical services
Curriculum vitae
Dr. med. Nikolaus Unbehaun is a recognized expert in plastic surgery, hand surgery and microsurgery using autologous tissue and free skin grafts. Dr. Unbehaun received his medical education at Ludwig Maximilian University of Munich. This was followed by clinical training in the Department of Surgery at the University Hospital Rechts der Isar Munich. The specialist also acquired his professional skills in plastic surgery at the University Hospital Rechts der Isar Munich. He underwent training in Hand Surgery in the Department of Plastic and Aesthetic Surgery, Hand and Replantation Surgery at the Hospital Hildesheim in Lower Saxony and in the Department of Hand Surgery at the University Hospital Rechts der Isar Munich. Since January 1, 2020, Dr. med. Nikolaus Unbehaun has been the Chief Physician of the Department of Adult and Pediatric Plastic Surgery, Reconstructive Burn Surgery and Hand Surgery at the Helios Hospital Hildesheim.
Photo of the doctor: (c) Helios Kliniken GmbH
---
About hospital
Accommodation in hospital
Congenital lid nevus
Program [Description]
Surgical resection of congenital lid nevus
Hospital: Helios Hospital Hildesheim
Type:
Duration:
Price:
date_range
There are 92 congenital lid nevus treatment hospitals on Booking Health website
Show all clinics
Certificates