Academic Hospital Nuremberg
Department of General, Abdominal and Thoracic Surgery (

302910

)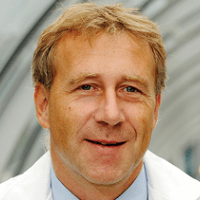 Prof. Dr. med.
Hubert Stein
Specialized in: general, abdominal and thoracic surgery
About the Department of General, Abdominal and Thoracic Surgery at Academic Hospital Nuremberg
According to Focus magazine, the Department of General, Abdominal and Thoracic Surgery at the Academic Hospital Nuremberg ranks among the top German medical facilities specializing in the treatment of intestinal and lung cancer!
The department offers the full range of surgical treatment for general surgical diseases, abdominal and thoracic pathologies. Another priority field of ​​the department's work is bariatric surgery, which helps the patients with morbid obesity successfully lose weight. The department's specialists give preference to sparing minimally invasive techniques. The department is headed by Prof. Dr. med. Hubert Stein.
In order to optimize interdisciplinary cooperation, the department established the Bowel Cancer Center, which provides comprehensive diagnostics and treatment of the disease, including care before and after surgery. The center is certified in accordance with DIN EN ISO 9001:2008 standards.
One of the key focuses of the department's work is bariatric surgery. This field offers not only the most advanced medical equipment, but also extensive experience, including special knowledge regarding the treatment of overweight patients. In the case of complications or concomitant diseases, a team of doctors carry out treatment in collaboration with specialists from related disciplines.
The department's range of medical services includes:
General and abdominal surgery

Hernia repair
Endocrine surgery
Liver, biliary tract, pancreatic surgery
Gastrointestinal surgery
Esophageal surgery
Surgical treatment of chronic inflammatory bowel diseases
Surgical treatment of cancers
Colorectal surgery

Bariatric surgery

Laparoscopic gastric bypass surgery
Laparoscopic sleeve gastroplasty
Placement of an adjustable gastric banding
Biliopancreatic diversion with duodenal switch

Thoracic surgery, including video-assisted interventions

Tracheal surgery (tracheobronchial resection)
Surgery for mediastinal edema
Surgery for pneumothorax
Surgery for pulmonary emphysema
Surgery for pleural diseases (pleural effusion, pleural empyema, pleural tumors)
Correction of pectus excavatum

Emergency surgery
Minimally invasive interventions (for example, gallbladder removal, hernia repair, treatment of gastroesophageal reflux disease, spleen removal, etc.)
Robotic surgery (for example, operations on the esophagus, stomach, pancreas, liver, lungs, thymus, etc.)
Treatment of chronic wounds
Other surgical options
Curriculum vitae of Prof. Dr. med. Hubert Stein
Qualifications
1996 Board certification in Surgery.
Specialization in Thoracic Surgery.
Specialization in Abdominal Surgery.
Memberships in Professional Societies
Since 1992 German Society of Surgery.
Since 1992 Society of Bavarian Surgeons.
Since 1992 International Society for Diseases of the Esophagus.
Since 1992 German Association of Gastrointestinal Motility Disorders.
Since 1993 International Club for Digestive Surgery.
Since 1991 Working Group on Swallowing Disorders.
Since 1996 Society for Digestive Surgery.
Since 1997 International Gastric Cancer Association.
Since 1997 German Cancer Society.
Since 1997 European Society for Surgical Research.
Since 1998 German Society for Abdominal Surgery.
Since 2001 Professional Association of German Surgeons.
Since 2003 American College of Surgeons.
Since 2004 International Society for Digestive Surgery.
Since 2005 Austrian Society of Surgery.
Since 2005 Austrian Working Group on Surgical Oncology.
Since 2005 Salzburg Medical Association.
Since 2006 Salzburg Cancer Society.
Review Activities
Annals of Surgery.
Surgery.
British Journal of Surgery.
Annals of Thoracic Surgery.
Der Chirurg.
Langenbecks Archives of Surgery.
GUT.
American Journal of Gastroenterology.
Hepato-Gastroenterology.
Digestive Surgery.
Digestion - Endoscopy.
Laboratory Investigations.
World Journal of Surgery.
European Surgery.
Cancer.
Digestive Diseases and Sciences.
Membership in Editorial Boards of Journals
Since 2005 Diseases of the Esophagus.
Since 2005 World Journal of Surgery.
Since 2005 Langenbeck's Archives of Surgery.
Since 2006 European Surgery
Photo of the doctor: (c) Klinikum Nürnberg
Department of General, Abdominal and Thoracic Surgery.
Academic Hospital Nuremberg:

Request more information now.
We will be happy to answer all your questions.
---
Certificates