Academic Hospital Nuremberg
Department of Gastroenterology, Hepatology, Endocrinology and Diabetology (

302913

)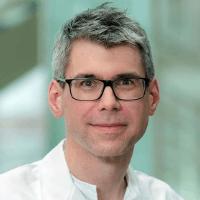 Prof. Dr. med.
Alexander Dechêne
Specialized in: gastroenterology, hepatology, endocrinology, diabetology
About the department
The Department of Gastroenterology, Hepatology, Endocrinology and Diabetology at the Academic Hospital Nuremberg specializes in the diagnostics and treatment of patients with digestive diseases, endocrine diseases and metabolic disorders, particularly diabetes mellitus. In addition, the department has extensive experience in the diagnostic and therapeutic endoscopy. The exceptionally high quality medical care is confirmed by certification in accordance with DIN EN ISO 9001 standards. The department is headed by Prof. Dr. med. Alexander Dechêne.
The department's doctors have deep knowledge and experience in double balloon enteroscopy, fine needle biopsy, as well as in cancer screening using colonoscopy. In addition, 24-hour endoscopic service is available here. The department has developed a new treatment method for Barrett's esophagus using radiofrequency ablation. Along with conventional methods, the department also offers the full range of modern treatments for Barrett's esophagus.
One of the key focuses in the field of gastroenterology is the diagnostics and treatment of malignancies of the gastrointestinal tract. The department annually treats about 700 patients with such a diagnosis (on an inpatient basis). The therapeutic range also includes the treatment of rare gastrointestinal tumors, for example, neuroendocrine tumors.
The patients with diabetes mellitus receive medical care within a specialized center, which offers all therapeutic options, as well as comprehensive counseling and training for patients in lifestyle modification. The patients receive detailed information on the self-monitoring of blood glucose levels, nutrition and the choice of the proper foods, physical activity, the influence of drugs on the human body. The patients also get individual insulin therapy regimens and, if necessary, they can be prescribed oral hypoglycemic agents.
The department's range of medical services includes:
Diagnostics and treatment of diseases of the liver, gallbladder and pancreas
Diagnostics and treatment of diseases of other gastrointestinal organs
Diagnostics and treatment of peritoneal diseases
Diagnostics and treatment of gastrointestinal cancers
Diagnostics and treatment of food allergies
Diagnostics and treatment of diabetes mellitus, including counseling and teaching patients the proper lifestyle
OPTIFAST program for effective weight loss
Other diagnostic and therapeutic options
Curriculum vitae
Qualifications
2008 Board certification in Internal Medicine.
2011 Specialization in Gastroenterology.
2011 Certification in Hepatology, German Society for Digestive and Metabolic Diseases (DGVS).
Research and Clinical Focuses
Clinical hepatology.
Therapeutic endoscopy and biliopancreatic interventions.
Interventional oncology and palliative care.
Photo of the doctor: (c) Klinikum Nürnberg
Department of Gastroenterology, Hepatology, Endocrinology and Diabetology.
Academic Hospital Nuremberg:

Request more information now.
We will be happy to answer all your questions.
---
Certificates