Academic Hospital Nuremberg
Department of Radiation Oncology and Radiation Therapy (

302920

)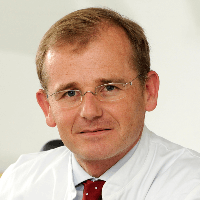 Dr. med.
Clemens Albrecht
Specialized in: radiation oncology, radiotherapy
About the Department of Radiation Oncology and Radiation Therapy at Academic Hospital Nuremberg
The Department of Radiation Oncology and Radiation Therapy offers all types of radiation therapy using cutting-edge medical technologies. The department specializes in the treatment of both malignant and benign diseases. The department is headed by Dr. med. Clemens Albrecht.
The department's specialists effectively combine the required types of radiation therapy with chemotherapy and the "afterloading" technique and hyperthermia, as well as carry out postoperative radiation therapy. Any type of irradiation is preceded by careful planning. In addition, the department provides consulting services on all issues related to cancers.
The department has in its arsenal modern computerized linear accelerators, an afterloading system for intracavitary, intraluminal and interstitial irradiation, hyperthermic device, as well as computer system for 3D-planning of the course of irradiation. The department's doctors prefer innovative methods. These include intraoperative radiation, intensity-modulated radiation therapy, for example, for the treatment of prostate cancer or head and neck tumors, stereotaxy, brachytherapy, etc.
The department's range of medical services includes:
Percutaneous irradiation and brachytherapy
Brachytherapy with sealed radioactive sources
3D computer radiation therapy planning
Intensity-modulated radiation therapy
Imaging-guided radiation therapy
Stereotactic irradiation
Intraoperative radiation therapy
Hyperthermia
Brachytherapy
Radiation therapy for the treatment of benign diseases (for example, arthrosis, calcaneal spur, "tennis elbow")
Other types of radiation therapy
Photo of the doctor: (c) Klinikum Nürnberg
Department of Radiation Oncology and Radiation Therapy.
Academic Hospital Nuremberg:

Request more information now.
We will be happy to answer all your questions.
---
Certificates