Department of Nephrology (

302931

)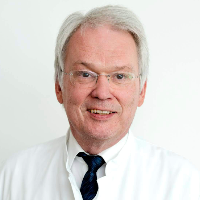 Prof. Dr. med.
Roland Veelken
Specialized in: nephrology
About the Department of Nephrology at Nuremberg Hospital
The Department of Nephrology at the Nuremberg Hospital offers all the possibilities of modern medicine to patients with acute and chronic kidney diseases. The department's team of physicians also specializes in the care of patients with pathological kidney lesions caused by other diseases, such as arterial hypertension and diabetes mellitus. In addition, the department's specialists are responsible for caring for patients before and after kidney transplant surgery. In addition to conservative treatment, the department's doctors successfully perform dialysis, that is, renal replacement therapy. The department employs a highly qualified team of 29 physicians and 90 nursing staff members. The medical facility admits about 3,500 inpatients every year, and it regularly provides medical care to over 320 outpatients. The medical center has excellent infrastructure and an advanced technical base, which, combined with the high professionalism of doctors, ensures top-class medical care for every patient. The department is headed by Prof. Dr. med. Roland Veelken.
One of the most important focuses of the department's specialists is the treatment of chronic kidney failure. The pathology is characterized by a gradual deterioration of kidney function over several months or years due to progressive nephron loss. The insidiousness of the disease is that its early stages are virtually asymptomatic, causing only increased fatigue and appetite loss. As the disease progresses, a patient develops more severe symptoms, including nausea and vomiting, generalized edema, itching, dry skin, muscle cramps, high blood pressure, and the presence of blood in the urine. The diagnostic protocol for suspected chronic kidney failure includes a complex of laboratory tests and renal ultrasound. It is impossible to cure chronic kidney failure, but appropriately selected therapy can slow down or even stop its progression. The course of treatment is also aimed at alleviating symptoms and preventing complications. In many cases, the treatment tactics for chronic kidney failure depend on the cause that provoked its development. The patient takes drugs that are prescribed individually. It is also important to monitor blood pressure and limit the intake of potassium-rich foods, salt, and protein. Patients with diabetes mellitus need to control their blood glucose levels. Should the above-mentioned therapeutic measures fail and severe deterioration of kidney function occur, the department's doctors will resort to hemodialysis. During this procedure, the patient's circulatory system is connected to a special device that filters toxins and returns purified blood to the body.
The department regularly admits patients with glomerulonephritis, an inflammation of the glomeruli, which are responsible for blood filtration. The pathology most often develops due to a viral infection or pneumonia. The cause of glomerulonephritis can also be an autoimmune disease. If left untreated, glomerulonephritis may lead to irreversible consequences, including the development of chronic kidney failure, chronic heart failure, pericarditis, peritonitis, etc. During the diagnostic process, a patient with suspected glomerulonephritis is prescribed urine tests, a blood count, and a kidney biopsy. The doctors at the medical facility also carry out renal ultrasound, a CT scan of the retroperitoneal space, and kidney scintigraphy to clarify the diagnosis. The treatment of this pathology is quite serious and prolonged. Patients mostly require a hospital stay, an intensive course of drug therapy, and a diet with a restriction of animal proteins, fats, and salt. The effectiveness of treatment is controlled based on the results of urine and blood tests.
The department's specialists have exceptional professional skills in providing medical care to patients with diabetic nephropathy, which is a kidney lesion caused by diabetes mellitus. Diabetic nephropathy is a complication of diabetes mellitus accompanied by impaired nephron function, replacement of renal parenchyma with connective tissue, and a gradual deterioration of kidney function. General and biochemical blood counts, urine tests, and kidney ultrasounds are required to detect this pathology. In some cases, a kidney biopsy may also be performed. In the course of treatment, the department's doctors strive to slow down the progression of pathology and avoid the development of complications. The therapeutic process is based on drug therapy. Depending on the clinical case, nephrologists prescribe drugs from various groups, including antihypertensive agents, glucose-lowering drugs, cholesterol-lowering drugs, medications to reduce blood creatinine and cholesterol levels, and other medicines. Patients with diabetic nephropathy are also recommended to follow a special diet. In advanced stages of the disease, hemodialysis can normalize the patient's condition.
The department's main clinical focuses include:
Diagnostics and treatment of acute and chronic kidney failure
Diagnostics and treatment of inflammatory kidney diseases: nephritis and glomerulonephritis
Diagnostics and treatment of polycystic kidney disease
Diagnostics and treatment of diabetic nephropathy
Diagnostics and treatment of pathological kidney lesions caused by arterial hypertension
Diagnostics and treatment of other kidney diseases
The department's therapeutic range of services includes:
Drug therapy
Patient care before and after kidney transplant surgery
Intensive care for acute kidney failure and multiple organ dysfunction syndrome
Renal replacement therapy

Hemodialysis

Chronic hemodialysis
Hemodiafiltration
Plasma separation and immunoadsorption for immune-mediated renal disease
Lipid apheresis for patients with familial hypercholesterolemia
Hemoperfusion

Peritoneal dialysis

Continuous ambulatory peritoneal dialysis
Continuous cyclic peritoneal dialysis
Intermittent peritoneal dialysis

Other medical services
Curriculum vitae of Prof. Dr. med. Roland Veelken
Higher Education and Professional Career
1978 - 1985 Medical studies at Heidelberg University and Indiana University School of Medicine, USA.
1982 - 1985 Thesis defense at the Institute of Pharmacology at the University of Heidelberg.
1985 - 1987 Research Fellow at the Institute of Pharmacology at University of Heidelberg.
1987 - 1989 Educational Grant from the German Research Foundation, Heart Center, College of Medicine at University of Iowa, Iowa City, Iowa, USA.
1989 Assistant Physician in the Department of Nephrology at the University Hospital Erlangen; Association of the Institute of Physiology I at the University of Erlangen-Nuremberg.
1994 Habilitation in Physiology.
1997 Board certification in Internal Medicine, Senior Physician in the Department of Nephrology at the University Hospital Erlangen.
1997 Habilitation in Internal Medicine.
2000 Board certification in Nephrology, certified European Specialist in Hypertensiology.
2001 Professorship in Internal Medicine.
2009 Deputy Head of the Department of Nephrology at the Nuremberg Hospital.
2017 Head Physician of the Department of Nephrology at the Nuremberg Hospital.
Review Activities
Kidney International.
Hypertension.
Journal of Hypertension.
American Journal of Physiology.
Expert activities within the scholarship programs of the German Academic Exchange Service (DAAD).
Memberships in Professional Societies
German Society of Internal Medicine.
German Society of Nephrology.
German Hypertension League.
German Physiological Society.
American Physiological Society.
Association of Managing Nephrologists.
Photo of the doctor: (c) Klinikum Nürnberg
Department of Nephrology.
Nuremberg Hospital:

Request more information now.
We will be happy to answer all your questions.
---
Certificates